Parisian socialites and passing stars have nothing but this hotel in their mouths. It must be said that the SO/Paris , an architectural gem and a new nugget culminating at 16 floors almost above the water, dominates the Seine with a bird's eye view of the Île Saint-Louis . We went for a walk in this high place of hype which combines panoramic rooms, a hyper trendy restaurant and an XXL swimming pool in the heart of Paris.
An ultra-slick decor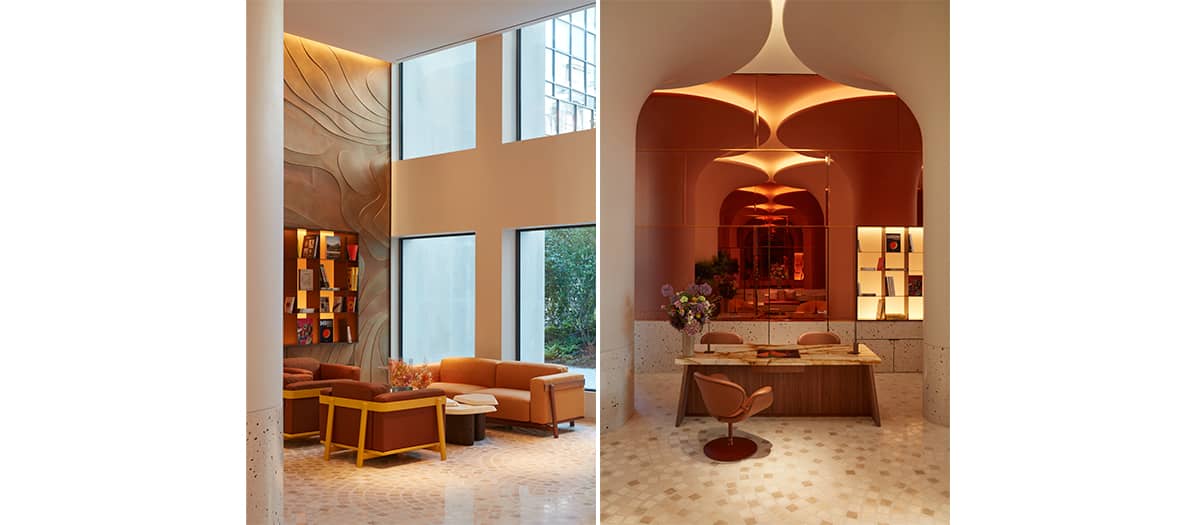 Now renamed La Félicité , the former Cité administrative became a new cool hub a few months ago, including a Terroirs d'Avenir market, an art gallery, a vertical farm and, therefore, a 5-star hotel. Impressive, the building designed by architects Albert Laprade , Pierre-Victoire Fournier and René Fontaine has pure lines and is adorned inside with a grandiose décor dotted with works by Neil Beloufa , Olafur Eliasson and Alice Guittard . An artistic and fashion anchoring supported by the adorable striped uniforms of the staff dressed by Guillaume Henry , the bankable DA of Patou . We want the same!
Rooms with an exceptional view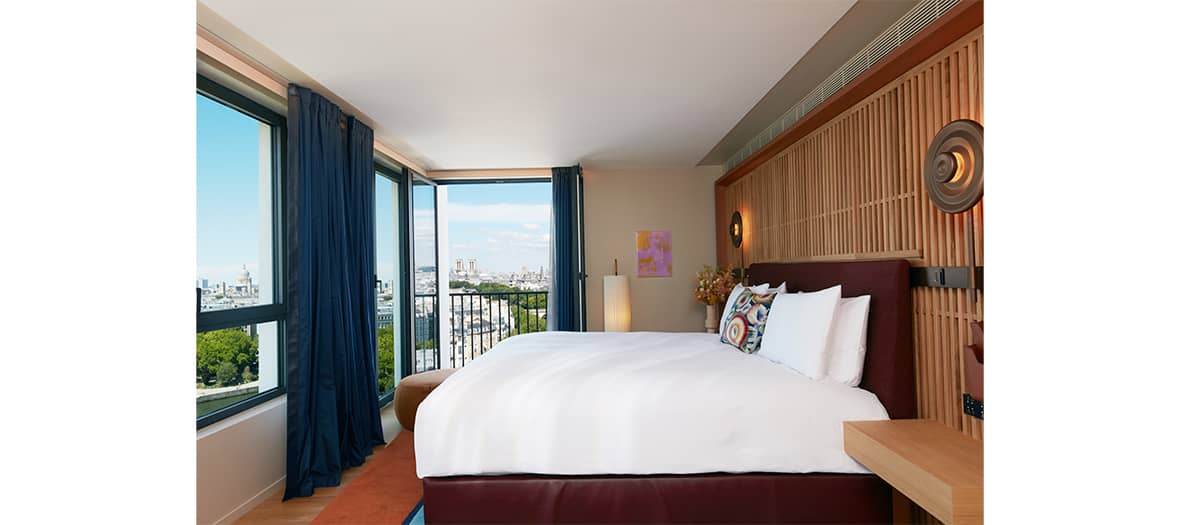 Wherever you are staying in the hotel, the rooms have a breathtaking view between the Seine, the Pantheon, the Eiffel Tower and Notre-Dame or even the neighboring Republican Guard and the Île Saint-Louis . An impression of flying supported by the frankly pleasant size of the rooms where one circulates at ease with graphic carpeting and wooden panels to connect the rooms in an all-Japanese harmony. We feel good.

wellness break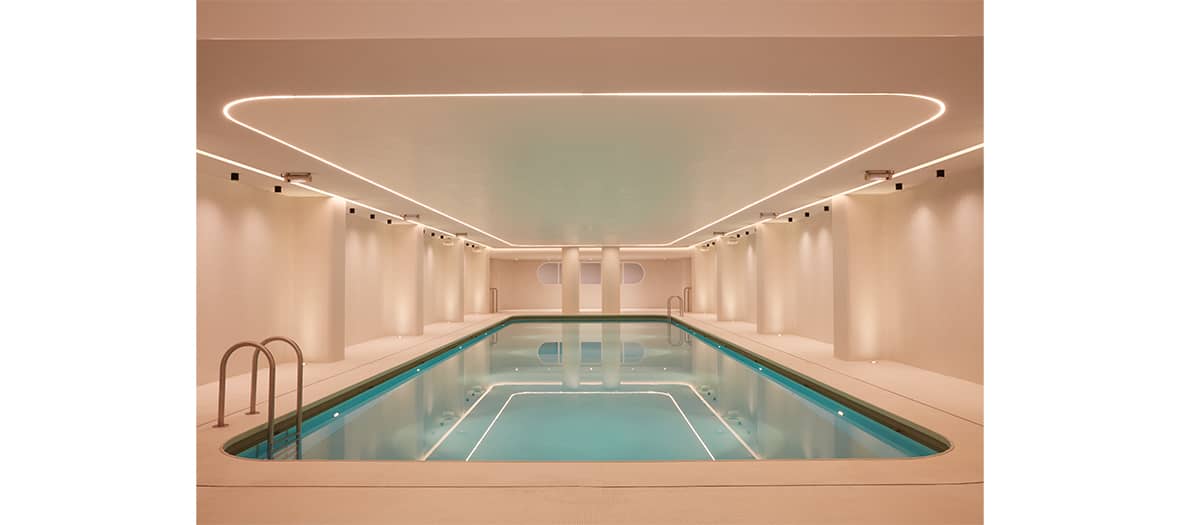 Ultimate happiness: doing lengths in the 20-metre long swimming pool before treating yourself to a Maison Codage treatment and lounging in the hammam or sauna . The most motivated will appreciate access to the fully equipped gym and the coaches of the adjoining Ô Zenith club with yoga or fitness classes.
Bonnie: the festive table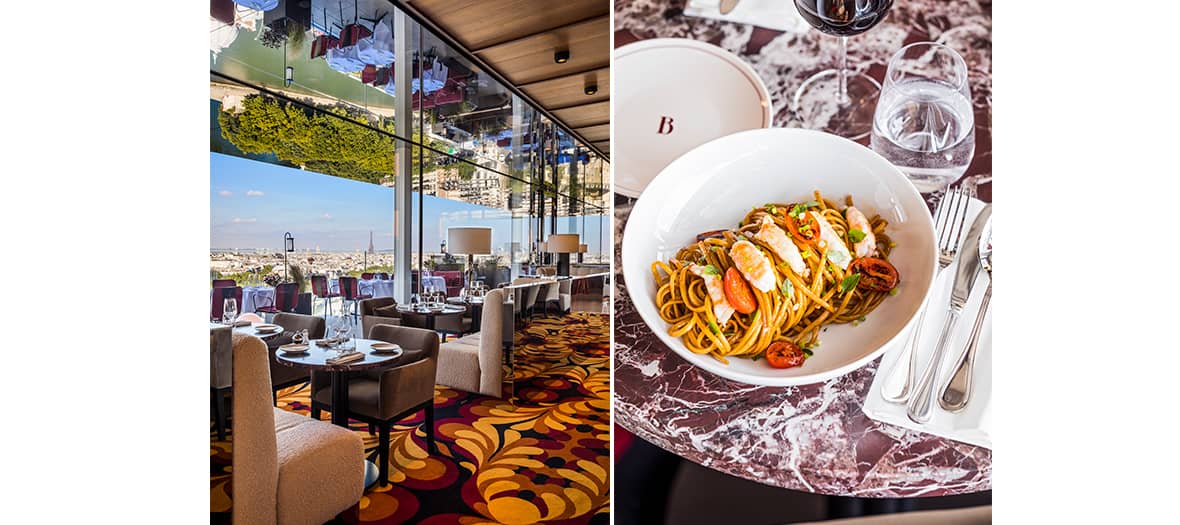 All the big names in fashion met there during the last fashion week , and since then we have continued to come across all the cream of Paris glam'. Facing the exceptional panoramic view (and the word is weak, take a look on the terrace to check), we order at Bonnie crispy langoustines with basil (€24), 6 snails (€18), sea bream marinated in lemon greens (€22), beef ravioli with truffles (€24) or even a vegetable tian (€26) and a fine selection of fish dishes and, for dessert, peaches, fresh almonds and lemon sorbet (€18 €).
Rooms from €500.
Also discover the new Parisian hotels that will make you want to sleep and the most beautiful hotels for less than 200 € .