New practices that are a hit, brand new rooms to check out, handpicked teachers, vinyasa 2.0 and even a trapeze-style course: zoom on the new Parisian yoga studios to try as soon as possible.
Chita Studio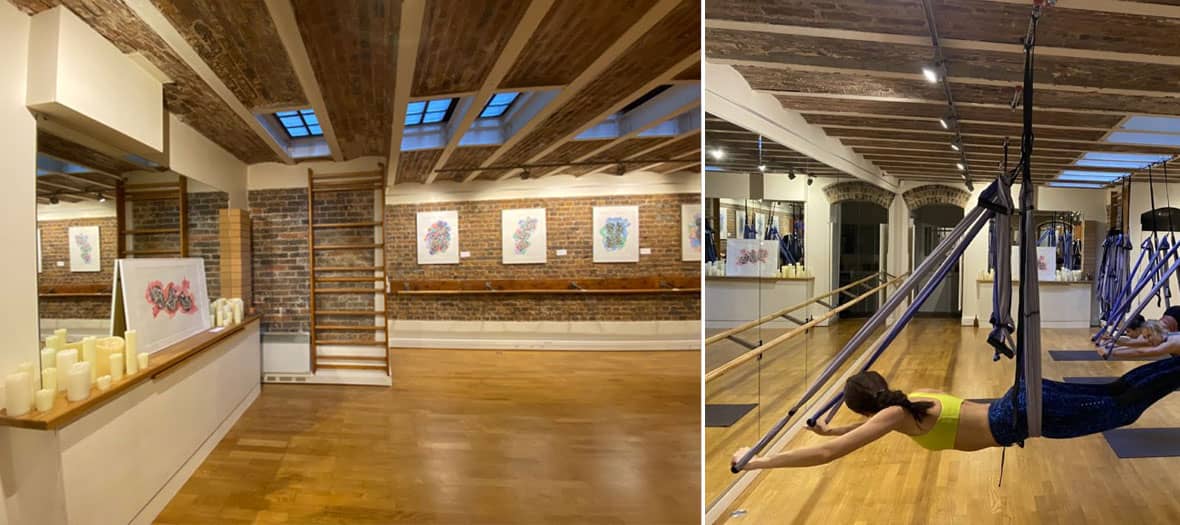 The place. Since last October, the divine Chloé Brasé , a specialist in therapeutic yoga , has taken over a sublime yoga room in the former stables of a Haussmannian building in the upper 16th arrondissement, near Victor Hugo . A gorgeous rectangular room with full length mirrors, parquet flooring, brick ceiling and a beautifully decorated small but charming dressing area.

To test absolutely. Chloé's specialty first, namely digestive yoga which focuses on the abdominal strap, including movements and breathing exercises studied to release tension, boost the digestive system and strengthen the abs (remember to eat light before) . But the novelty, which is only practiced here in Paris, is the trapeze yoga class , great for challenging yourself, working on upper body strength, flexibility, and releasing tension in the back and neck. We work on our postures using a hammock and its handles, we go at our own pace, without pressure, we surprise ourselves and we progress from session to session.

The extra thing. The possibility of buying the pretty works of art exhibited in the room, as well as a great selection of gingham, glitter, mermaid yoga suits...
Subscription at €15 per month for 9 credits via classpass.fr
Chita Studio , 71 avenue Victor Hugo, Paris 16th
Riise Louvre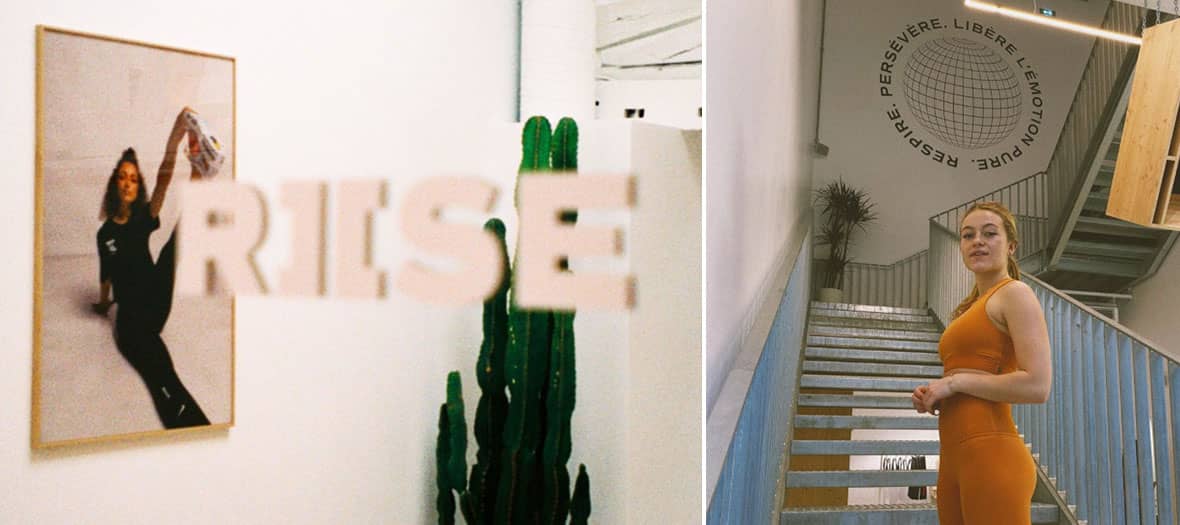 The place. And two! In the wake of its ultra-bankable opening on rue Charlot , Riise , a super disruptive yoga concept incubated by the Dynamo team, inaugurated a brand new place at the Louvre Post Office , fully eco-sustainable, down to the smallest detail, and a corner with Nike .
To test absolutely. Their unique practice which mixes an ultra-tonic refining vinyasa and intense cardio in studios heated to 26° and immersed in the dark with coaches who push your limits, microphone in support.
The extra thing. The changing room worthy of a spa with Oh my cream products available for primping, hair dryers and Dyson straighteners. Ideal for exercising before a night out.
29 € per lesson. 240 € for 10 sessions
RIISE Louvre , 43 rue Etienne Marcel, Paris 2nd.
slowe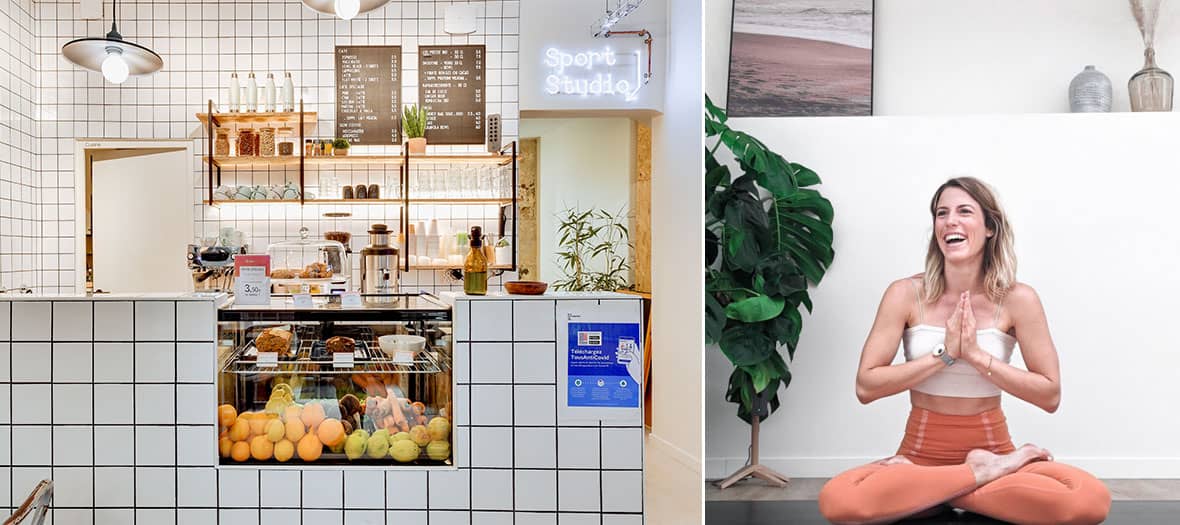 The place. It's the wellness rendezvous in the vibes of LA that embellishes the lives of fit-girls in the 10th arrondissement. Gable on rue de l'Échiquier : a great coffee shop that deals specialty coffees, matcha lattes , smoothie bowls, chai and delicious vegan cookies, before or after a little session. Because, just behind, there are 2 rooms, the first where you sweat profusely in bootcamp , boxing or HIIT mode and a second dedicated to slow practices.
To test absolutely. The vinyasa every angle. Starting with the Morning Flow, extra during the week to get up on the right foot or a hot Energy Flow to relax in the evening.
The extra thing: Saturday brunches to compile a chat with friends and nice sports lessons at €42 brunch + lesson included.
28 € per lesson. 220 € for 10 lessons
Slowe , 30 rue d'Enghien, Paris 2nd
les ailes du Canal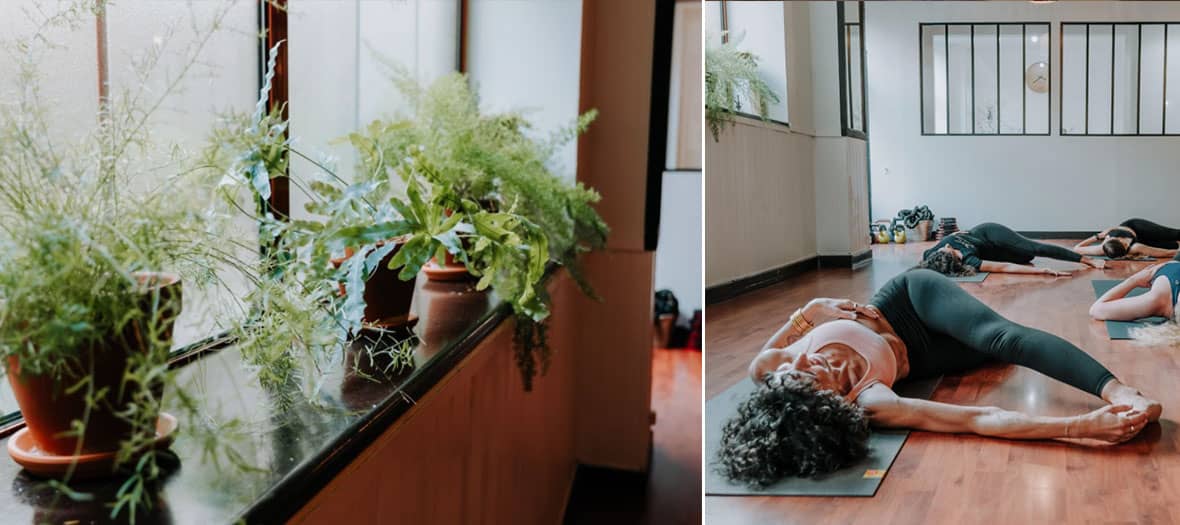 The place. Based in Répu, this new indie studio opened by Karine Herz claims to be an invitation to get into the sport! This psych slasher dreamed of a friendly project to match sport and pleasure in a lovely room that looked like a green Parisian loft. Special mention to the very feel good teachers like Camille " café à la crème " , Violette Chaléard and Florence Rhodes .
To be tested absolutely : their signature Pilates fusion, a choreographed flow to hyper catchy music that mixes yoga sequences, twisted with Pilates postures and floor barre.
The added plus : Pilates is available in all its variations: from Mat Pilates, on a mat, ideal for beginners to super cool and advanced classes for beginners such as Pilates Groove, which sets the movements to the rhythm of the song, without forget Pilates TRX to bring a super sheathing dimension to your practice.
€23 per lesson, €13.30 with a subscription
The Wings of the Canal , 42 rue Albert Thomas, Paris 10th
And also…
Good news for yogis. The French eco-responsible sportswear label Circle Yoga Club (their recycled plastic outfits make a hottie's body) have opened a yoga club with free classes given to their community every Monday and broadcast live on the IG account. Depending on the mood, we sign up for Yoga n'Dance, Yoga n'Ostheo or Yoga n'Run.
Every Monday at 7 p.m. Free admission upon registration
The Barracks, 12 rue Philippe de Girard, Paris 10th
The winning recipe of Yuj , the favorite yoga spot of Parisiennes, is spreading in the West with two new addresses in Boulogne Billancourt (162 rue d'Aguesseau) and on the Champs-Élysées ( 9 rue Magellan, Paris 8th ). And always the same concept signed Hélène Duval: subdued lighting with candles, infrared lamps to multiply the detox effects, handpicked teachers, hyper-honed flows...
€30 per lesson, €260 for 10 lessons
All about Yuj Yoga Studio
Also discover the Britney Spears class dance