It's the gourmet experience to have tested at least once in a lifetime… For sure, we are not dealing with ordinary luxury. But instead of breaking your piggy bank for a top restaurant, we suggest you choose this amazing culinary adventure in the spirit of the Roaring Twenties…
Open your ears: Yannick Alléno offers a major comeback to the mythical Orient Express dining cars, showcasing the original Art Deco atmosphere of this gourmet enclave on wheels …Leather armchairs, piano bar, mahogany counter, service at the table, rustle of the crystal and the silver on the tables… Like in 1883!
7pm! Very very chic boarding at Gare de Lyon on an upscale deluxe platform. 7.30pm: immediate departure towards Epernay for a very high-end dinner…
Get ready for the waltz of small appetizers (lobster consommé, nutty foie gras and other marvels signed Alléno) and champagne in the Train Bleu bar car… Then, make room for 3 famous amuse-bouches with a wonderful combo of celery with caviar before an amazing main course.
Around 9pm: stopover and interlude on the train platform of Epernay in the middle of the Champagne region with surprises and small appreciated luxuries… Return to Paris… At the table, an amazing three-star dish and dessert signed Yann Couvreur, the hottest pastry chef of the moment…
10:30pm: Return of the train to Gare de Lyon while sipping top quality after dinner liqueurs…
We like: an experience to live also departing from Cannes and Bordeaux. Paris is not the only place in life !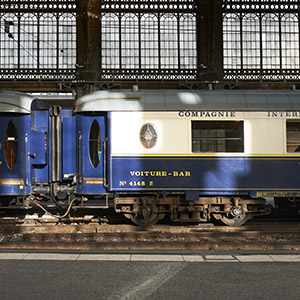 All the info on orient-express.com