The chic ski resort of the swinging 60's is making a big comeback. Quite normal, the Sixties revival is still at its peak. We perfectly understand why the Sibuet family, 25 years after having created Les Fermes de Marie in Megève, then 8 other amazing hotels, has just renovated the mythical Hôtel des Dromonts. And good news, prices are more and more accessible for this kind of hotel!
In fact, it's when the Dromonts opened, that the resort began its royal way to be crowned snow queen. No cars, a very sunny location, with the added asset of a hotel with a zany futuristic architecture, in the shape of a pine cone- and the buzz that goes with it- needless to say, has attracted people from around the world.
The spirit of the place was preserved. Starting with its facade in wood roof tiles, imagined by architect Jacques Labro. The Sibuet style is featured on the inside, with larger volumes, up-to-date comfort and bright vitamin colors for the living room along with two chic and trendy bistros stamped like in Megève, the gastronomic Les Enfants Terribles, upstairs (open only for dinner) and the more low key Le Festival bar downstairs, open for lunch and dinner.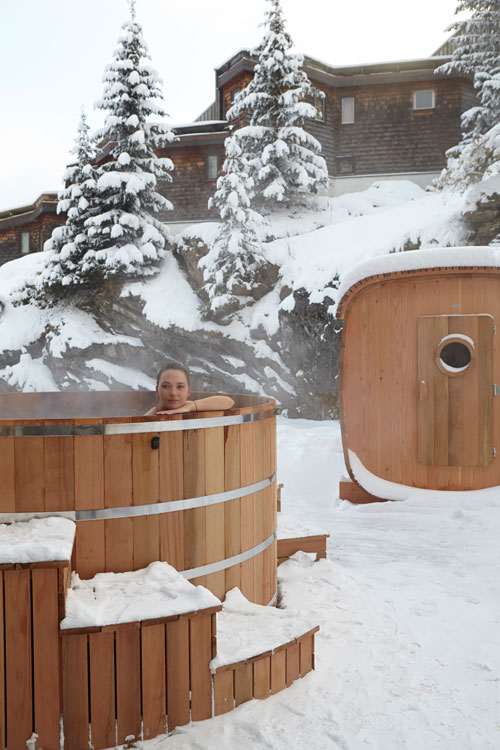 We like: the decoration of the 34 rooms, including 6 suites (starting at 156 €) conceived like « skier cells », with Italian fabrics and soft wall-to-wall carpeting, all in hues of tangarine and violet, turquoise and parma, carmine and amethyst…with bathrooms in slate from Morzine.
Tops also: bar-snacking with terrace, and for pure fun, a Pure Altitude Spa with three cabins, a spectacular view on the summits and divine home treatments with products using alpine plants …
by Anne Lefèvre
© Hôtel des Dromonts / P. Doignon, C. Arnal, MPM & DR
Office du tourisme d'Avoriaz
04 50 74 02 11