Introduced by Yves Saint Laurent himself in women's dressing rooms around the world, today the tuxedo is a must-own iconic piece. A surprising newcomer more than 50 years ago, the tuxedo is now considered democratic, and worn by all. The tuxedo infiltrates itself inside other pieces, such as the coat, or the jumpsuit— impossible not to find one that will suit you and acquire this cool and feminine item­— to be worn during the day or at night, without moderation!
A quick tour of the hottest numbers:
The good basic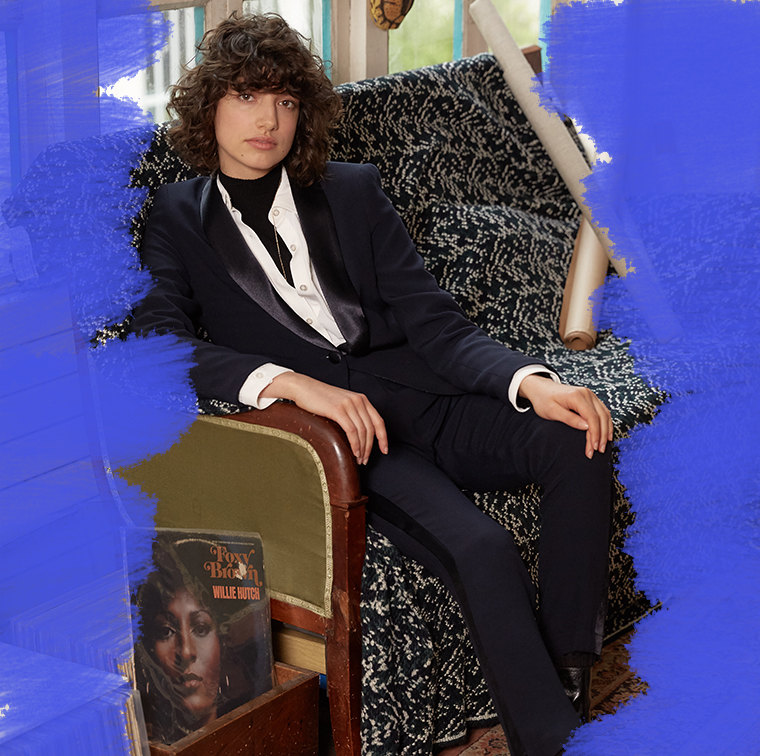 This tapered tuxedo is the fashion piece that works both night and day.
How to wear it? Downplay it with a pretty flimsy blouse on a turtle neck and your favourite pair of booties. A silhouette that is right up the alley of Lou Doillon.
Classic tuxedo, La Petite Française, jacket €175 - pants €95
Less is more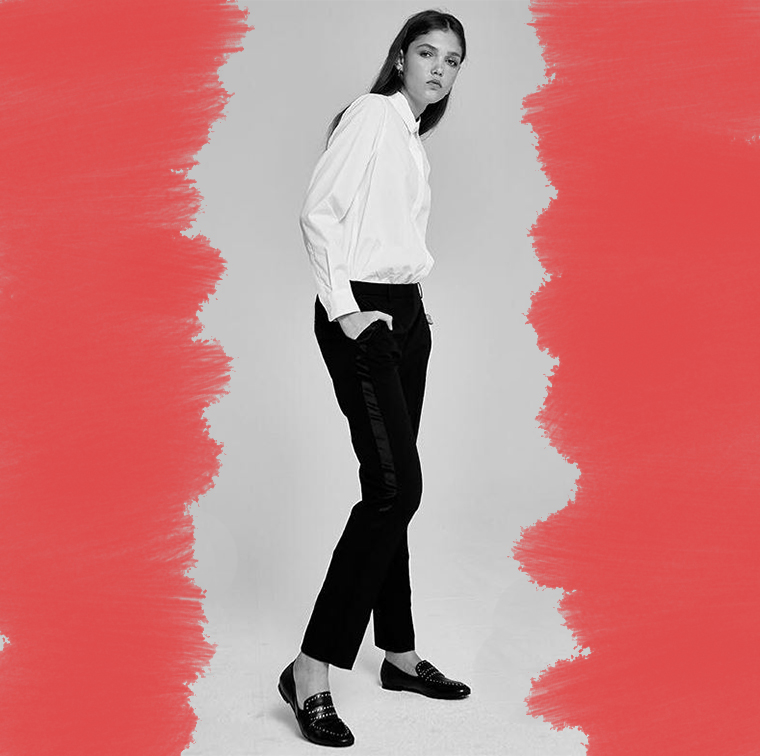 Drop the jacket! All those allergic to the total look will only keep the pants, with its famous strip in satin to obtain a cool and casual look without too much effort. Ideal when you're in a panic in front of your dressing room
How to wear it? Coordinated to a shirt or simple white t-shirt and moccasins, for an ultra trendy style.
Tuxedo pants, Gérard Darel, €165
Think pink in all seasons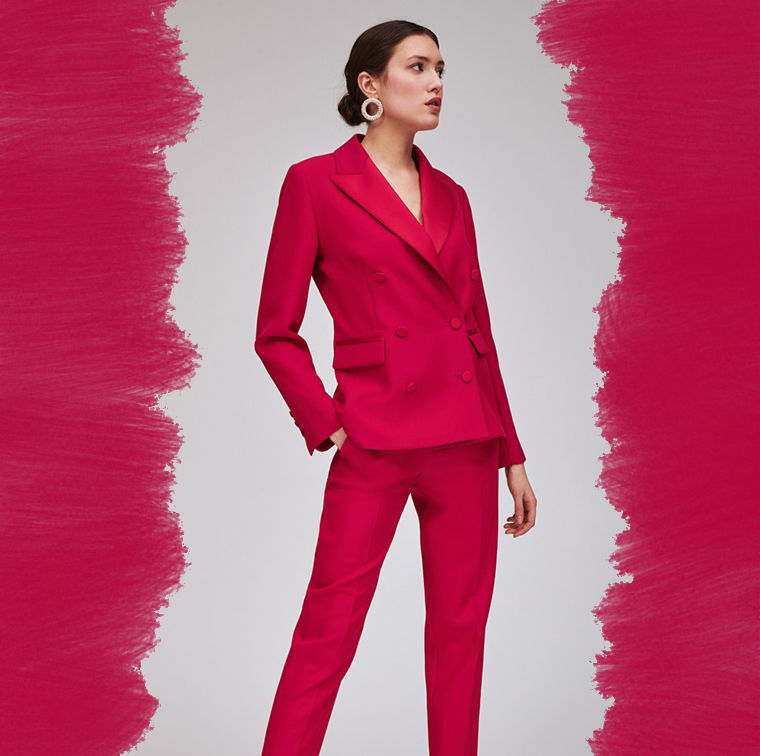 Exit the total black look, pink is the hot colour to wear from head to foot! Fans of pink will finally be happy even in Winter? Yes and with style!
How to wear it? Associate with heels for the most hardy or off-beat with comfy couture trainers­— yes, but very trendy!
Pink tuxedo, Tara Jarmon, jacket €550 - pants €395
Better than a dress: the tux' shorts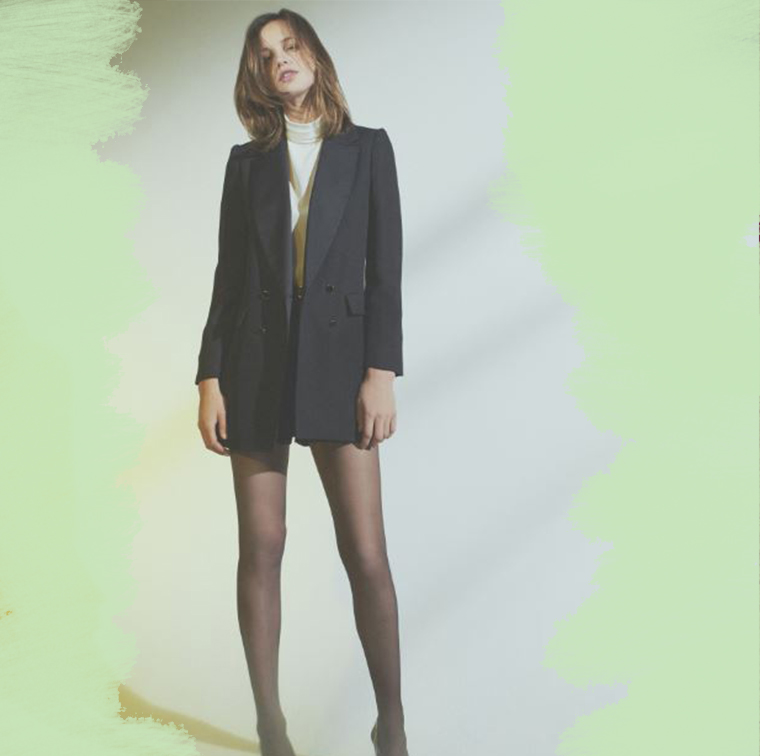 Saint Laurent did not think of it. Vanessa Seward did it. Parisiennes who enjoy showing their pretty legs adopt eyes-closed the tuxedo-shorts.
How to wear it? With a white silk shirt, an elegant pair of tights (specked, small mesh) and a pair of pumps to set forth the naturally chic allure of the tux.
Tux shorts - Vanessa Seward jacket €550 - pants €250
The structuring belt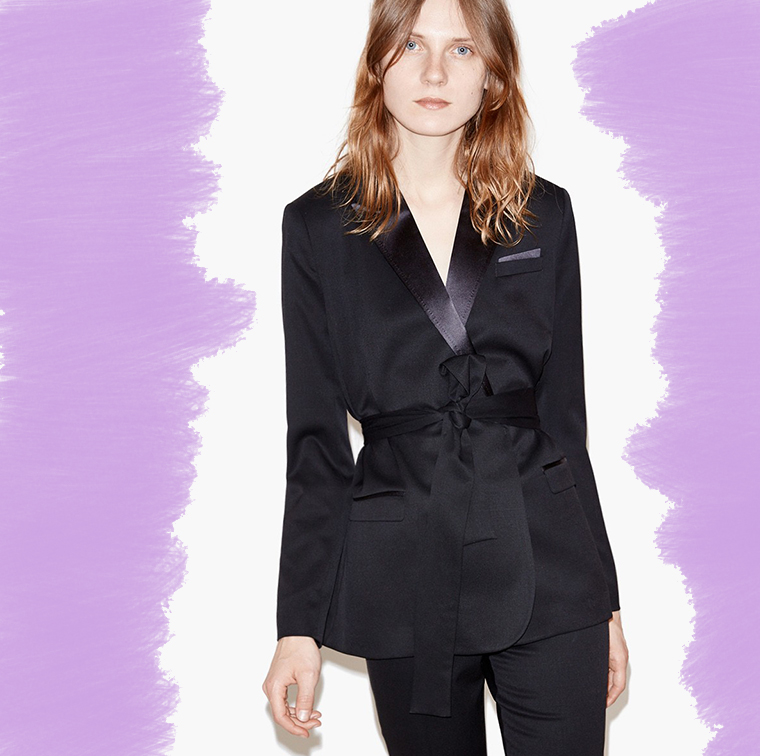 Ultra trendy, this tuxedo smoking flirts with the kimono spirit.
Structured at the waist thanks to the belt, it will enhance your pretty shapes!
How to wear it? With its slight cleavage, we dare the no t-shirt underneath for a stunning masculine/feminine look!
Kimono tuxedo, The Kooples available in boutiques, jacket €395 - pants €175
Tuxedo or almost...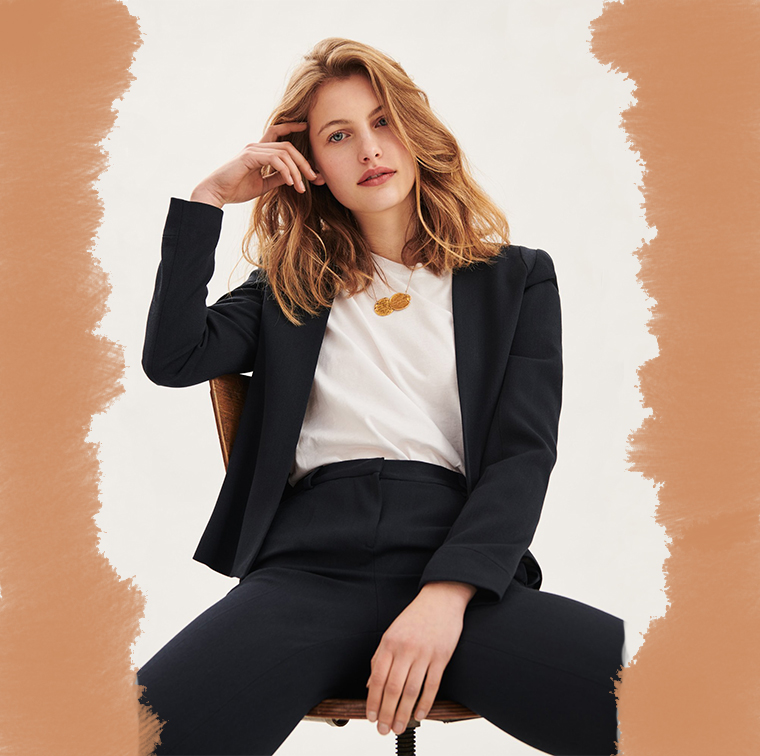 If for you, tuxedo rhymes with "no way", here is the inspired suit version...less a few details, such as no buttons and no satin. The black suit ensemble is a must-have timeless piece of every woman's wardrobe.
How to wear it? Add some peps with an accumulation of gold jewellery!
Tuxedo style suit, Admise, jacket €219 - pants €129
The coat off-shoot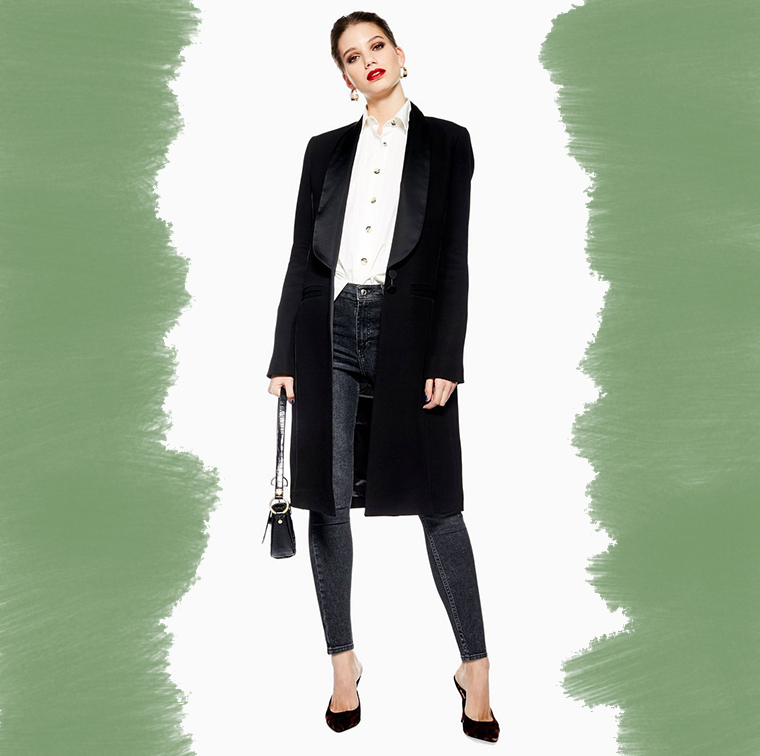 In a long version, the tuxedo-coat flatters all the silhouettes of Parisiennes, as opposed to pants not always up to par!
How to wear it? With a dressy touch on your favourite jeans in order to avoid over-doing it! Classic but always chic…
Tuxedo-coat, Topshop, €180
Jacquard galore!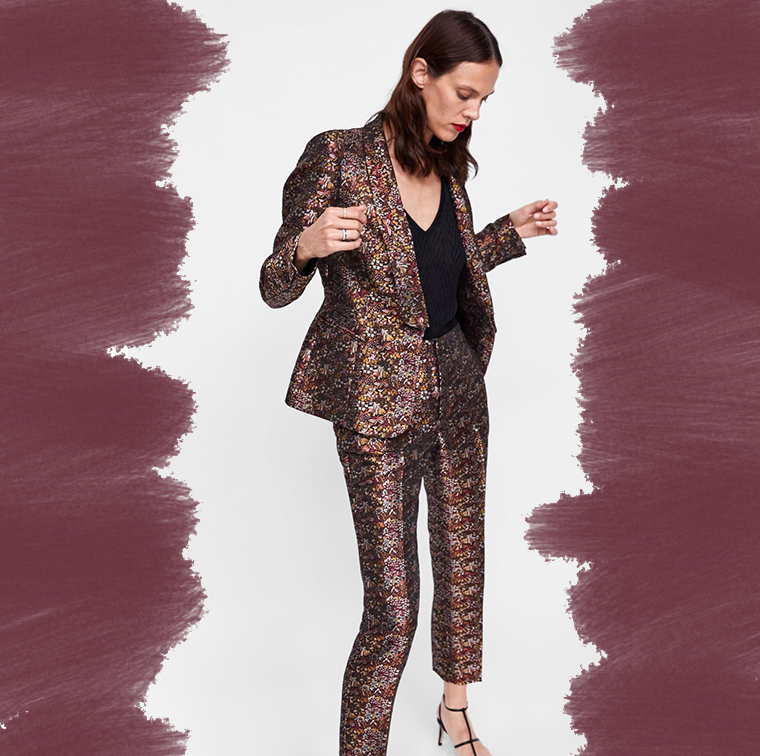 It's the hot Winter trend. Dare ultra stylish jacquard! But avoiding wearing it on a dress, that quickly turns into a Christman tree. As a tuxedo, the minimalist and sophisticated combo hits the bull's eye.
How to wear it? Black heels, open jacket on a lace caraco top with a nighty spirit to accentuate the super feminine side !
Shiny tuxedo, Zara, jacket €59.95 - pants €39.95
The slim tuxedo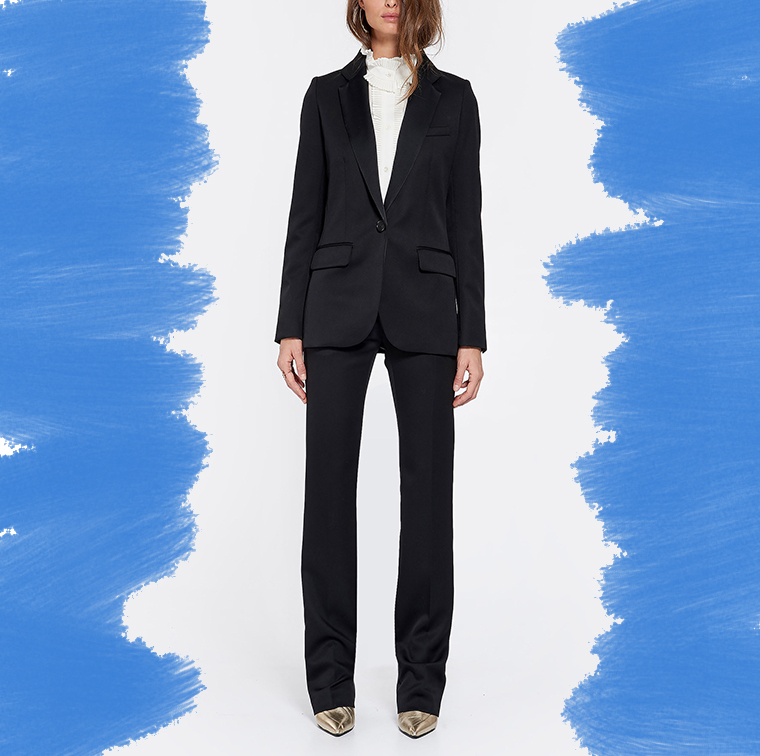 Simple, basic but trendy. These are the three characteristics of this tuxedo. Ultra slim, it conveys an allure of icon, very Charlotte Gainsbourg or Caroline de Maigret...
How to wear it? Play on the masculine-feminine side by teaming it up with a pair of high-heel boots with an added plus (silver, glitter, red patent leather…).
Feminine tuxedo, Vanessa Bruno sold on Lulli, jacket €450 - pants €315
Two-toned fun!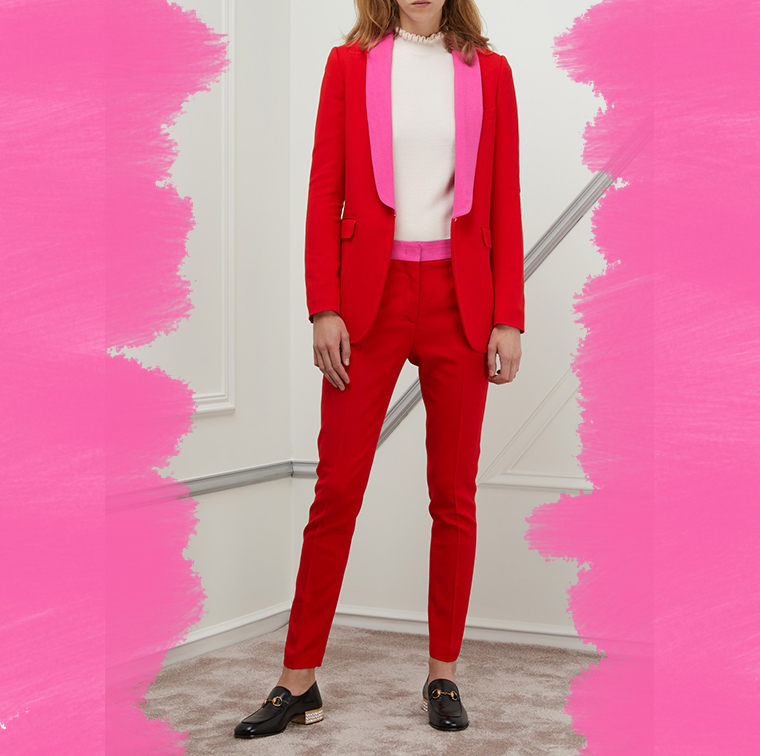 The new mantra of Parisiennes? Out goes the goody-goody mix and match. This time we wager on a raspberry rouge and a candy pink to stand out from the crowd! Ultra-colourful two-toned is very stylish!
How to wear it? Soften the ensemble with a white neutral blouse and a pair of  moccasins!
Two-toned tuxedo, MSGM sold in the boutique at Bon Marché, jacket €490 - pants €290


Discover also the new basics of the Parisienne