What is comfy, super soft, ultra-relaxing, and imposes itself as the favourite activity of top models between two catwalks during Fashion Week? Knitting, of course.
The star label of the DIY We are Knitters is confirmed as the new fad, and fashionistas are wild about fetish pullovers to make yourself.
And it's just the ticket, because right now, we all dream of one thing: cocooning at home and knitting happily in front of our favourite TV series. More satisfying and less tiring than yoga, the exercise of cool grannies has become the chic option of working-girls who want to switch off. In short, the knitting therapy is sexy.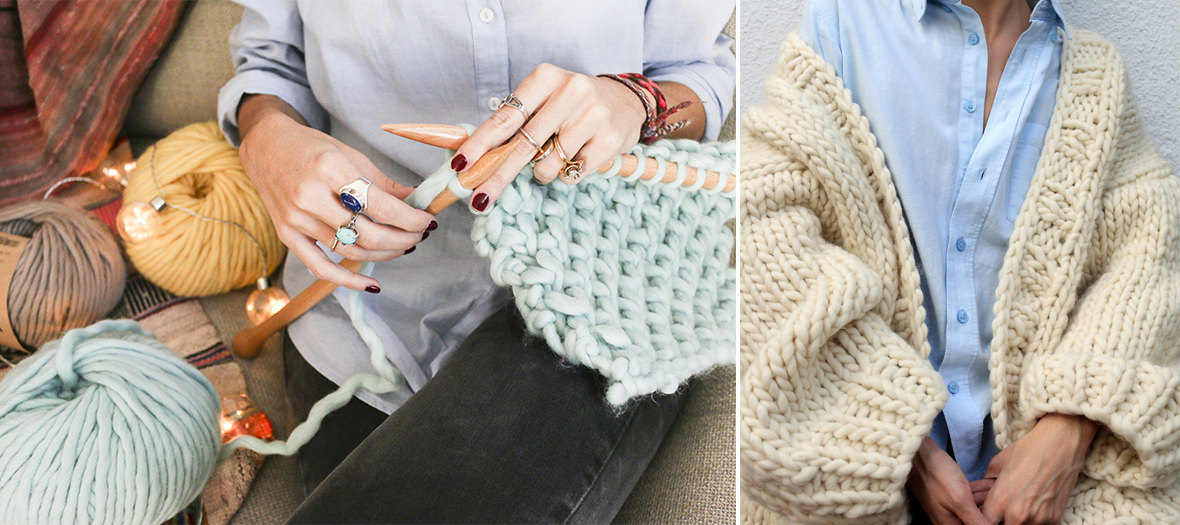 Your turn to play
Just pick your favourite pieces amongst a panel of resolutely hygge nuggets: a cream cardigan to bring with you absolutely for a weekend by the fire (€129), the perfect fluffy grey scarf that goes with everything (€69), a small decorating basket in crochet (€65) or a baby blue pullover for dull grey mornings (€85).
You are given a kit with balls of yarn, the patron and a practical guide, clear as rock water. Impossible to make a mistake, even for the most clumsy. To be noted: up to 30 % of discount on the site, from the 21st to the 24th of October. So, are you ready to start knitting?
3 good reason to start now
First of all, experts are adamant: knitting is an ultimately relaxing distraction that places the brain in a state of ideal meditation in order to turn the clock back to zero and really learn how to concentrate.
And that's without counting on the absolute satisfaction to have succeeded in creating an object that pleases you and to actually wear it! So, let's imagine your co-worker asks you where this incredible pullover comes from? And you proudly answer: "I made it myself".
Finally, you create friendships with knitting buffs thanks to Knitting Parties taking place everywhere in France—for beginner and advanced knitters as well as those who enjoy intricate crochet. The list on www.weareknitters.fr.
All the info on www.weareknitters.fr