It is the monomaniac address that the pretty girls with curly hair pass under the curls. Bar à Boucle , a real concept in itself, is none other than the first space 100% dedicated to wavy to frizzy hair. A small revolution that has recently been nestled in the heart of the Marais , in an adorable little setting.
It must be said that more and more girls are fed up with going against their nature and have decided to store hair straighteners , hair dryers and brushing brushes in the back of the closet. The disguise is ter-mi-born. Now, the loop assumes itself and has just found its own temple to be both cut and maintained. Owner's tour.
A tailor-made cut
Generally fragile and very dry, wavy, curly, frizzy and frizzy hair requires very special care. And for that, we leave it to the expert hands of Kimberley who herself has chosen to leave her frizzy hair in peace, naturally.
Personalized diagnosis, advice for setting up an effective routine , nice chatting and precise cut on dry hair before shampooing and retouching: all the ingredients are there to have a good time and go out with a new sexy head and in the times. Carrie Bradshaw had better watch out ...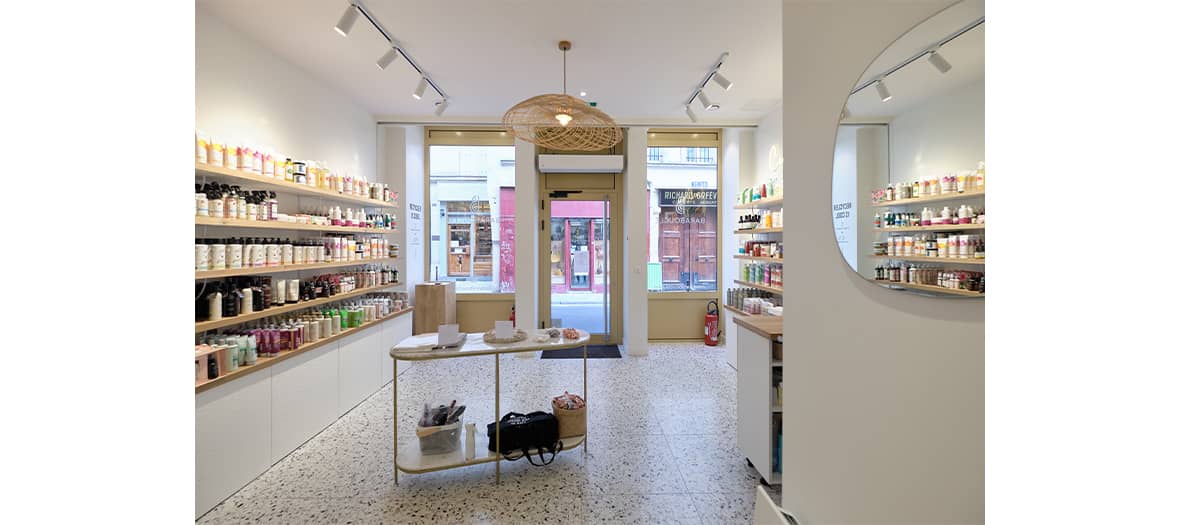 No need to ask for a brushing ! Here, drying is done only in the open air or with an ultra-high-tech Dyson diffuser that redraws the curls like never before, without damaging the hair. Remember to book well in advance: the slots are jostling while waiting for the opening of a second show, very soon ...
Top: Bar à Boucle collects all cut hair for the French association Les Coiffeurs Justes . They will be recycled to manufacture hydrocarbon filters in ports, rivers or in the oceans during oil spills.
Everything to maintain beautiful curls
At the front of the living room is a large boutique area with the best products and accessories to redesign your daily curls: satin pillowcase and scrunchies (€ 29.90 and € 8.90) and wide tooth comb (€ 11.90) from the own brand Bar à Boucle , heated flaxseed hat Mille Pillows (€ 49.90), the brilliant range of John Masters Organics , the shampoo stick from Cut By Fred (€ 20), Waam jojoba oil with a thousand uses (€ 16.90) or even Shaeri's hair scrub (€ 22) and Umaï's solid detox shampoo (€ 18). What to afford the dream mane of Julia Roberts in the early morning in Pretty Woman ...
Psst… Recycling is stylish: get -10% on your basket for 3 empty products returned.
Open Tuesday to Saturday 10 am-6pm.
Also discover the new cabinet of green products that cannot be found in Paris and the secret beauty address of hot girls when they wake up .