Between getting your colour done, taking care of your offspring or going for a manicure, you no longer need to choose—total relief! The team of CutShop Beauty Concept goes out of its way to optimize your precious time. A very good start.
Hairdresser, nail bar, makeup, eyebrows, this brand new super stylish beauty salon, nestled in the trendy Sentier, welcomes you as though you were a starlet about to climb the steps in Cannes. A real high. And, utmost in chic, Japanese-style kimonos have replaced traditional white bathrobes.
Not a minute to loose. While your streaks are being taken care of, a beautician  focuses on your hands before working on your bushy eyebrows—in other words, huge time saving when special moments just for yourself are as rare as the appearances of Mylène Farmer on TV shows.
The price of this luxury service? €70  the combo cut/blow dry, €30 for the manicure/nail polish application, €25 for a flash eye makeup. Super honest rates for high quality services in a trendy venue decorated with pastel walls, a vegetal ceiling, graffiti and millennial pink neon.
Their speciality? Deep capillary treatments with Eksperience algae (€50-55) and doe eye lash enhancement in partnership with Atelier Maquillage.
The plus: the kid corner, equipped with an iPad and a slate board, that should keep your little ones busy and quiet.
We adore: photomaton booth, must-stop before going out on the town.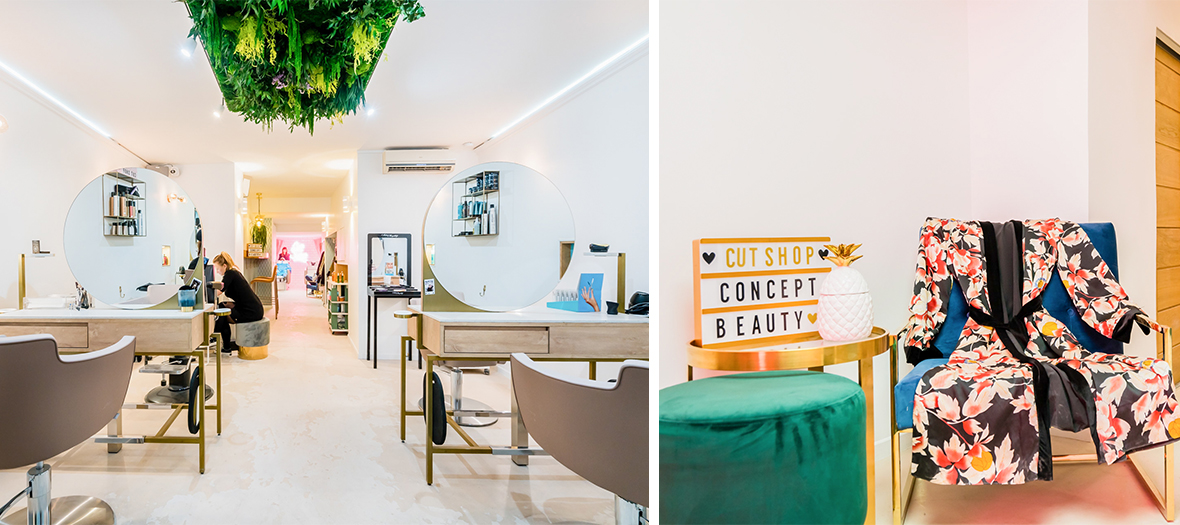 Also check out the masseuse who eradicates cellulites.