Judging by the photos that scroll on Insta feeds most prominent, the Algarve, with the town of Faro in epicenter, appears as the new chic destination, bohemian and wild to monopolize this summer, up spotlighted by Air France Travel Guide .

Instead, aim for: a coastline dotted with sublime beaches and wild coves , colorful and arty villages, an unspoiled hinterland, markets full of magnificent products ... In short, an authentic art of living that brings together all the new codes of the quiet luxury and slow life .

The final good news: Air France has just opened a direct line to this Eden just 2 hours 45 minutes from Paris. How to use a dream break for a weekend or a vacation.
Curl up on the most beautiful beach in Portugal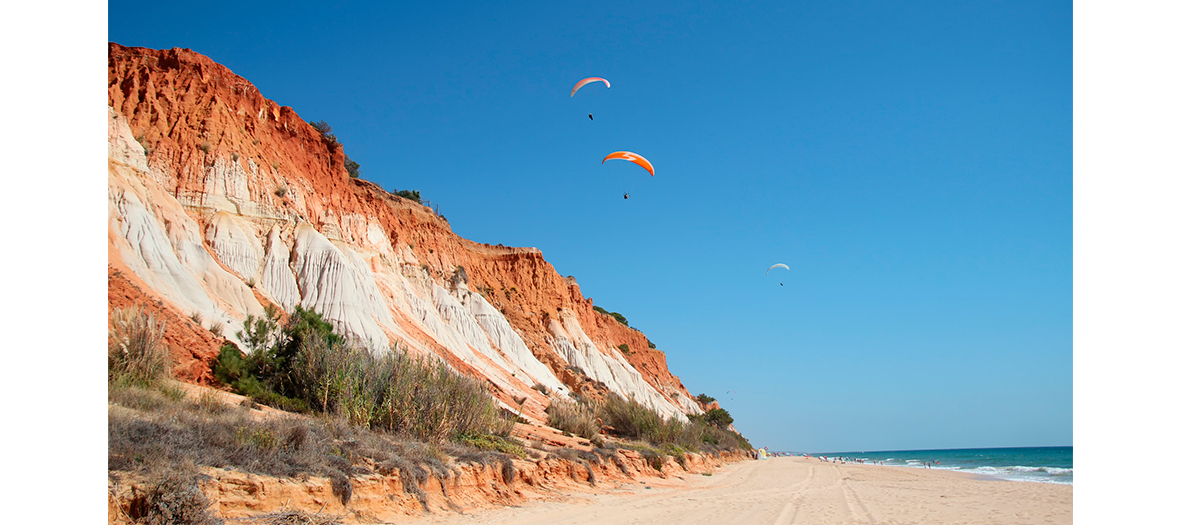 Protected by the mountains, the superb beaches and coves of the Algarve display a temperature close to that of the Mediterranean ... Highlight: Praia da Falésia , located not far from Faro, between Vilamoura and Albufeira, a paradise on earth, very popular surfers, which displays one of the most beautiful sunsets in the country.
We let you close your eyes and dream: 6 km of golden sand refreshed with translucent waters with, in the background, the pines which let an exquisite smell hover, planted on the cliffs of an astonishing red color evoking the stone of the great North American natural parks.
Several kifs are available to you to enjoy this paradisiacal beach:

- Indulge in paragliding to treat yourself to a wow experience
- Explore the turquoise water in snorkeling mode
- Tame the waves of the Atlantic by surfing
- Treat yourself to a sunrise on a paddle board
- Walk the cliffs and access the beach via the Estrada das Grame trail (6.3 km round trip)
Put down your suitcases in a jewel of a 70's architect-designed hotel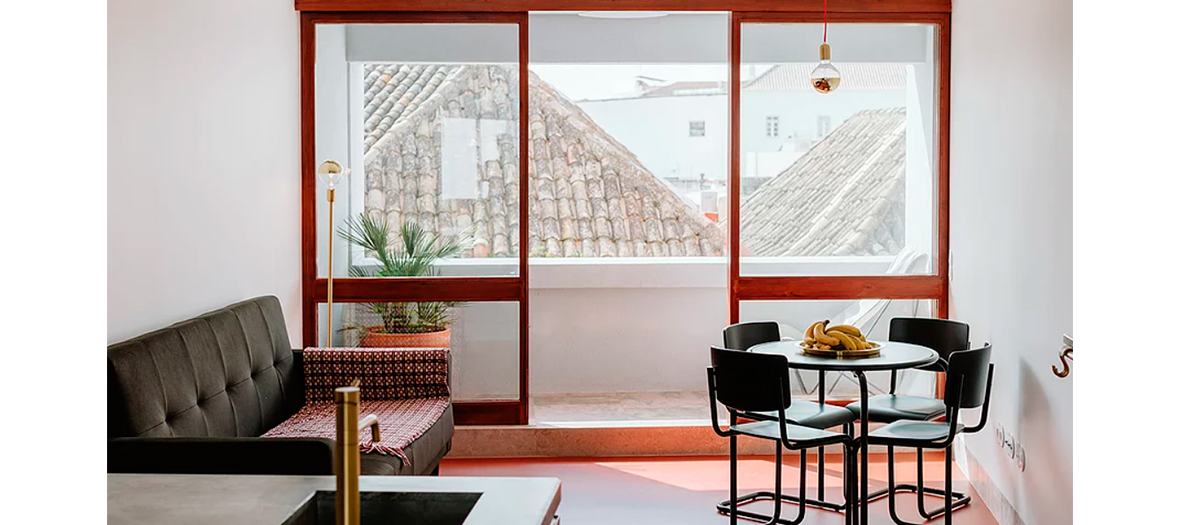 This is the nugget that should appeal to aesthetes and design lovers to chill a few days in Faro . A hotel whose name says it all: The Modernist . In the tradition of Le Corbusier or Oscar Niemeyer, this masterpiece built by Joel Santana is considered a treasure of modern architecture . A unique place, a real journey into the 70's among concept and design elements that marked them with their lines, colors and materials.
Six apartments-suites of 45 square meters, all equipped with a kitchenette and a balcony or terrace, allow you to live your life without the imposed hut of the restaurant 3 times a day ... Absolute chic: access to the tree-lined patio and on the rooftop , with a dazzling view of Ria Formosa , a true natural paradise punctuated by lagoons and islands.

Each suite can accommodate 3 adults or 2 adults and 2 children, from € 120
© João Mascarenhas / The Modernist
Squat two dream farmhouses in the pines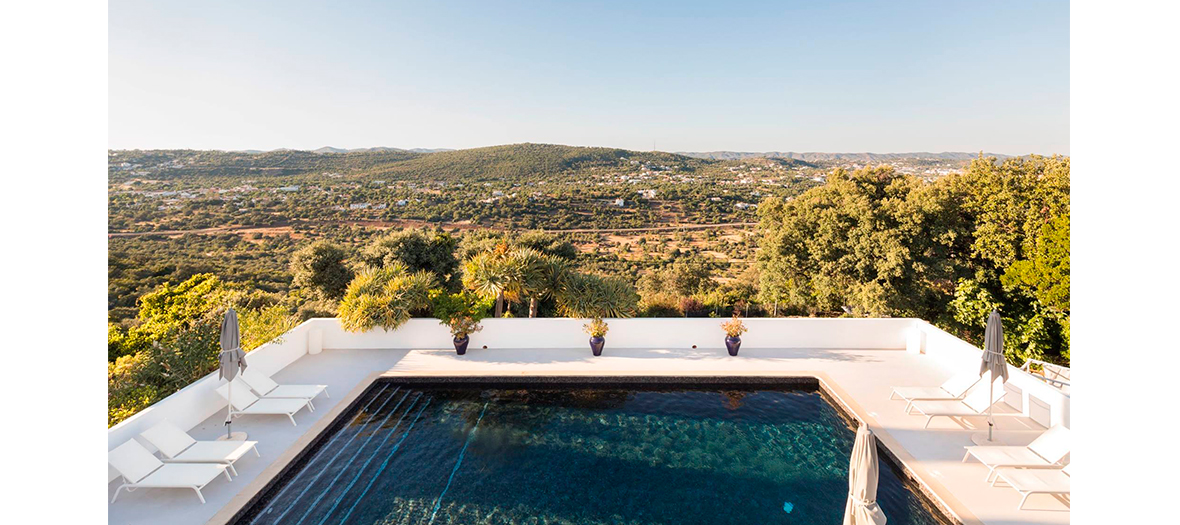 Farmhouse of the Palms has taken up residence in a former olive oil factory near the small mountain town of São Brás de Alportel , about 20 km north of Faro. From a hill overlooking the green countryside, the bed & breakfast has seven suites distributed in four houses around a central courtyard with a mosaic swimming pool. The vast height under the ceiling, the artisanal terracotta floors, the private terraces and the very careful decoration of each of the suites show a concern for the comfort of the guests. The protected park of Ria Formosa is a short drive away.
Suites from 160 €
Head north-west of Faro for a stop at Castro Marim , on the Spanish border. Located in an area of 40 hectares with umbrella pines, cork oaks, carob trees, apricot trees, olive trees, fig trees ... and a vegetable garden (hence the exquisite breakfasts and dinners), Companhia das Culturas embodies agrotourism in all its splendor. . The rooms and apartments spread over the property have a minimalist but very elegant decoration. Also note: guests have free access to the hammam and two yoga classes per week.
Rooms from 115 €
© Facebook / Farmhouse of the Palms
Book the seafood and fish institution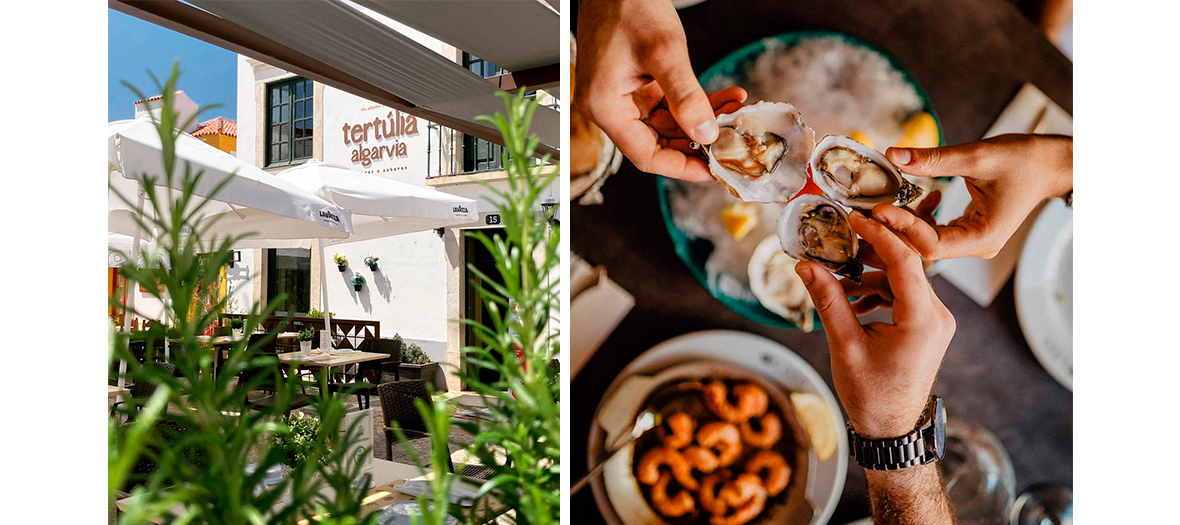 In Faro, we like to stroll in search of an unexpected point of view or a good table. Ideally at Tertúlia Algarvia , a mythical 16th century tavern where fishermen and sailors returning from the sea came to find comfort.
Today, the white facade with dark green windows houses a restaurant where fish and seafood reign supreme. Cooking classes (accompanied by visits to the market) are also offered there, particularly around the use of the cataplana , a typical Algarve cooking vessel in which a wide variety of dishes are prepared.
Lodo also offers a real local vision of seafood bistronomy. The wooden tables set in white porcelain and the minimalist decor are a call to feast on exceptional fish and shellfish, as suggested by the large aquarium where crabs, lobsters and lobsters evolve… on borrowed time.
© Instagram / @tertuliaalgarvia and @lodo_ostraria
Have a sweet drink at sunset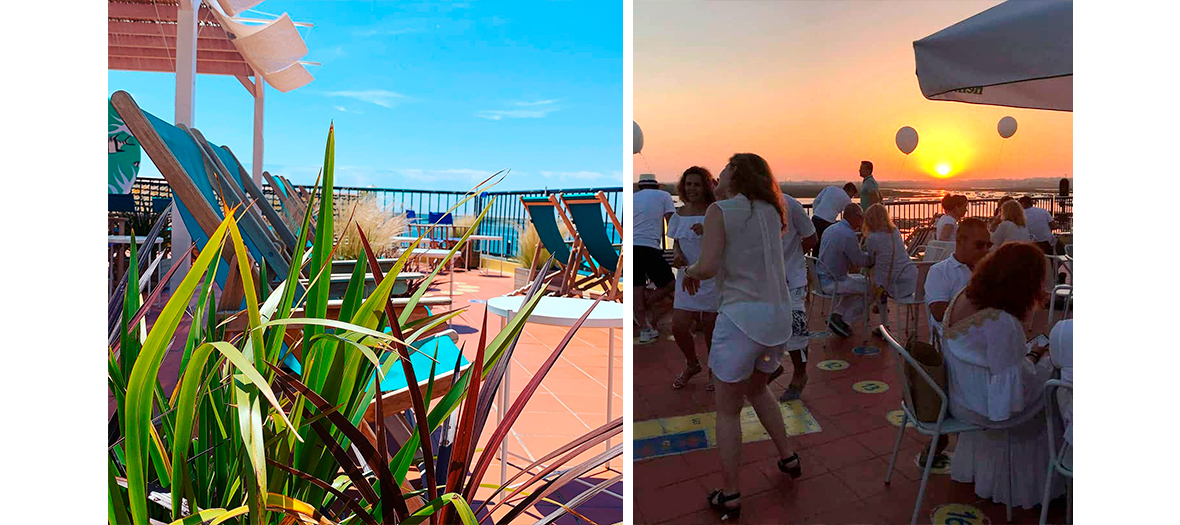 Before or after dinner, sit down for a while at LAB Terrace , facing the sea exactly. A pleasant welcome, a nice cocktail menu, a cheerful atmosphere, a well-appointed rooftop … when Faro is cool!
© Instagram / @labterrace
Escape to the hinterland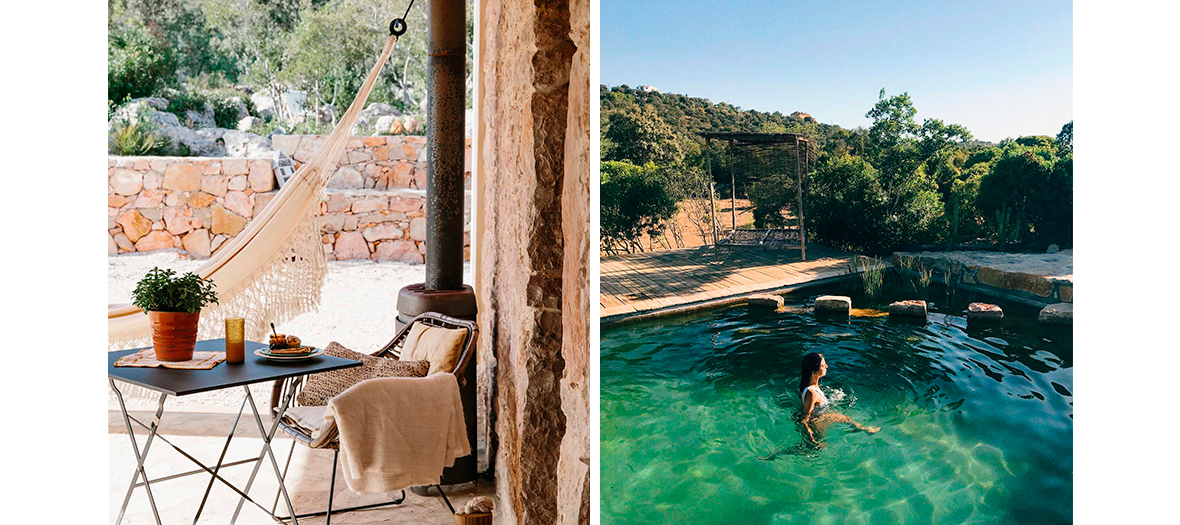 Located near the town of Loulé , about fifteen km from Faro, the old restored farmhouse Casa Brava can be found in the countryside, at the end of a dirt road.
The slow life-style B&B is available here in three rooms fitted out in what used to be the pigsty, the stable and the cellar. A simple, subtle and elegant decoration, in shades of ivory, white, ocher, olive green, dark red, an organic and vegan breakfast served by the pool in summer, the provision of bicycles, walks among the strawberry trees, carob trees, olive trees on the estate… A delight.
Room from 79 €
© Facebook / Casa Brava
Truster the finest local products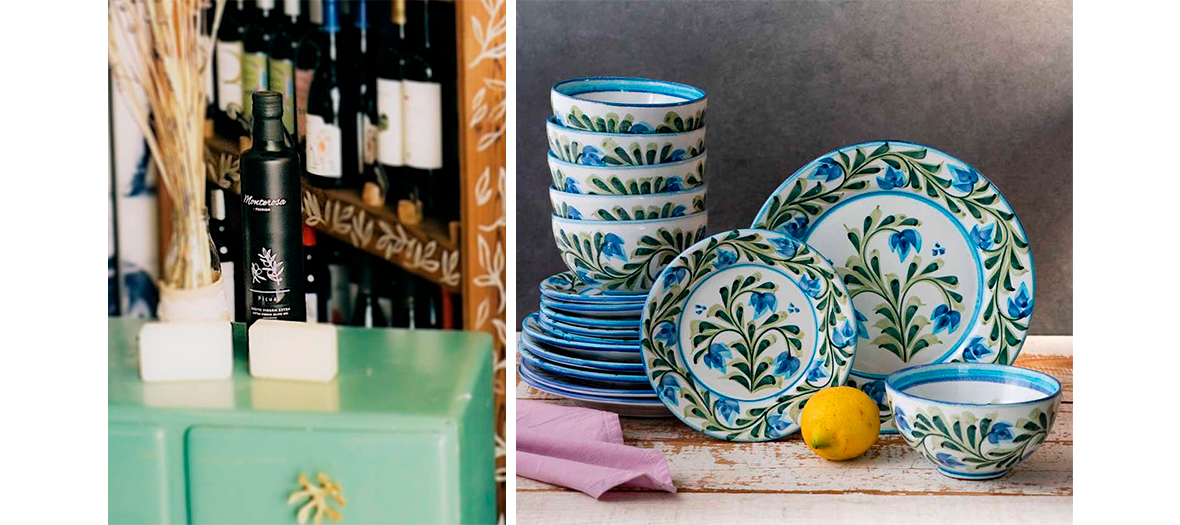 Take a walk to the Olhão market , 8 km from Faro, housed in two red brick halls topped with domes, whose stalls are full of wild berries collected in the hinterland, olives, oranges, almonds but also local fishing: squid, octopus, clams, cockles ... The ultimate must: treat yourself to a tuna muxama, dried fish in a salt crust, vacuum-packed, which can be kept for several months in the fridge and eaten in thin slices.
Open everyday from 7 a.m. to 1 p.m.
Discover the plantation of Monterosa in Moncarapacho , northeast of Olhão , which is billed as a local must-go. A visit to the extraction mill and the 20 hectares of olive groves to discover this incredible know-how turns out to be fascinating. Handcrafted to obtain extra virgin olive oil, 5 varieties with very specific taste characteristics are offered for sale. Ideal for filling up with exceptional oils at home.
Treat yourself to the most chic ceramics in the region. To the west, going up inland, not far from Lagoa , stop in the Porches pottery workshop-shop . Passionate about majolica, the Irishman Patrick Swift discovered the Algarve and its artisan traditions in 1962, before opening his workshop there in 1968. Today, his daughters Stella and Julie continue the paternal vein through vintage Iberian motifs to which they apply a contemporary aesthetic.
© Instagram / @monterosaoliveoil and © Facebook / Porches Pottery
Treat yourself to a green getaway with the dolphins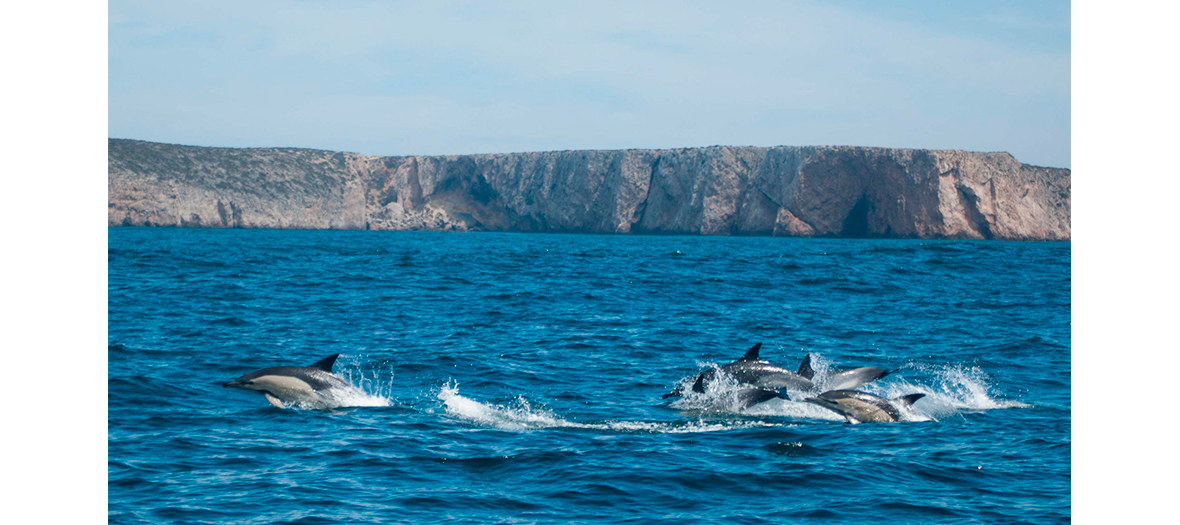 The ocean is under close surveillance here. The region of Sagres , home to the oceanographic observation station of Mar Ilimitado , stands out as a protected national area - endowed by Unesco with the Biogenetic Reserve label for the richness and variety of its fauna and flora.
A real curiosity: a team of marine biologists offers boat observation trips from 1 hour 15 minutes to 2 hours 30 minutes. The opportunity to see fifteen species of cetaceans, including dolphins , but also turtles , sea birds ...
From 3 years
© Facebook / Mar Ilimitado
Health conditions to get to Faro
Given the health situation, some countries impose a negative test for Covid-19, quarantine and travel documents. These conditions are constantly changing.
Before your trip to France or abroad , check which conditions apply on the TravelDoc website.
Your comfort, your well-being and your health are at the heart of Air France's concerns, which wishes to provide you with the best possible support in preparing for your trip. Find out about the measures taken for safe travel .
Find out more about Faro, a destination highlighted by Air France Travel Guide .