Because we all want tanned and streamlined legs, without disgraceful hair and cellulite, we rush out to buy these new treatments, which, along with a little exercise and diet will enable you to have great looking legs and kick up your heels in style.
Use the best self tanners
With these new clever innovative products, no need to go through a tanning session to whip out your pretty legs. As a serum, cream or night mask, they give skin a natural glow.
We like the Sleep Mask Tan Body by the US brand James Read, adopted by stars such as Cara Delevigne and Rosie Huntington-Whiteley, that tans skin while you sleep.
With its hyaluronic formula with acid and oil, this anti-age self tanner by the US brand Fake Bake firms, hydrates and conveys a pretty colour to your skin.
Also bluffing, the two in one Body Sculpting Gradual Tan product by the English brand Hi Shi, that combines a progressive self tan et and a slimming treatment with caffeine and special algae to drain, hydrate and enhance blood circulation.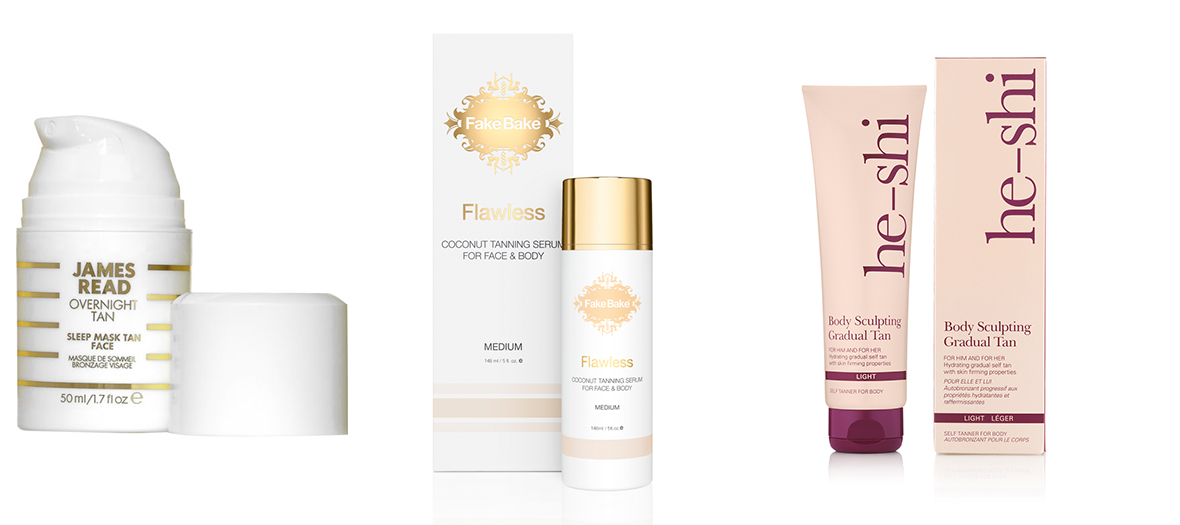 Sleep Mask Tan Body, James Read, 49,9€. Exclusively at Marionnaud.
Fake Bake Flawless Coconut Tanning Serum for face and body, Fake Bake, 35,90€ on www.feelunique.com.
Body Sculpting Gradual Tan, Hi Shi, 22,94€. www.he-shi.eu.
A wide array of slimming and moisturizing creams
Sculpt, erase, drain, scrub your little defects with no effort by using creams with slimming effect, smoothing scrubs, gels that activate blood circulation.
The Skin Fitness of Biotherm : with a double smoothing and moisturizing effect, it's perfect after a sports session to compensate loss of hydratation due to transpiration. An up-to-date formula that increases the elasticity of skin, acts like a peeling by removing dead skin, and intensely moisturizes.
The Body Fit by Clarins, a real slimming coach that works with an innovative vegetal combination on the three adipocytes responsible for our ugly flab. The plus: this cream gel smells wonderful and leaves a pleasant sensation of freshness.
The night Slim Design by Elancyl, a new anti-flab response with a formula filled with ultra destocking ingredients that activate the night lipolysis of adipocytes, drains and eliminates toxins. Result: skin is smooth and moisturized, flab is gone and the calf is thinner.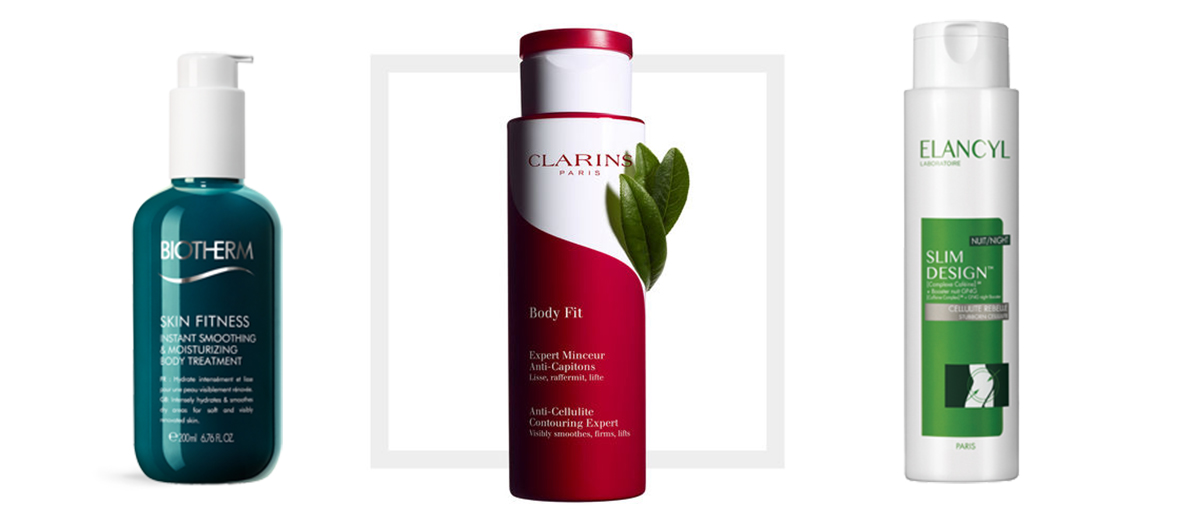 Skin Fitness Instant Smoothing Body Treatment, Biotherm, 41€. Available in parapharmacies.
Body Fit, Clarins, 54€. www.clarins.fr.
Slim Design Nuit d'Elancyl, 23,4€ on www.easyparapharmacie.com.
Get rid of ungraceful hair
These small hairs we had forgotten under our hosiery during long Winter months are always a nuisance when the nice weather settles in. By pulling, shaving or pulsing light, we give you the best ways of getting rid of unwanted hair.
Definitely with Smoothskin Bare, an pretty ultra quick IPL hair remover thanks to its 100 automatic flashes per minutes get rid of hair in 20 minutes with a semi permanent result. A real miracle solution that enables to considerably slow down the amount of hair in the long run. After a month of use, the result is bluffing !
In two clicks, with Popmyday, a mobile beauty app service, you choose a beautician who comes to your place with her equipment and removes hair with softness and professionalism. Great luxury for a very reasonable price, and accessible 7/7 24h/24.
To reserve, just click on one of the following links:
- 3 zone hair removal (49€)
- 4 zone hair removal (59€)
- 5 zone hair removal (69€)
Another complete tool that removes hair, shaves and exfoliates: the 7 in 1 cordless hair remover by Remington. Thanks to its special heads adapted for each use, no hair can resist. Tops: the massage accessory with soothing aloe vera.
Semi-définitive hair remover Smoothskin Bare Noir, Smoothskin, 249€ on www.darty.com.
Smooth & Silky Cordless hair remover, Remington, 93.90€ on www.womancorner.com.