In the mood to liven up your evenings? Palaces and 5 stars no longer have the monopoly of stylish rolls in the hay. Whip out your sexy lingerie and set down your designer overnight bag with your latest lover in one of the 10 coolest hotels in Paris. DO NOT DISTURB sign required.
Rose Bourbon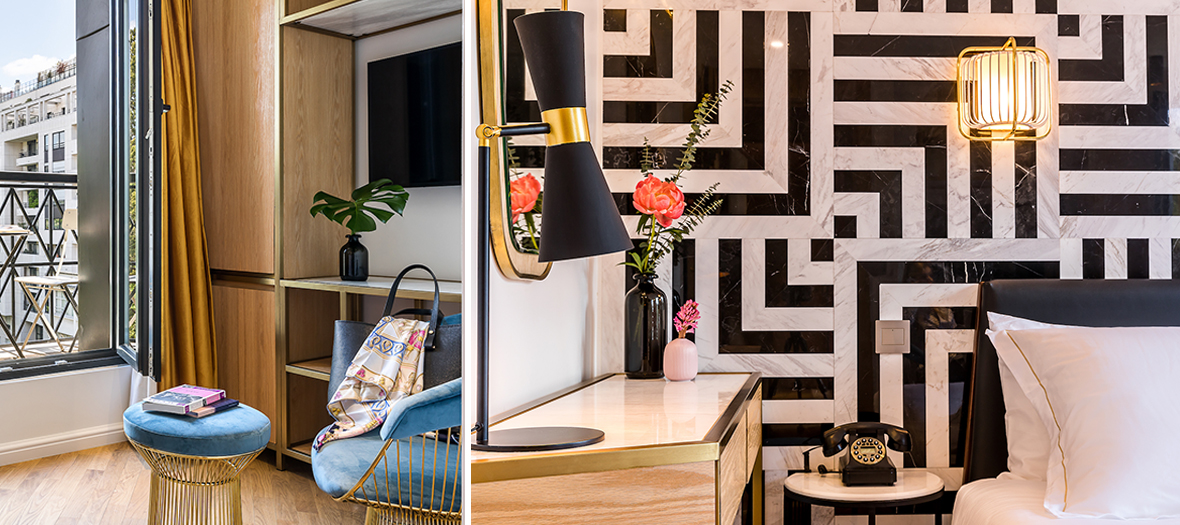 The spirit: an Art Deco gem, wildly chic and elegant, located right near Beaugrenelle, the shopping rendezvous of the 15th arrondissement. Inaugurated last Summer, l Rose Bourbon sets forth noble materials (marble, mosaic frieze) and careful details (mouldings, hanging fixtures in brass, Italian shower). None of the 39 rooms are identical. Surprise surprise!
The added plus: the splendid wine bar (starting at €5) and the terrific breakfast with eggs, viennoiseries, pancakes, breads with or without gluten... served buffet style, or directly in bed (€12).
53 Rue de l'Église, 75015 Paris. 01 45 57 35 80.
Starting at €69 per night.
Hôtel des Grands Boulevards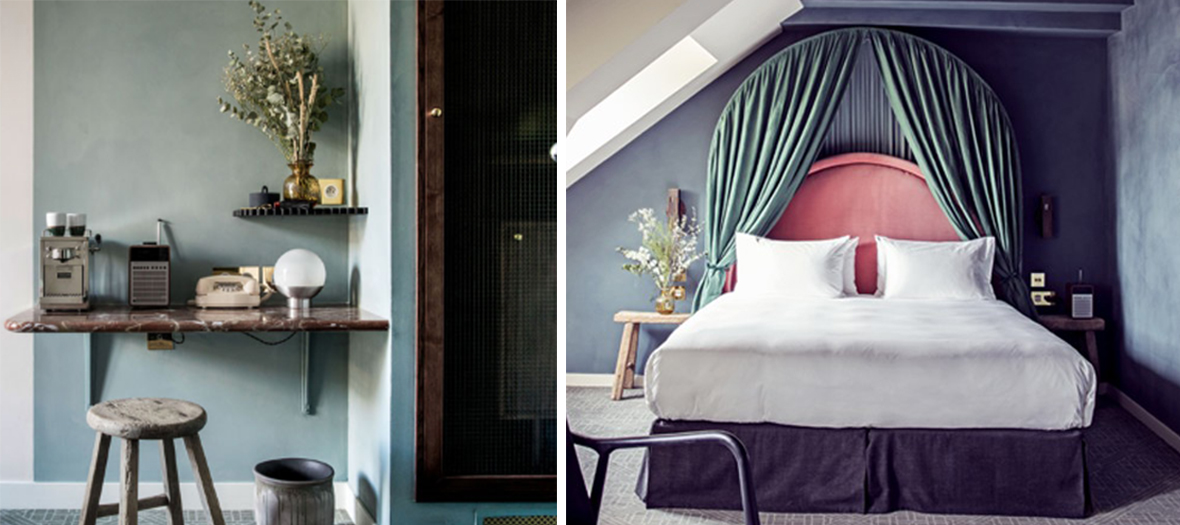 The spirit: hidden in a private mansion, the newcomer on the Parisian hotel scene by the Expérimental team is right on target. Natch, it's the star of Parisian decoration, Dorothée Mneilichzon, who conceived the decor of this very atypical place in a royal atmosphere: majestic four-poster beds, washed out blue ceramic tiles, aged wood. An atmosphere conducive to fooling around.
The added plus: the possibility of having room service deliver terrific dishes concocted by the one and only Giovanni Passerini, considered as the leading Italian chef in Paris (elected chef of the year by Le Fooding) and at the head of the Hôtel des Grands Boulevards restaurant.
17 Boulevard Poissonnière, 75002 Paris. 01 85 73 33 33.
Starting at €174  per night.
MOB Hote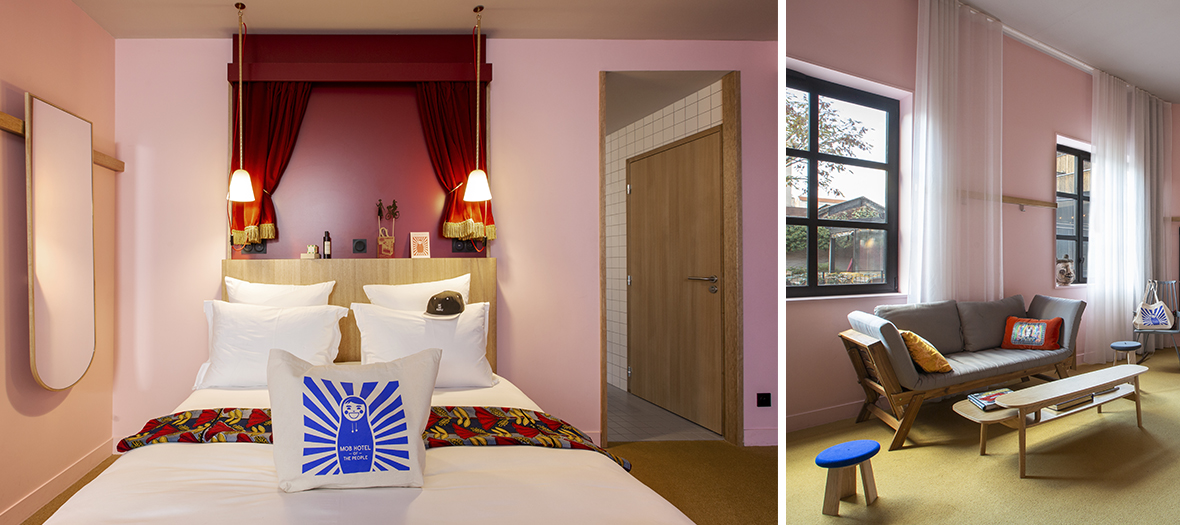 The spirit: a real life Eden in imagined by Cyril Aouizerate, co-founder of the Mama Shelter hotels. In short, the spot for inside-track Parisians and cool stars dropping by at the heart of the Puces de Saint-Ouen flea market, and 5 minutes from the metro. Specifics: rooftop yoga, green eats, co-working space, shared vegetable garden, XXL terrace…
The added plus: the Med inspired menu (grilled eggplant, chakchouka, sauerkraut, falafels...) by new chef Aharon Politi, always organic and sustainable. Special kudos for the brunch with mezzés, dish and buffet at €35. Amazing!
4-6 Rue Gambetta, 93400 Saint-Ouen. 01 47 00 70 70.
Starting at €70 per night.
Providence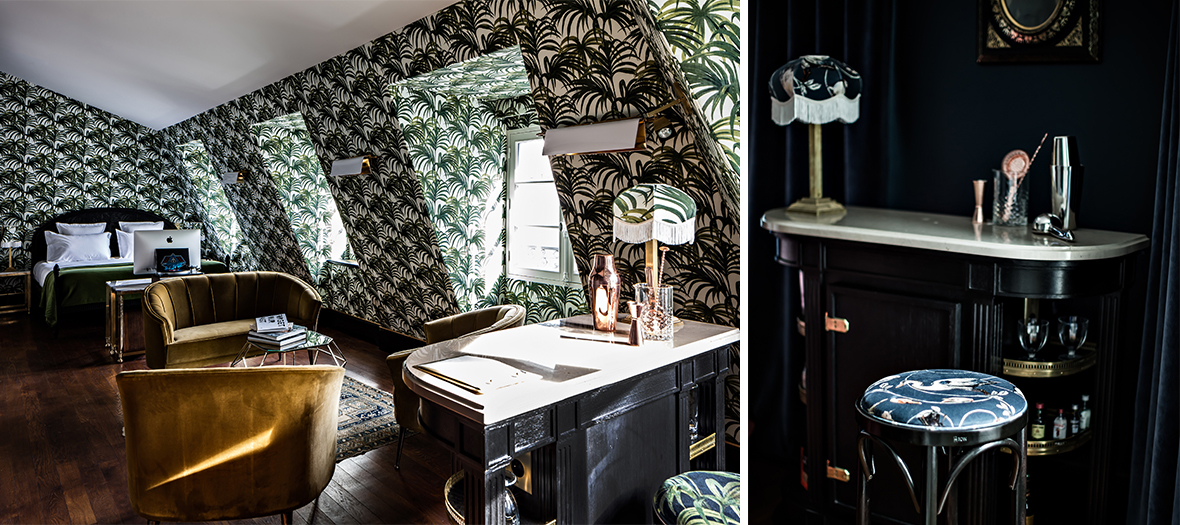 The spirit: a tiny hotel of 18 rooms, all unique, launched by the hot team of Moussié with a well-known reputation (Le Barbès, Bouillon Pigalle, Jeannette & co, that's them). Imagine a furiously Parisian mini-building on a pedestrian place, transformed into a house for friends where all the socialites visiting Paris come drop off their luggage (Garance Doré has made it her second home). A cocotte spirit, Art Deco, touches, fun objects scouted here and there, all pimped by amazing fabrics and lamps signed House of Hackney, the über cool label of London decoration. Really hot stuff! No need to mention the restaurant and its heated terrace where all the Paris trendies meet up every evening.
The added plus: a small cocktails bar with everything you need (ice cubes, lemon, fresh mint, bitters, fab copper shaker...) in each room, and a DIY menu. You almost feel like Lord Brett Sinclair in The Persuaders. Utlimate style.
90 Rue René Boulanger, 75010 Paris. 01 46 34 34 04.
Starting at €191 per night.
Terminus Nord 25 hours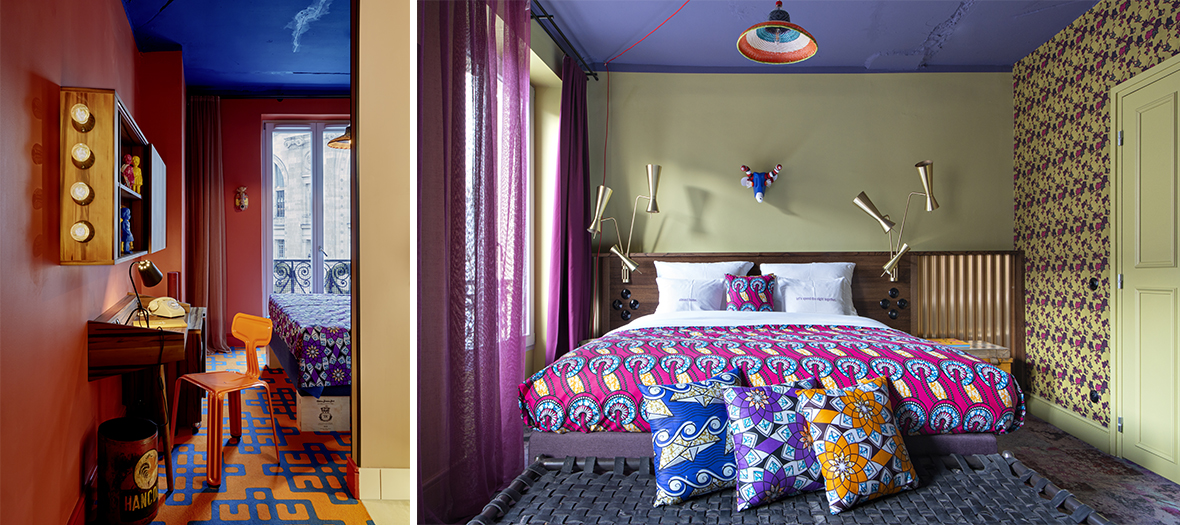 The spirit: in the same style as Ace Hotels, the ultra urban chain 25 Hours systematically opens its hotels in buzzing districts, and draws its inspiration from "local heroes" to imagine the decoration. In Paris, 25 hours has set down its luggage at Terminus Nord, right across from the train station, where one finds all the names in the area : graffiti representing Jocelyn Armel Bindickou, owner of the famous Sape & Co boutique, the Mecca of Parisian fashion horses in Barbès, bed linens conceived with traditional African wax fabric recalling the boubous of Congolese women from Château Rouge or film posters like at Kollywood, created specially by the famous Indian film director Sushant Sanda.
The added plus: the breakfast dining room on the first floor. An ultra-refined boudoir spirit, powdery pink and velvet, that is a far cry from the noise and frenzy under the windows of the hotel. To be noted, the super stylish buffet, ideal for brunching.
12 Boulevard de Denain, 75010 Paris. 01 42 80 20 00.
Starting at €166 per night.
Hôtel Grand Amour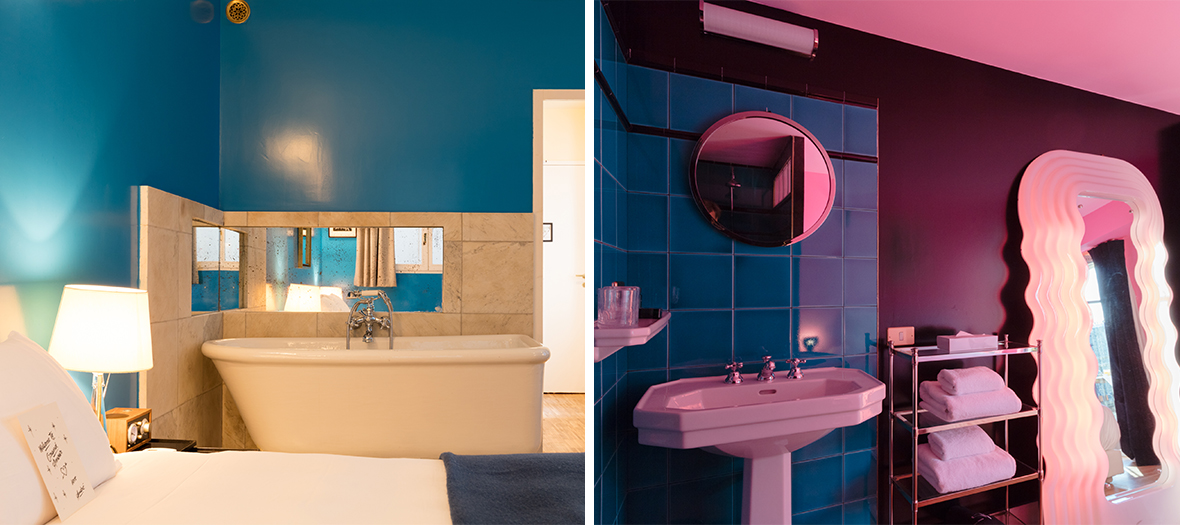 The spirit: buoyed by the truculent André Saraiva (Le Baron), the team of social agitators responsible for Hôtel Amour has opened another venue on Rue de la Fidélité. Bigger, more stylish, the trendy clique followed. So did we! In total, 42 rooms that really feel like Parisian flats: second hand furniture, designer pieces, artists photos.
The added plus: the dining room with its great heated terrace where you are sure to run into Vips, as well as big or small names in fashion music, the cinema. In short, everything we dream of. On the menu, croque-madame (€14), tartare (€16), fish and chips (€16), cocktails (€14).
More info online
18 Rue de la Fidélité, 75010 Paris Bienvenue. 01 44 16 03 30.
Starting at €155 € per night.
Le Pigalle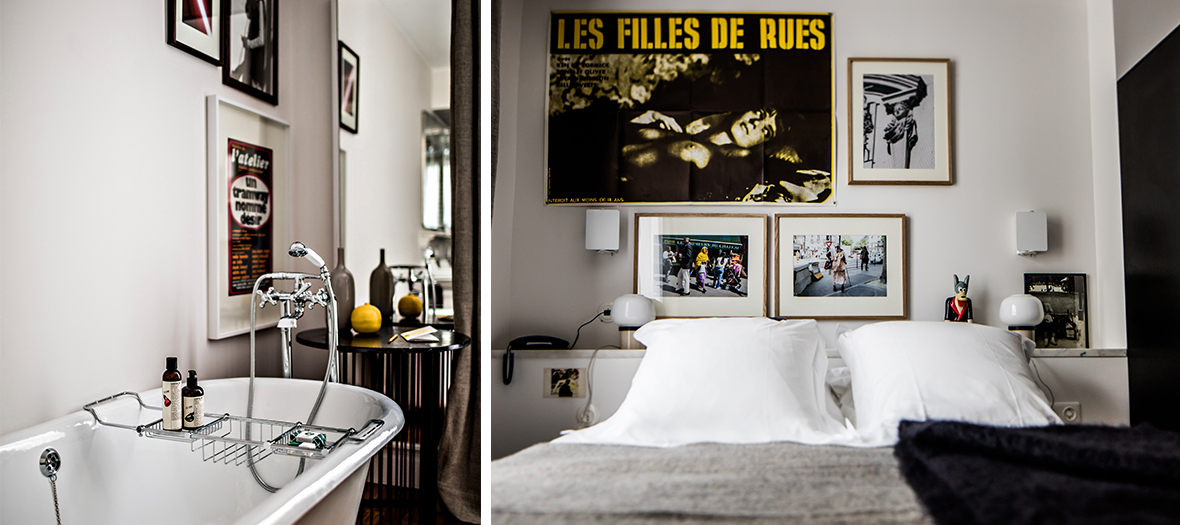 The spirit: here it's Pigalle. At the same time rock, pop, a tad provocative and sulfurous, this trendy HQ fully claims its anchoring in the district. Far from aseptic hotel rooms, Agence Festen has recreated the atmosphere of apartments we would dream to live in: vintage furniture, concert posters, retro objects, freestanding tubs.
The added plus: the restaurant/bar with the allure of a 70s salon, filled with winks to the place's past (pole dance bar, neon mouth, private salons). On the menu, tartines, ceviche and cocktails truly worth the detour.
9 Rue Frochot, 75009 Paris. 01 48 78 37 14
Starting at €14 per night.
Belleval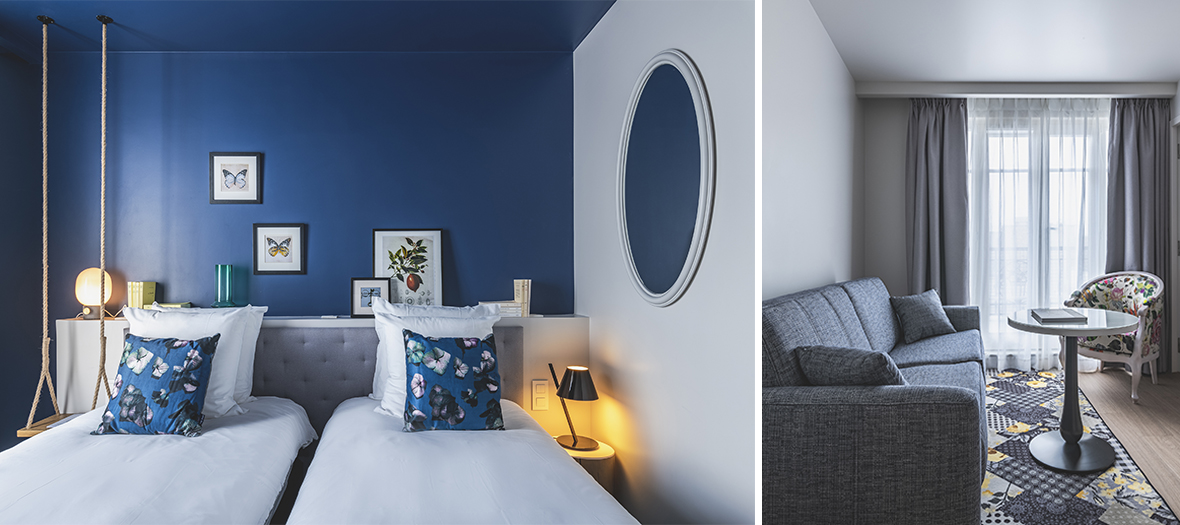 The spirit: Haussmannian lobby, floral prints, duck blue walls, cement tiles and XXL beds, the Belleval ticks all the boxes of our obsessions. Inaugurated in April 2018, this 4 star welcomes its guest as though it were their home and naturally, everyone wells great here.
The added plus: the very twig-compatible healthy restaurant (avocado toast €15, Buddha bowl €15, pumpkin soup €8 ) and the absolutely delicious cocktails bar to start off with zip a muy caliente evening (Rosemary Tonic with gin and cucumber, €12).
16 Rue de la Pépinière, 75008 Paris. 01 85 73 36 45.
Starting at €150 per night.
Le Voltaire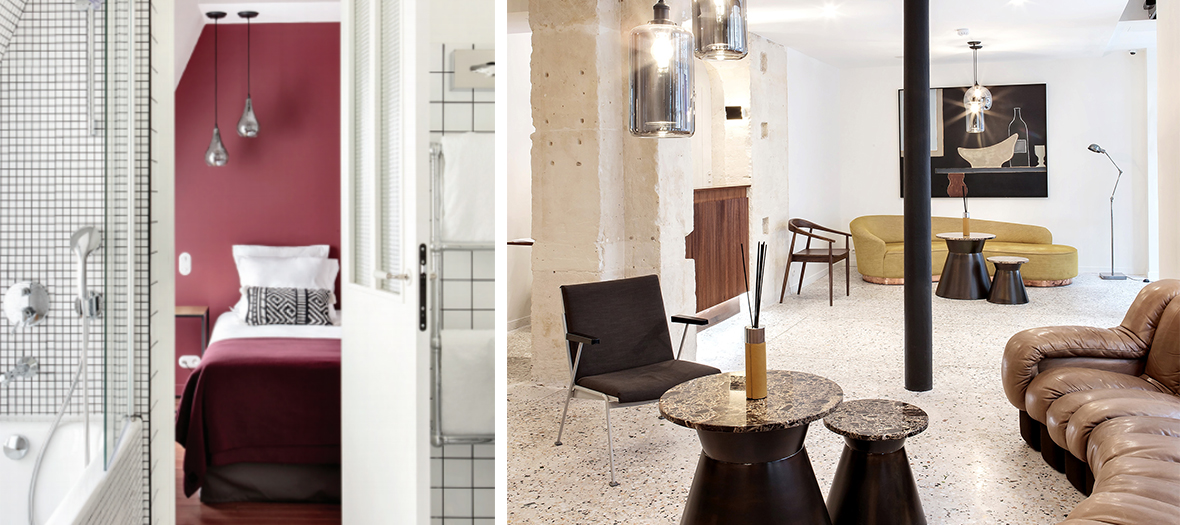 The spirit: Caroline et Camille Antoun have picked up the flame of the New Hotel label founded by their father. First cornerstone: a new made in Oberkampf address, revisited like a Parisian bachelor pad, but better. What could be better than an all-comfort hotel with the lifestyle of a house, starting with the stunning lobby: terrazzo floor, the iconic DS-600 sofa, signed by de Sede, 70's armchairs and Charlotte Perriand wall fixtures.
The added plus: Here, no bar, no restaurant where you could run into the "wrong persons". On the other hand, a coffee-shop and a terrace to enjoy breakfast just like at home. And, if you have a hunger pang in the evening, le the desk will send up a bottle of champagne and your favourite Ubereats order.
3 Rue Pétion, 75011 Paris. 01 43 79 02 33.
Starting at €120 per night.
Bienvenue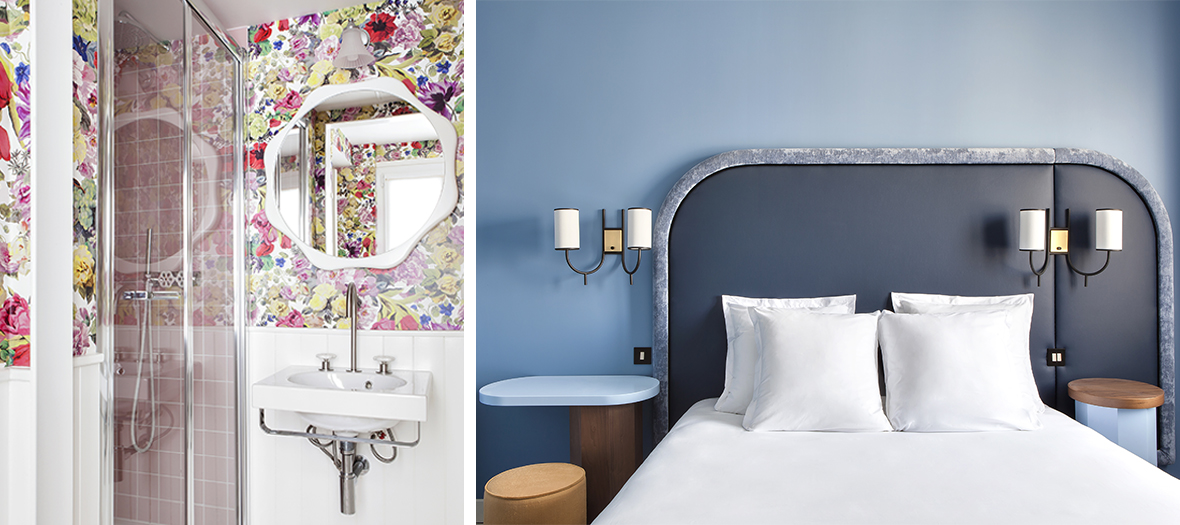 The spirit: the master of Parisienne hospitality does it again. Adrien Gloaguen (Hôtel Paradis, Hôtel Panache) entrusted the decoration of his latest venue to Chloé Nègre (ex India Mahdavi), who signs a lovely bucolic bubble between Pigalle and the Grands Boulevards. Each floor has its pastel nuance: pink, yellow, blue, green. A warm and reassuring setting, where you can happily cocoon with your lover.
The added plus: an atomic cuisine with Asian influences by chef Minou Sabahi. Her spring rolls (pear, coriander and fresh orange), a fab croque-monsieur, vegan curry­ —to be enjoyed in the dining room-veranda, while waiting for balmy weather to hang out in the garden.
23 Rue Buffault, 75009 Paris. 01 48 78 32 18.
Starting at €99 per night.
Also discover 9Confidentiel hotel.