Ibiza has two sides: the Ibiza of bling, jet-setters, XXL yachts, and David Guetta, and then there's the flip side: the Ibiza of hippies, bohemian life, and vast, wild landscapes. A true paradise off the coast of Valencia, this Balearic island never ceases to captivate us. Here's a recap of our favorite spots...
The perfect hotel to unpack your bags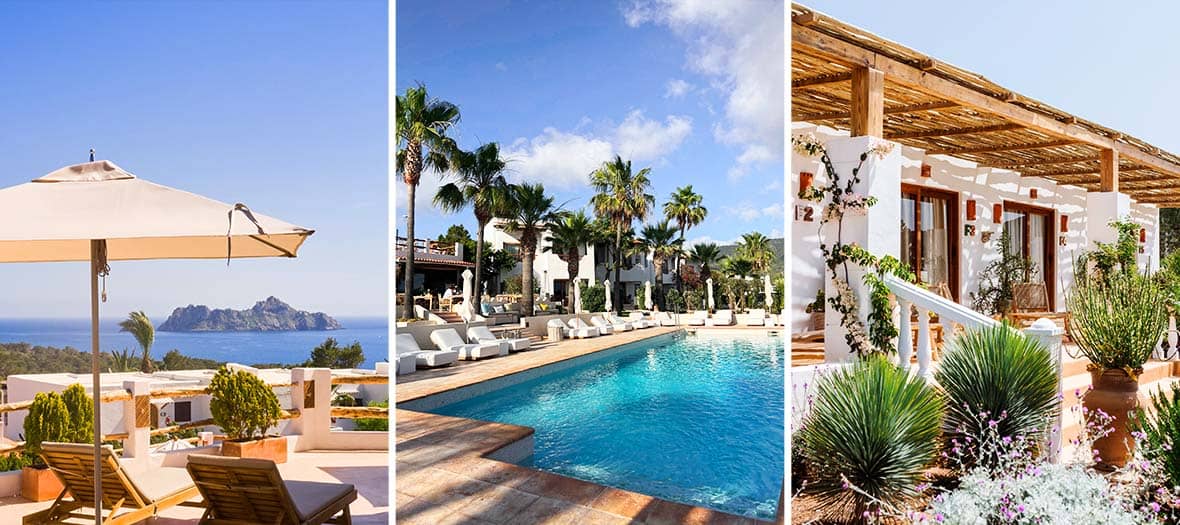 Located on the heights of Ibiza in the southeast of the island, right in front of the mystical Es Vedrà rock surrounded by numerous legends, Hotel Petunia is a hidden gem. Sheltered from all the hustle and bustle, this lovely hotel boasts an extraordinary view of the Mediterranean. It's so charming that you might never want to leave, as it takes on the atmosphere of a chic vacation village. It offers a massage room, outdoor fitness equipment, and an adorable boutique where you can snag jewelry, swimsuits, and dresses from local designers.
Yoga classes with a view of the sea, breakfast on the terrace, strolls in the garden, sunbathing by the pool – the program is packed! As for restaurants, while La Mesa d'Es Vedrà's perfectly grilled paella won us over, its ultimate highlight lies on the rooftop with La Mirada, a Crudo Bar offering a menu focused on finely crafted raw fish dishes straight from the high-flying kitchen. To toast to the sunset, ask the mixologist to shake up one of their divine signature cocktails – Instagram story mandatory...
We also fell in love with the room decor, which is like something out of a Pinterest mood board, complete with a large wicker and leather basket at your disposal for the entirety of your holiday, from the beach to the pool to the markets. Promise, we won't take it home!
Hotel Petunia, Carrer de Sa Pala Marina, Sant Josep de sa Talaia - Cala Carbó, 07830 Ibiza, +34 971 808 197. Rooms starting from €290.
© Nando Esteva, Clémence Renoux et Sofia Gomez Fonzo / Petunia Ibiza
2 upscale restaurants to book in advance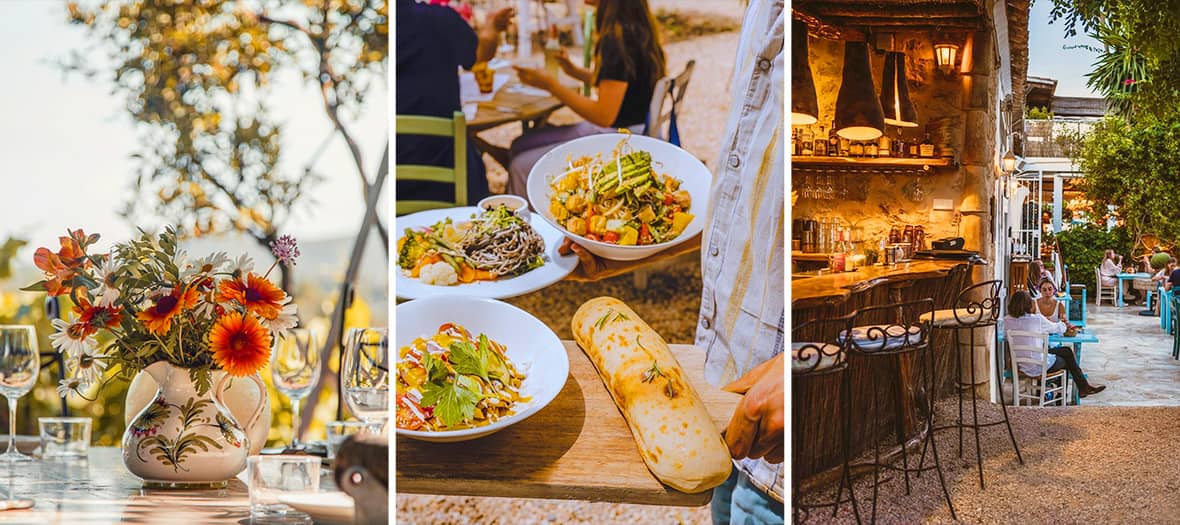 In Ibiza, the Parisian Françoise Pialoux is a star! Having been on the island for over 40 years, "Mimine" opened her guesthouse in a former farmhouse that has become a lush Eden with two pools and rooms that attract visitors from around the world and the most discerning interior design magazines. This insider's address is particularly famous for its Tuesday couscous nights, a must for any passing French person where you'll gather around large tables for an unforgettable evening...
Couscous at Les Terrasses Hotel, Apdo. de correos 1235, Carretera de Santa Eulalia, Ibiza. Reservation by phone at (+34) 971 33 26 43. Open on Tuesday, Thursday, Friday, and Sunday from 8:00 PM to 10:00 PM. Couscous evening for €48 including dessert and tea.
© Albert Font
With its Sicilian garden atmosphere, La Paloma is a true institution on the White Isle. The Italian chef focuses on recipes that exude sunshine, to be enjoyed in the shade of orange trees. An experience that comes close to perfection, with fresh dishes and a decor filled with wonders (those tables, that tableware... everything is beautiful!) that seem to come straight from a dream.
La Paloma, Carrer Can Pou, 4, 07812 Sant Llorenç de Balàfia, Illes Balears, Spain. Open every day, Paloma Café from 12:30 PM to 3:45 PM and the restaurant from 7:30 PM to 11:00 PM. Reservations online or at (+34) 971 32 55 43.
A shopping session in Santa Gertrudis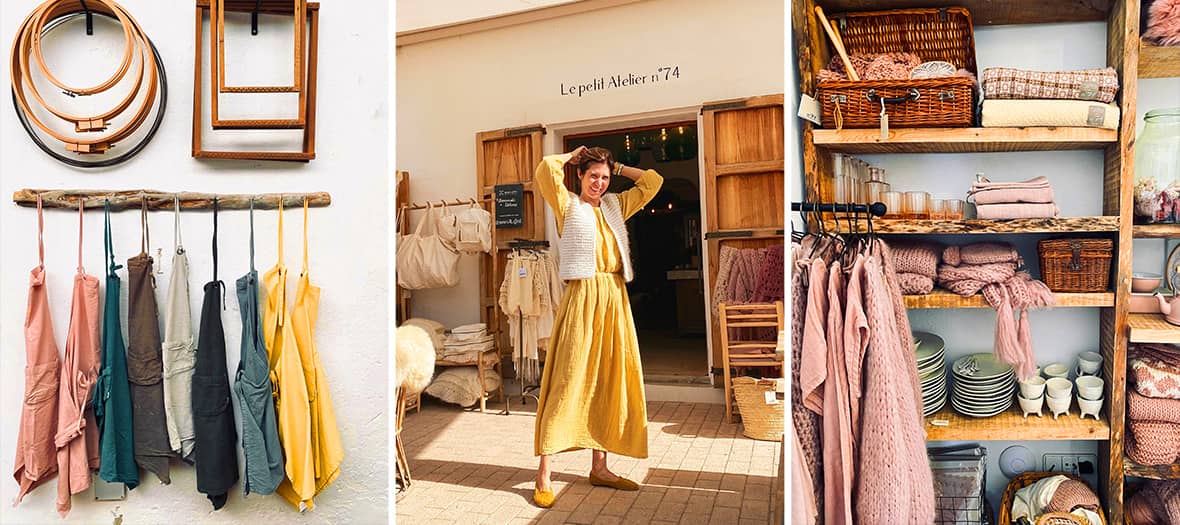 Near the church in Santa Gertrudis, you'll find plenty of lovely boutiques to pick up printed dresses, sandals, jewelry, and beautiful decorative pieces to adopt the gypset style that defines Ibiza's DNA. Starting with Le Petit Atelier n°74 (12 Paseo de Santa Gertrudis, 07830 Ibiza), opened by Frenchwoman Tara Sfez, which offers a true art of living with cotton gauze clothing, terracotta swimsuits, and irresistible kitchen utensils. We want it all! Just across the street, l-mental (Paseo Santa Gertrudis, 9, Santa Gertrudis de Fruitera) has something to offer for smaller budgets in a lively bazaar where you could spend hours.
© Le Petit Atelier n°74 (@numero74_official)
The most beautiful beaches on the island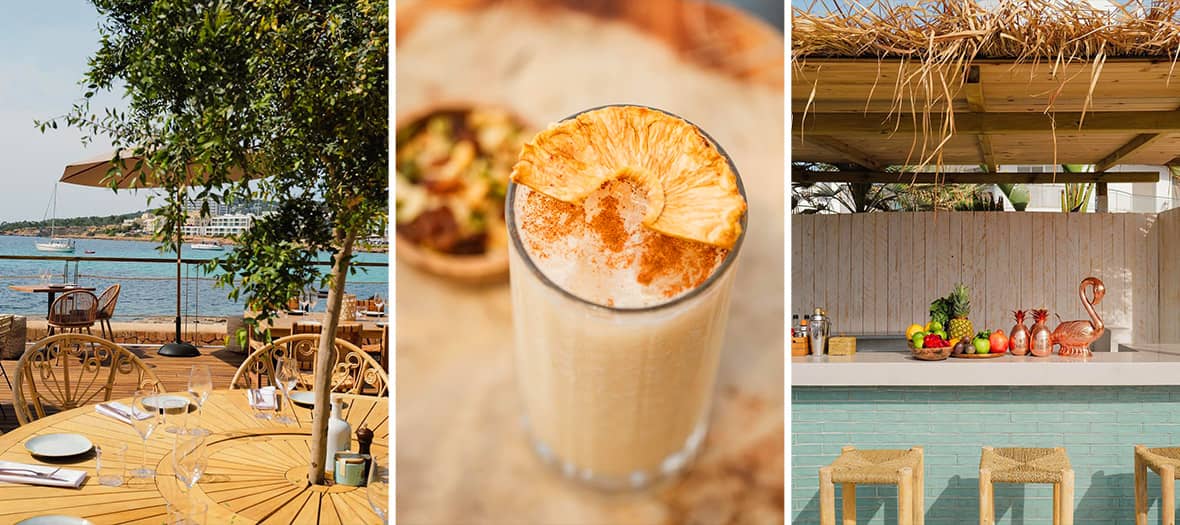 In the Salinas Natural Park, in the far south of the island, incognito celebrities lounge on Las Salinas Beach. White fine sand, turquoise water: a true natural postcard. Head northwest to Pou des Lleó, a small cove surrounded by fishermen's houses where you can enjoy grilled fish directly from the Salvadó restaurant for lunch.
Prefer a private beach experience? Head to Monkey (2 carrer de Joan Boscà, 07830 Ibiza), a top-notch beach club opened by the team behind Monkey in Pigalle. Psst: to be sure to get your spot in the sun, remember to reserve your sunbed well in advance using the fantastic Sunbedz app, which lists the best beach clubs to book to avoid the disappointment of "We're fully booked." Bliss!
© Justine Vioche (@troisfevrier) / Monkey Ibiza (@monkey_ibiza)
The best parties until the early hours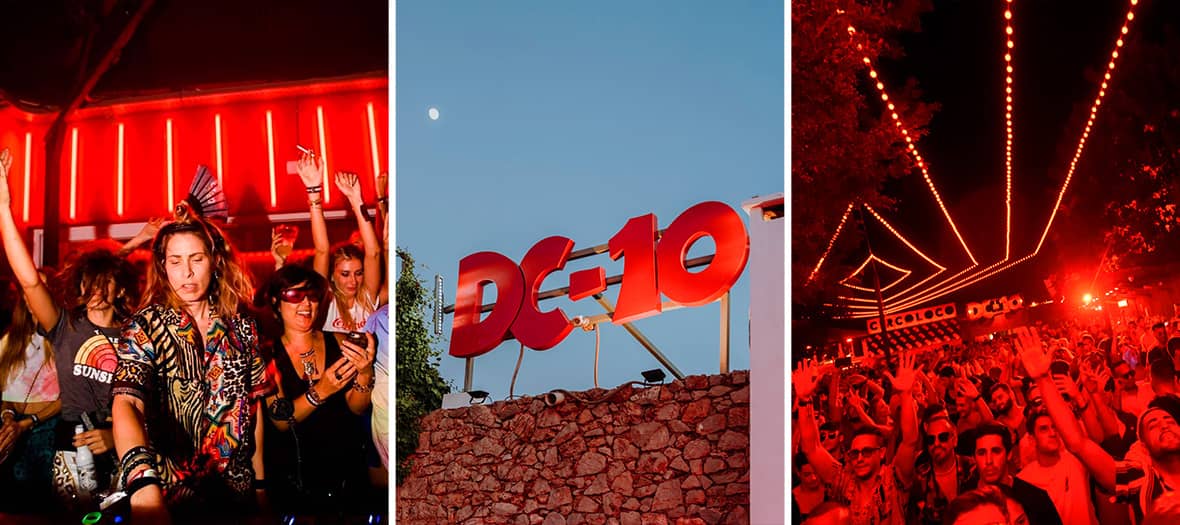 Groups of friends coming to Ibiza to celebrate the art of the party won't be short of wild nights to dance until dawn. The only question is which one to choose among the amazing lineups at DC10 (Carretera Las Salinas, Sant Josep de sa Talaia), Ushuaïa (Playa d'en Bossa 10, 07817 Sant Jordi Ses Salines), or Cova Santa (Ctra. San José, km 7, desvío Sa Caleta), our personal favorite that favors bohemian music artists, and where the unmissable WooMoon parties celebrate the new moon.
Don't miss out: the hippie markets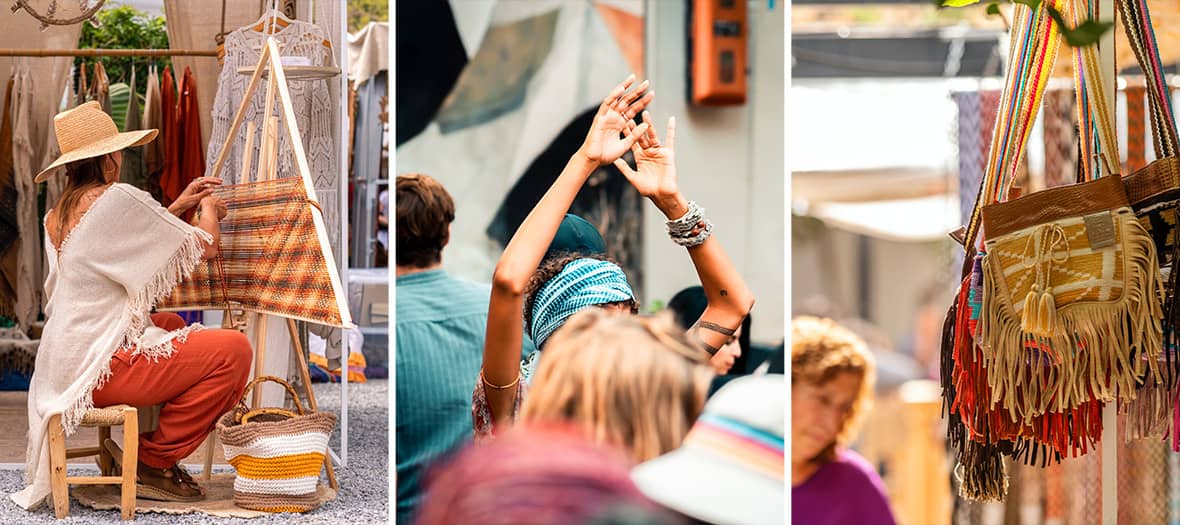 What would Ibiza be without its hippie markets? To experience these eclectic flea markets where you can find everything, head to Las Dalias de Sant Carles every Saturday from 12:00 PM to 8:00 PM. Musical instruments, vintage or handmade clothing, paintings, bead necklaces, hammocks... In this cheerful bazaar where flower power reigns, you'll adapt to a timeless way of life and a departure from consumer society, all while getting a massage and having your cards read!
© Arsen Voronyy (@voronyy) / Las Dalias (@lasdaliasibiza)
We'll whisper a few more gems that you absolutely must try on your next visit to Ibiza:
Also discover stunning hotels in Tuscany and our best addresses to go on a week-end and Our favorites for a countryside weekend in Le Perche