© Palazzo Portinari and © Fontanelle Estate
La dolce vita, for real. The most mythical of Italian regions continues to captivate travelers in search of culture and gastronomy. We embarked on a journey with the Michelin Guide team, which, in addition to its selection of restaurants, now offers a curated collection of hotels through its app, all inspected by its minutious experts. Historical palaces, trendy boutique hotels, and vineyard estates... a tour of the treasures of Tuscan hospitality.
A Renaissance palace worthy of The White Lotus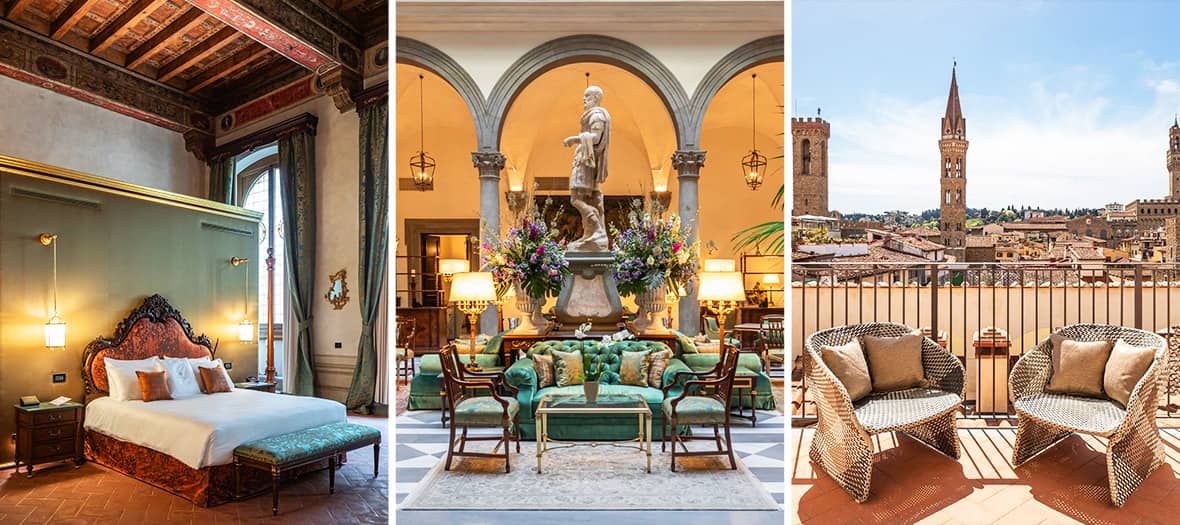 The hotel: Palazzo Portinari Salviati.
The pitch: in Florence, this authentic 15th-century palace, beautifully restored, was once the residence of Beatrice Portinari, muse of Dante, and the first home of Cosimo I de' Medici, Grand Duke of Tuscany. Upon entering, you are immersed in an ambiance reminiscent of The White Lotus Season 2, with a sublime courtyard adorned with sculptures, painted frescoes, and cozy armchairs. You could almost catch actress Jennifer Coolidge sipping a Negroni in the lobby.
The rooms: as befits a five-star hotel, the 13 rooms and suites boast stunning luxury: ultra-refined decor, antique furniture, plush bedding... Special mention goes to the princess-like bathrooms adorned with Calacatta marble. The ultimate gem, which might require breaking the bank, is the Galileo Penthouse, a 147m2 apartment with a terrace and breathtaking views of the Duomo's dome. One can always dream...
You will love: the exceptional location, in the heart of the historic center, just steps away from the Uffizi Gallery and the Ponte Vecchio.
The extra touch: a sophisticated cocktail bar that attracts Florence's beautiful people, as well as a Michelin-starred restaurant - Chic Nonna - led by chef Vito Mollica. Perfect for enjoying the splendor of this legendary establishment when you don't have the means to spend the night.
Palazzo Portinari Salviati, 6 via del Corso, Florence 50122. Reservation at +39 055 535353 or online. Starting from €805.
© Palazzo Portinari Salviati
The trendy address to show off on Instagram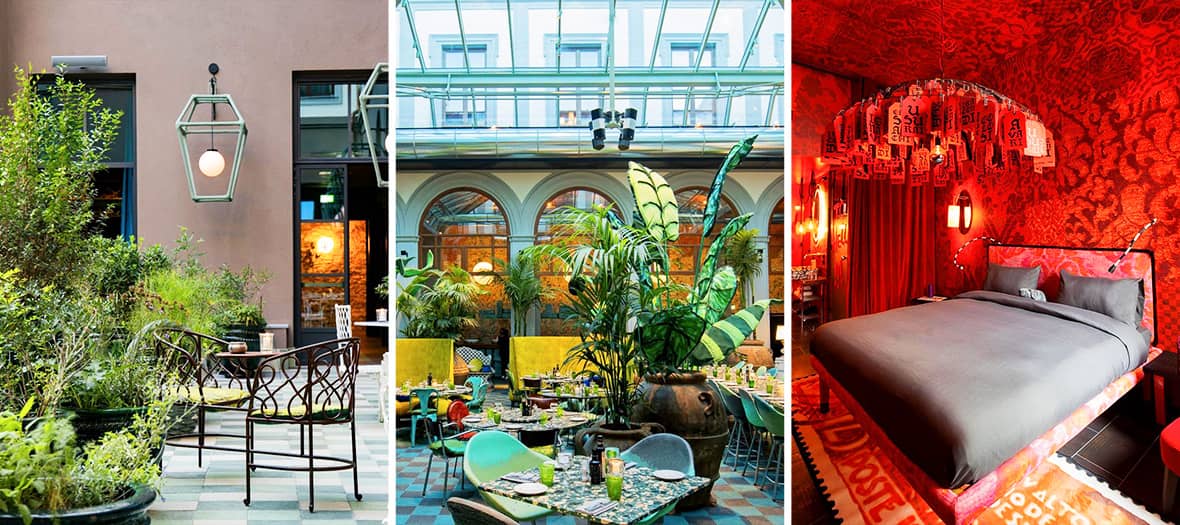 The hotel: 25hours Piazza San Paolino.
The pitch: this is undoubtedly the place to be for boosting your Instagram feed. The concept? Absolutely wild. Imagine: a former 10,000m2 monastery transformed into a boutique hotel with irresistibly sexy design, bringing Dante's masterpiece, The Divine Comedy, back to life in the Santa Maria Novella district of Florence. Not just a hotel, but an experience.
The rooms: angel or demon team? Fantastic: you can choose the decor of your nights, whether for a torrid siesta or heavenly rest. Designed by interior architect Paola Navone, the rooms and suites feature highly Instagrammable theatrical decor from floor to ceiling. Our favorite: L'Inferno with its red walls, king-size bed, and incredible giant chandelier listing the seven deadly sins. We love the fun messages and gothic gadgets scattered throughout the room. Also great: the complimentary minibar and the private terrace with access to a peaceful small garden.
The extra-touch: More than just another stop in the city of Florence, this iconic hotel is a destination in itself. Imagine: a trendy restaurant serving the best of Tuscan cuisine, an artistic spa with a Finnish sauna nestled in the garden, a cinema showing classic Cinecittà films, and a cocktail bar... In short, it's THE place in Florence to unwind between cultural visits.
25hours Hotel Florence Piazza San Paolino, 1 Piazza di San Paolino, Florence 50123. Book online or call +39 055 29 66 999. Starting from €263.
© 25hours Hotel Florence
A breathtaking vineyard estate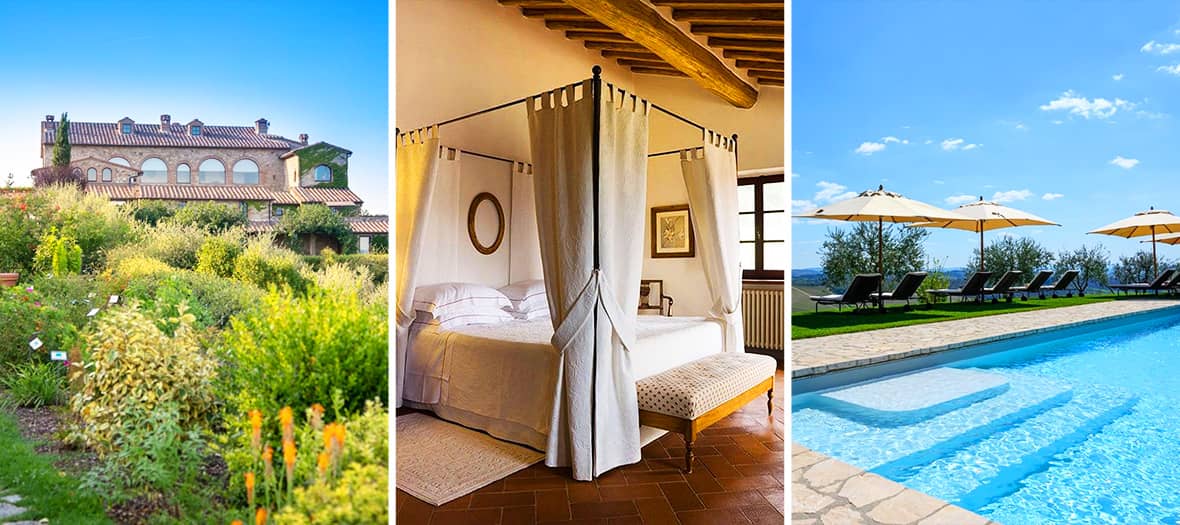 Hotel: Hotel Le Fontanelle.
The pitch: If you want to experience the authentic charm of Tuscany, with its roads lined with tall cypress trees, stone houses, and exceptional vineyards, head from Florence to the small village of Castelnuovo Berardenga near Siena. The spot: a former farmhouse transformed into a typical 4-star hotel with oak beams and terracotta floors. Enjoy relaxation by the XXL pool, spa treatments, and Chianti tastings on the panoramic terrace. Isn't life beautiful?
The rooms: From the classic simplicity to the prestigious option with a private garden for topless sunbathing, our hearts are torn. One thing is certain: regardless of the category, all rooms offer a total immersion in the heart of the fragrant landscapes.
The extra touch: As it is located in the Chianti region, you can indulge in the grand crus recommended by exceptional sommeliers.
Hotel Le Fontanelle S.r.l., 11 Via Roma, Radda in Chianti 53017. Book online or email bookingfontanelle@fontanelleestate.com. Starting from €523.
© Fontanelle Estate
Where to dine? A selection of must-visit restaurants in the region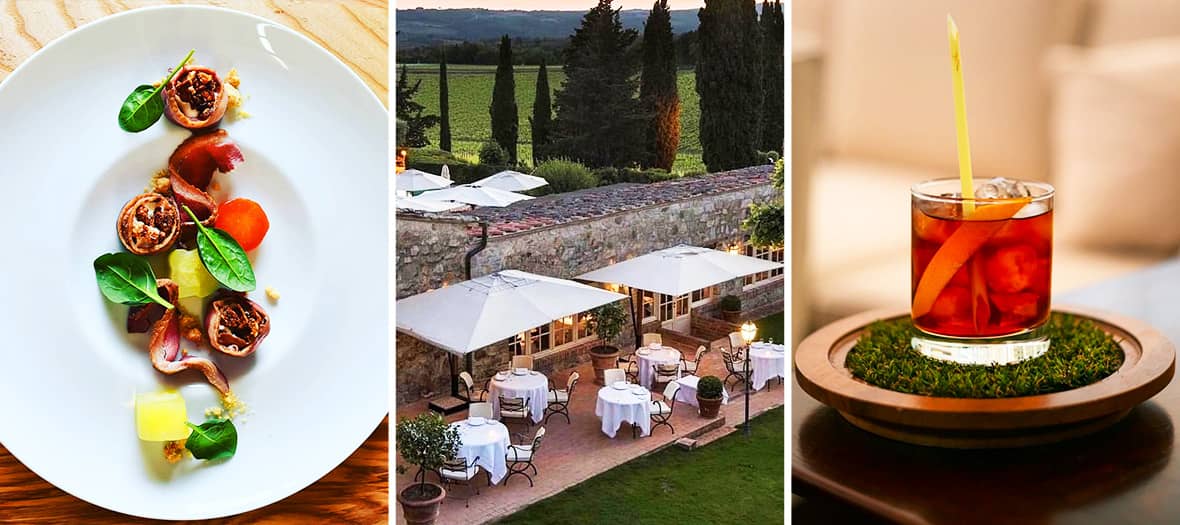 Il Poggio Rosso

: Located in the medieval village of Borgo San Felice, this creative vegetarian restaurant by Colombian chef

Juan Quintero

deserves its Michelin star.
Il Poggio Rosso, Località San Felice, Castelnuovo Berardenga, Siena 53019. Information and reservations online.
Ristorante

Campo Cedro

: In

Siena

, this impressive restaurant run by a Japanese chef offers delicious fusion dishes, excellent service, and great value for money.
Ristorante Campo Cedro, 54 Via Pian d'Ovile, Siena 53100. Information and reservations online.
The best spot for an evening drink:

La Terrazza

, the bar at

Hotel Continentale

in Florence, on the top floor of the medieval Consorti Tower, with breathtaking views of the Arno River and

Brunelleschi's Dome

.
Hotel Continentale, 2/r Lungarno degli Acciaiuoli, Florence 50123. Information and reservations online.
Trattoria Cibrèo - Il Cibrèino: A typical trattoria in

Florence

where you can savor the best local specialties, including

ribollita

, a

Tuscan soup

made with beans, cabbage, and vegetables. It will make your mouth water.
Il Cibrèino, 122R Via dei Macci, Florence 50122. Information and reservations online.
Thanks to the Michelin Guide for its selection of hotels and restaurants. All addresses can be found on their application.
© Ristorante Campo Cedro, © Borgo San Felice, © Giorgio Giangiulio
Also, discover Artistic Venice: the perfect itinerary and a dream spa hotel in the Swedish countryside.