Neither window-display, nor outdoor sign, to find La Maison By Nad Yuht, you need to keep your eyes peeled. A hint? The most inspiring decorating boutique of the moment is hidden in a paved courtyard, as charming as it is unsuspected, at the heart of the Rue de Charonne.
LIKE A COUNTRYSIDE HOUSE IN PARIS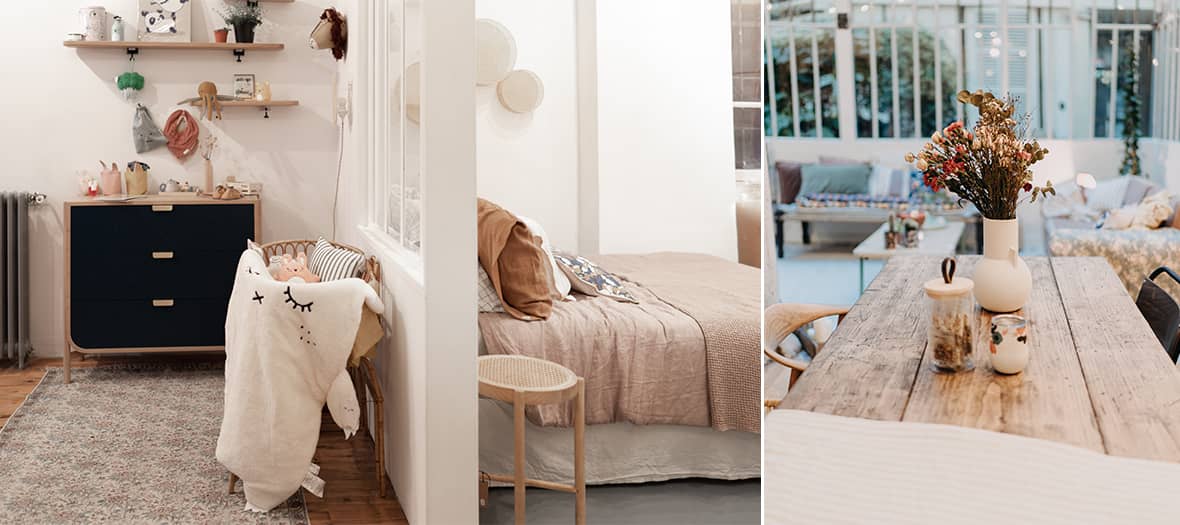 "Here everything is for sale," affirms Dan Thuy Nguyen. Expert and retail consultant, but also passionate about antiques and decoration, this young woman of Vietnamese origins created her dream boutique. La Maison By Nad Yuht is a testimony to an authentic country house, nestled under a majestic skylight.
Living room, kitchen, dining room, bedroom, bathroom, visitors roam from room to room in a warm and intimate ambiance to discover a trendy selection mixing established labels and emerging brands, most often sustainable and at accessible prices.
ON OUR WISHLIST
Furniture, table settings, house linens, cosmetics, refined grocery products, here you will find a wide choice. Impossible to resist: mattress covers with a Jamini print (€120) awakening the wooden bench in the living room, the delicate flower-shaped hanging fixtures of Georges Store (€160), The Munio candles with a naturalistic spirit made with soya wax (€5.50), the HK Living ceramic vase inspired by antique Greece (€27.95), round caned Anso Design lamps (€119) and jewellery by Parisian designer Elise Tsikis.
On the beauty front, the spotlight is on organic and natural with Tangent GC Swedish soaps, treatments by the French brand On The Wild Side (€39 for an oil) or the Umaï shampoo (€19.50). For the kitchen, take your pick from Nomie spices, chefs are wild about (€3), Hédène honeys (€12.90) and a bottle of Gimber, the new beverage concentrated in ginger, aiming at replacing sodas (€15.95).
Bonus point: Dan Thuy regularly develops capsule collections, exclusively with creators and artisans such as ceramicist Laurette Broll or the No & You screen print workshop.