Who? Massato, the samouraï of hairdressing, known for his impeccable dry cuts that make him a big favorite of stars and models. With this new salon, the scissor maestro is now tackling color in partnership with L'Oréal.
The place: A Parisian workshop on the street, right in the middle of the trendy Marais. Vintage cement tiles on the floor, design vanities, flashy cyan blue walls, a comfy banquette. The latest fashion magazines to kill time and complementary tea of coffee—in short everything you need to spend a nice relaxing time.
Must test: their coloration of course. Sarah and Benjamin, the two coloring pros, are on the ball in terms of the latest trends, which they adapt according to each person's carnation, the shape of the face and personality. In other words,  no cut/paste.
The state-of-the-art technique at the moment? Hair contouring. Inspired by the method used for  make up, it consists in accentuating the face contours by playing on shadows to give contrast and create movement. Bluffing.
We also like: their vegetal coloration devoid of any chemical substances. And when it's not possible, the products used are a natural as possible. Even better, they protect hair thanks to active nourishing ingredients.
Opening hours :
- Tuesday, Friday & Saturday from 10:00 a.m to 06:30 p.m
- Wednesday from 11:00 a.m to 18:30 P.m
- Thursday from 10:00 to 20:00 p.m
Coloration starting at 58€. Streaking 90€.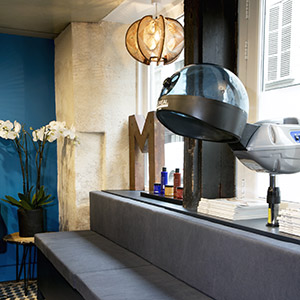 Discover the new battle of the beautystas.
By Julie Zwingelstein @JulieZwing