Beauty alert. Notice to all those who can no longer stand watching themselves aging in the mirror and brooding over their fine lines. How annoying to have a dirty face!

A real cosmetic nugget has just landed in Paris in magic wand mode and without a needle. A natural alternative to hyaluronic acid injections , this wow treatment that Korean it-girls adore allows you to regain a boost and a smooth complexion. Shall we explain?
A high-tech nugget unearthed in Korea
At the origin of this incredible find: Elodie Raheria , founder of See My , a real researcher who scours the world in search of niche cosmetics and the latest trends that combine high-tech and anti-aging or slimming.

It is in a sharp Asian salon, where anti-aging is a religion, that the beauty addict discovers this new Korean protocol which acts on the regeneration of the skin, stimulates the lymphatic system, promotes detox while working on its elasticity and repairing imperfections and pimples.

The results combine the wow aspect in 15 minutes of therapy, after which your face clearly seems to have gone through a filter " how to be 5 years younger in a quarter of an hour? ", While acting durably in the long term.
A concentrate of innovation without a cosmetic surgeon
True singularity, no need for a needle to provide it. Its unique nano-diffusion technology (like a painless spray gun) ensures ultra-deep penetration of all the active ingredients in the fibroblasts.
Its high-performance formula has been adapted exclusively for Europe with an ampoule of plant stem cells (Koreans use animal stem cells), but also a condensed collagen , vitamins , antioxidants including fermented rice filtrate , hyaluronic acid , ceramides and phytopoliamines.
A great treatment to do at home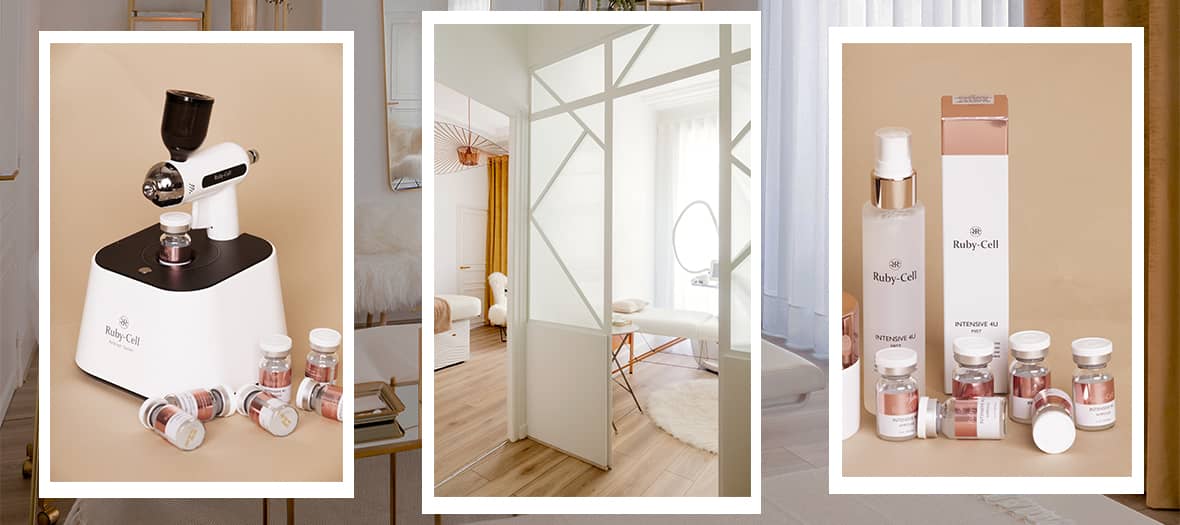 Obviously, you can practice this cabin treatment in a salon for a one-shot effect with immediate results: it is the signature of the Korean lift. But its added value is its homecare resolutely side with the appliance Rubycell (€ 290) you can use easy and every day at home, like the stars and supermodels.
In practice: an airbrush gun that diffuses a mist and about thirty gestures to follow on his phone, according to a Chinese medicine protocol. Easy to use, this highly addictive therapy makes you want to dive back in to find its miracle effects, especially in times of covid when the possibility of being pampered is rare.
Korean Lift: 115 € per session exclusively at See My , 9 rue de la Trémoille, Paris 8th, 01 45 53 03 90
Also discover all the new trends in cosmetic surgery and the favorite slimming massage of models .