© Clara Achard / Oldē

Inspired by the most cutting-edge fashion influencers, Scandinavian Instagrammers with retro and colorful looks and the catwalks of the greatest fashion designers, we all dream of giving our wardrobe that je ne sais quoi of vintage that makes a look original and worked. But it's not easy to make a second hand turn when you don't know anything about it.
To see more clearly, we called on three vintage professionals: Florencia Oriot , founder of the Lapin Boutique e-shop, Natacha Blanchard , communication manager at Vinted and Emma Bonneaud , fashion consultant and founder of the blog All I Need Is Clothes and the Oldē Paris boutique.
Like many enthusiasts, Florencia Oriot and Emma Bonneaud found their first pieces in flea markets or at auctions , mines for those who know how to be patient. But for those who do not want to wait, it remains to take advantage of the confinement to nab online the latest obsessions of vintage buffs.
Why switch to second hand?
In addition to its economic interest (we all like to do good business, right?), The second hand now enjoys a highly desirable aura. No wonder, when we see the retro hints on the parades of Gucci , Celine or Miu Miu , whose acclaimed centerpieces seem straight out of our chic grannies' locker room. Drawing inspiration from it by finding period equivalents, it is therefore the opportunity for Emma Bonneaud to wear " unique, original pieces that you cannot see everywhere ".
A good way to adopt a green fashion
But its main argument now is its green credibility. Florencia Oriot says: "The mentality of consumers has changed. They are fed up with overconsumption and poor quality clothes that become disposable ".
Give priority to what is already produced, "this is the best way to treat textile waste. [...] Each second-hand item of clothing purchased means one less new product, which is important because whatever the material, the production of clothing damages the environment and pollutes natural resources ". Going vintage is therefore the assurance of doing good to your style and to the planet. All beneficial.
OK, the maxi round eyeglasses and the frilled shirts like at Gucci, it's beautiful. But how do you appropriate these pieces when you are no longer 20 years old or the size of a sylph? To find without trying on pieces that really suit us, first of all, " above all, do not pay attention to the sizes put on the labels, because they changed in the 90s, " explains the founder of Lapin Boutique .
We always take our measurements , we ask the seller as much information as possible, and above all we check that the material is sufficiently noble to stand the test of time.
Turn to the sure values of vintage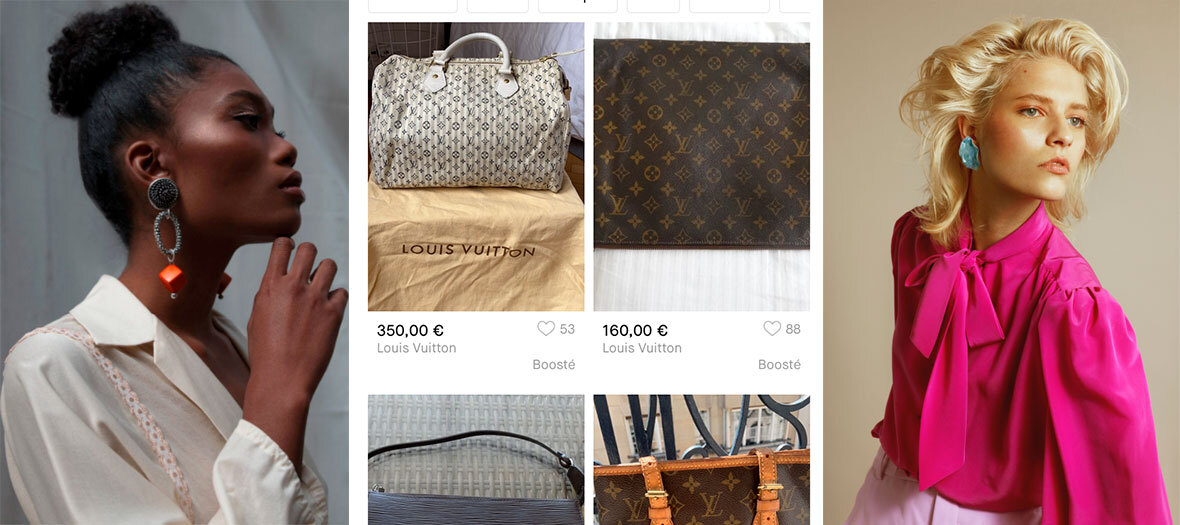 © Clara Achard / Oldē

So which pieces are particularly coming back to the forefront of the fashion scene? If Florencia notes a big hit for " dresses with puffed sleeves , shirts with XL collars, scarves of all sizes (worn on the head or as a top), floral prints, the gingham pattern, embroidered details or in lace ", Emma is more in favor of epaulettes and other oversized blazers . This is already enough to guide research.
We establish our first shopping list with sure values. Florencia suggests starting with "a leather jacket, a silk shirt, 70s flared pants, a gabardine trench coat, a wool blazer and a beautiful floral dress". As for designer pieces that stand the test of time, we opt for "a Chanel / Dior / YSL bag, a Courrèges patent leather jacket, a Hermès silk scarf, or a Burberry trench".
The key to creating a modern look with retro accents? Mix eras. Depending on her mood, Emma Bonneaud mixes vintage pieces with modern ones when Florencia Oriot recommends to " mix vintage pieces with designer or second-hand pieces, and thus find a clean style " and " choose vintage clothes that look like current trends ". His ultimate tip for modernizing a garment? "Associate it with current accessories. "
Precursors of ourselves, we had already prepared for our adored readers a list of the best vintage e-shops to have beautiful clothes, antique jewelry, designer bags or even cult pieces from the 1990s delivered.
But the new fashionistas' cave, the concentrate of knowledge and finds at a friendly price, is of courseVinted . The Lithuanian peer-to-peer buying and selling platform is full of treasures for those who know how to look for them.
Communication officer at Vinted , Natacha Blanchard recommends saving precise searches in order to avoid dozens of product pages. " When you register for the first time on Vinted, you have the possibility to detail your tastes, the brands you like, your favorite colors, but also your usual sizes of clothes and shoes etc. so that the articles which correspond to you are displayed on your next visit. "
The art of filtering with care
We also do not hesitate to use the hashtags " which help to find particular styles " and to filter by brands , sizes , colors and categories . We also tighten the desired prices according to the budget , to avoid unnecessary disappointments. Then comes the time for reflection with " the possibility of putting an item in favorite to be warned if the price drops for example, or to be able to return to your wishlist later ". It remains to subscribe to your favorite vendors to be informed as soon as a new article is published.
How to verify the authenticity of large designer pieces?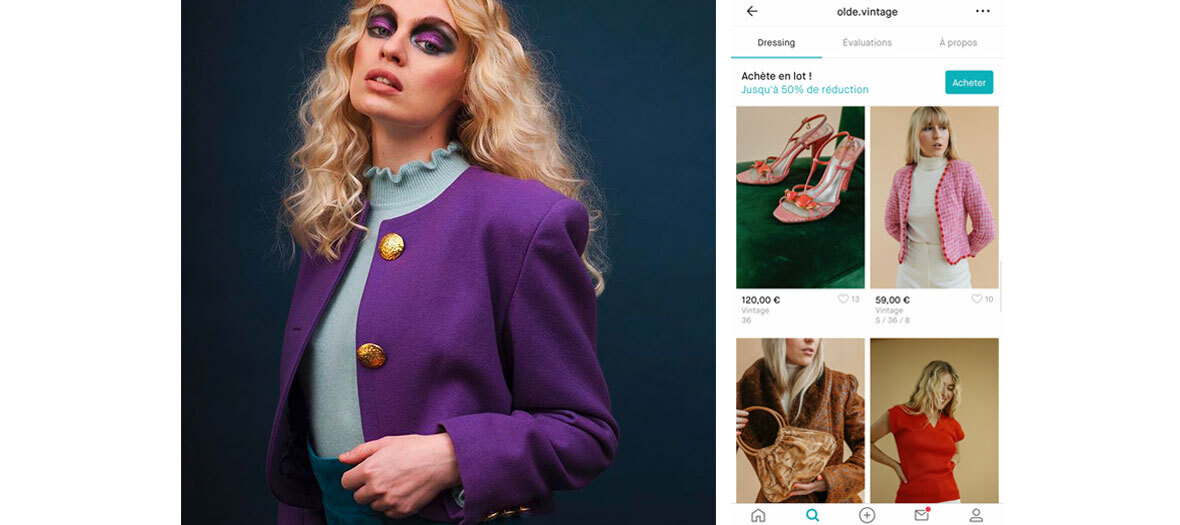 © Ju Choquer / Oldē

And if the cracking concerns a scratched part, in case of doubt about the authenticity we do not hesitate to ask for the maximum number of photos from all angles, proof of purchase and, if necessary, to report the article. " Our teams are taking over to obtain more information and carry out checks, " she adds.
If everything is ok, we prefer the most secure shipping method possible, or even hand delivery if seller and buyer live in the same city. Our favorite accounts to find pretty vintage pieces:Charliechinevintage , Mandineclothes or evenOlde.vintage of course. There's just.
Thanks to Florencia Oriot, Emma Bonneaud and Natacha Blanchard for answering our questions.