Paris needed a new address capable of a fashion craze on a par with colette , as its selection would be sharp, cool and feel good. It's done with the first French store of Modes , the Italian concept store which has already attracted crowds among others in Milan , Porto Cervo , Trapani , Portofino up to Saint-Moritz in Switzerland. A new HQ for people of good taste set up in the heart of the Golden Triangle, at the corner of Avenue Montaigne .
Metal, carpet and pool blue
The Berlin architecture studio Gonzalez Haase AAS signs this astonishing space of 300m² on two floors where the refined decor highlights the bright colors of the crazy clothes and accessories, where masculine and feminine are mixed to the test of gender notions. And to connect the two metal gray floors, a round staircase painted in a resolutely visual lagoon blue that delights Insta stories.
An uninhibited selection
On the ground floor, we find the collection of ultra-sought-after sneakers from Stadium Goods with its batch of Nike Dunk and Air Jordan at reseller prices, facing a display rack filled with Jacquemus bags, Comme des Garçons perfumes, AirPods blings holder Rosantica , Le Pom Pom phone cords (€80) and the all-new desirable Moon Boot x High Snobiety collab (€195).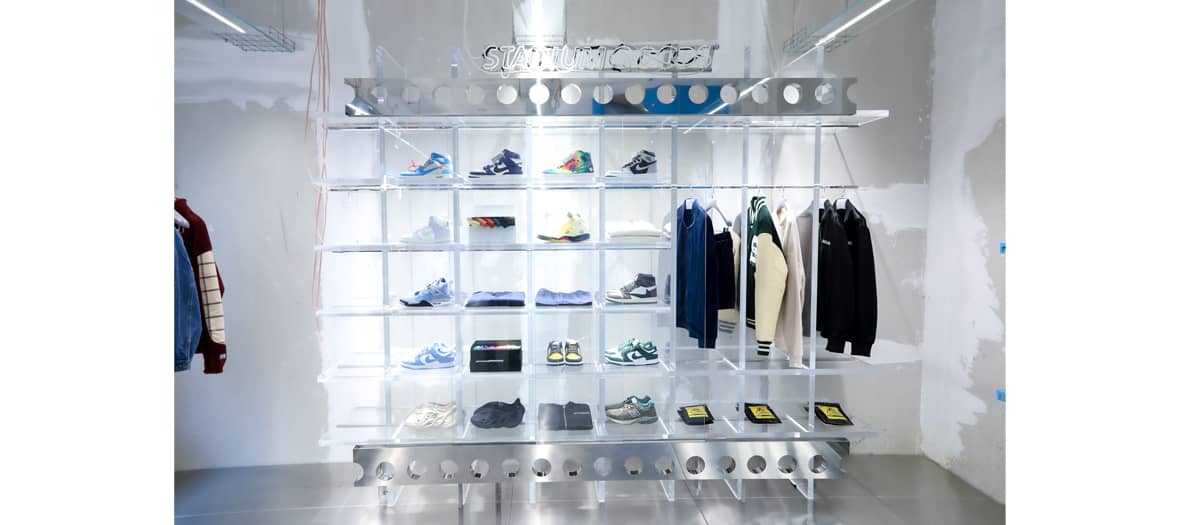 Among the hottest designers of the moment and sometimes hard to find in Paris, we find the vaporous dresses of the New York brand Khaite, the sexy dresses of Rick Owens , the pop cashmeres of Blumarine (580 €), the impeccable bags of Jil Sander , a pink Jacquemus polo shirt (€270), knitwear from Loulou Studio (€298), the nearly sold-out New Balance x Casablanca sneaker collab, an RRL Ralph Lauren fringed jacket or the glitter down jackets from the Californian ERL ( €865) and a divine leather jacket by Marine Serre (€1,500). In short: everything you dream of, brought together in a single space.
The vintage collaboration with Didier Ludot
" To understand new fashion, you have to know your roots, know where you come from to know where to go, " says Karim Bendadda, store manager. The floor thus serves as a link between past, present and even future, as evidenced by the high jewelry showcase where the very young brand that is a hit Rainbow K and the venerable Milanese house Villa rub shoulders.
But for collectors looking for unobtainable nuggets, Modes offers by appointment to discover its vintage collaboration with Didier Ludot (the pope of vintage haute couture): timeless pieces from the big houses that have created fashion effects, a Chanel tweed jacket with an Yves Saint Laurent safari jacket, an Alaïa ensemble , a 1972 Pierre Balmain dress and a few Birkin's and Kelly's, all too precious to be exhibited but which can be tried on by appointment.
Open Monday to Saturday 10:30 a.m. to 7:30 p.m., Sunday 12 p.m. to 7 p.m.
Also discover Safe, the new green and stylish concept store in the Marais and The nivose shop in Paris.