You have just broken up. You are really in the dumps and feel like sticking pins in a Voodoo doll representing your ex. We totally understand you. But before guzzling down a bottle of vodka, be aware that the post-break blues is not a fatality. Here is our selection of TV series with furiously inspiring heroines. You will not suffer from the Bridgetjonisation syndrome !
Superb looser style with
Smilf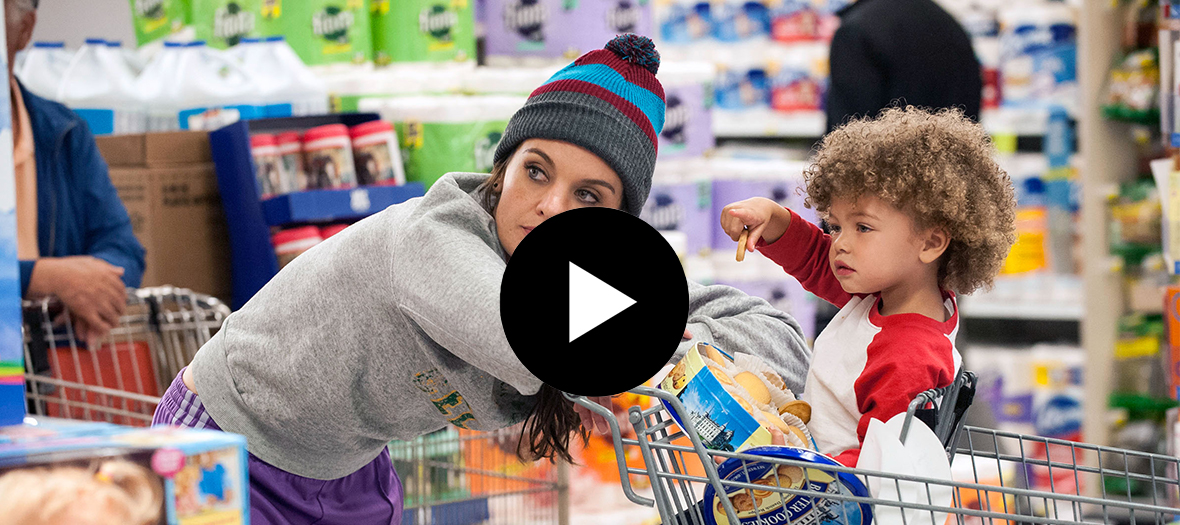 Your muse Frankie Shaw
And what if Frank Gallagher had a hidden daughter? Cousin of Shameless, Frankie Shaw features the daily life of Bridgette, a bachelor mother who lives in a ratty studio in Boston. Doing away with all taboos, this series ­–created, written, played and directed by Frankie Shaw (seen on Mr Robot)– features a superbly no complex portrait of this penniless warrior mum, who tries to juggle between her bills to pay, her sexual drive and a kid to raise. It's funny and insolent, sometimes pretty down to earth but never vulgar. In short, the series that (really) lifts your spirits.
Your mantra Fight like a girl. Neither smooth, nor demure, not perfect: Bridgette, is the anti-heroine we adore, who never lets go despite all the problems that seem to stack up.
Dress code Sweat-shirt (worn three days in a row), jacket with hood, minishorts and backpack. Hair always in disarray, always a mess… Bridgette proves that being sexy is mostly a question of (positive) attitude.
Season 1 first run on Canal+série
Play it like SJP in
Divorce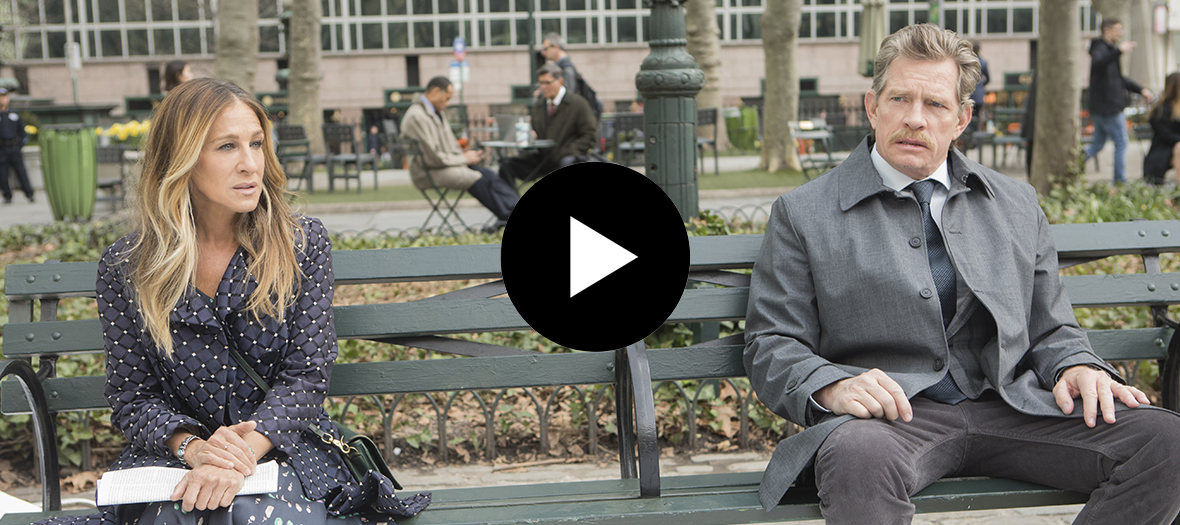 Your muse Sarah Jessica Parker.
For all the nostalgics of Sex and the City. Twelve years after the cult series was discontinued, the unforgettable interpret of Carrie Bradshaw is back. For the best… and the worse. No more rooftops, Cosmopolitans and Manolo Blahnik shoes. In Divorce, the New York fashionista jumps into the future and incarnates Frances, mother of two teenagers whose couple implodes after eight years of marriage (and an infidelity). After a rather tense first season (in the lines of War of the Roses, with added black humour), the time has come for the reconstruction of the sassy 40-year-old.
Your mantra Divorce is not a failure but a trampoline to accomplish one's self. Dumped yes, but not depressed. For Frances, this is a golden occasion to make a dream come true and open her art gallery.
Dress code Fashionista all the way. Even at the bottom of the pit, we stay stylish like SJP. The ideal wardrobe? Effortless but feminine outfits – wool coat, romantic shirt, long dress, oversize pullover….
New Season 2 in US+24 on OCS City
Sexy senior style with
Grace and Frankie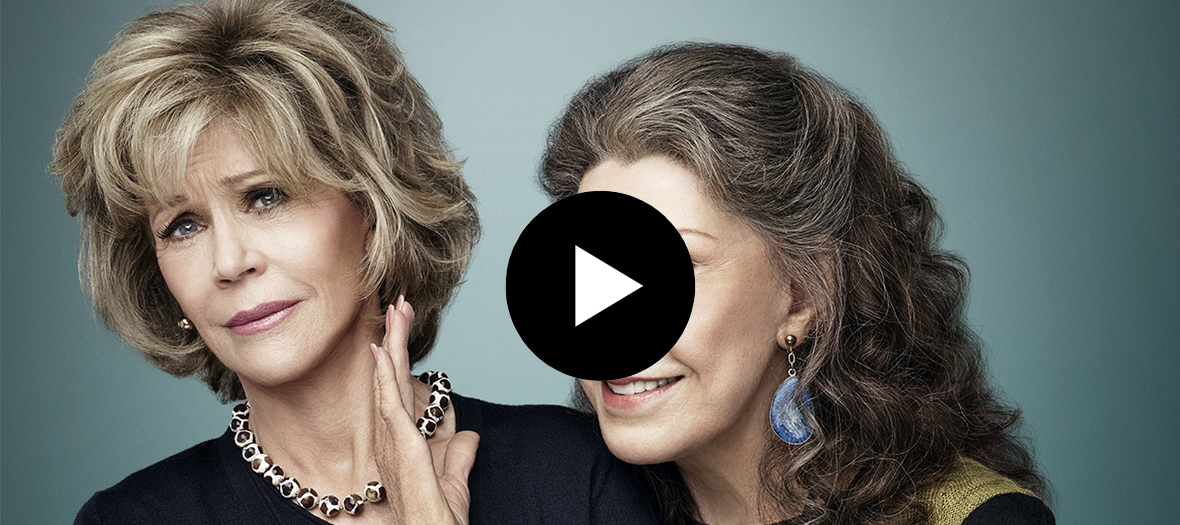 Your muse Jane Fonda.
After 40 years of marriage, two 70-year-olds totally different, Grace, the stuck up bourgeoise (Jane Fonda, totally ravishing!) and Frankie, the militant hippie (a hilarious Lily Tomlin), watch their husbands come out of the closet and become a couple. Ouch. Fair enough: the betrayed spouses bury the war hatchet and move as room mates in a superb front beach villa. Incubated by Marta Kauffman (creator of Friends), this sitcom is a small marvel filled with wonderful one-liners—highly feel good and therapeutic. Miley Cyrus is a fan !
Your mantra There is no age to be happy. We love watching the adventures of this irresistible duo (such as the launch of their vibrator brand for the elderly). For sure, life begins at 70 years old !
Dress code Between the tie and dye ponchos of Frankie and the casual chic outfits of Grace, we have chosen our camp. To look as great as queen Fonda, we go for the combo tapered jeans/elegant shirt, impeccable blow dry and cashmere crewneck.
Seasons 1 to 4 on Netflix
Dynamo bachelorette with the
Girlfriends' guide to divorce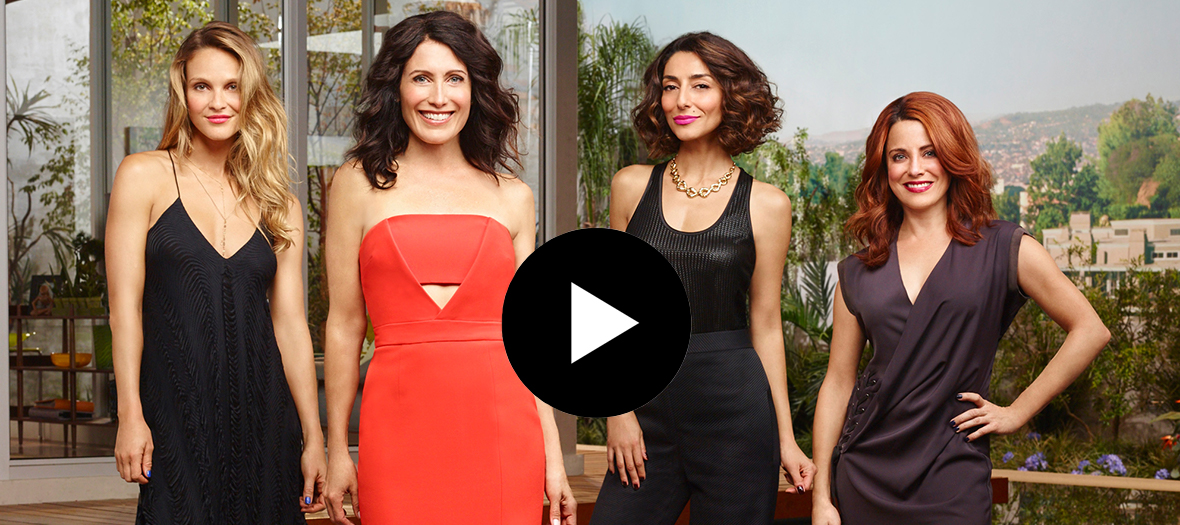 Your muse Lisa Edelstein
In Los Angeles, it's game over for Abby McCarthy. This mother, author of best-sellers on personal development, publicly announces her divorce. When her career falls apart, the brilliant 40-year-old counts on her divorced friends to get back on track. Based on the eponymous books by Vicki Iovine ands signed by the creators of Buffy against the vampires and Mad Men, this sparkling show recalls the ambiance of Sex and the City. Behind the deliciously futile girls talk, deep themes (burn out, menopause..) are cleverly featured. And Lisa Edelstein (Cuddy from Doctor House) is exquisite as a tad neurotic WASP.
Your mantra Friendship is better than all the guys in the world. With the help of her BFF – the sassy Phoebe (Beau Garrett) and lawyer Lyla (Janeane Garofalo) – Abby manages to overcome social pressure and totally enjoy bachelorhood (hello Tinder and consorts).
Dress code: Dries Van Noten, Maje, Victoria Beckham, Jimmy Choo… here is a series that goes all out when it comes to the couture pieces that drive fashionistas wild. You flashed on a specific look? Rendezvous on www.looklive.com that lists all the costumes worn by the actresses.
New Season 3 on Elle Girl TV
Also discover the cool series to watch during the holidays.