We had to wait until 2019 for a film director to finally feature them on the screen together. Leonardo DiCaprio and Brad Pitt are the absolute stars of the latest film by Quentin Tarantino:Once upon a time… In Hollywood. And once again for the director of Pulp Fiction and Kill Bill, the title says it all.
Thus, to be admired, a photography of the year 1969 in Hollywood, a true homage to the cinema of that period … as well as the reinterpretation of the drama that occurred that year: the murder of Sharon Tate, pregnant wife of Roman Polanski, by the disciples of Charles Manson.
Previously in 1969...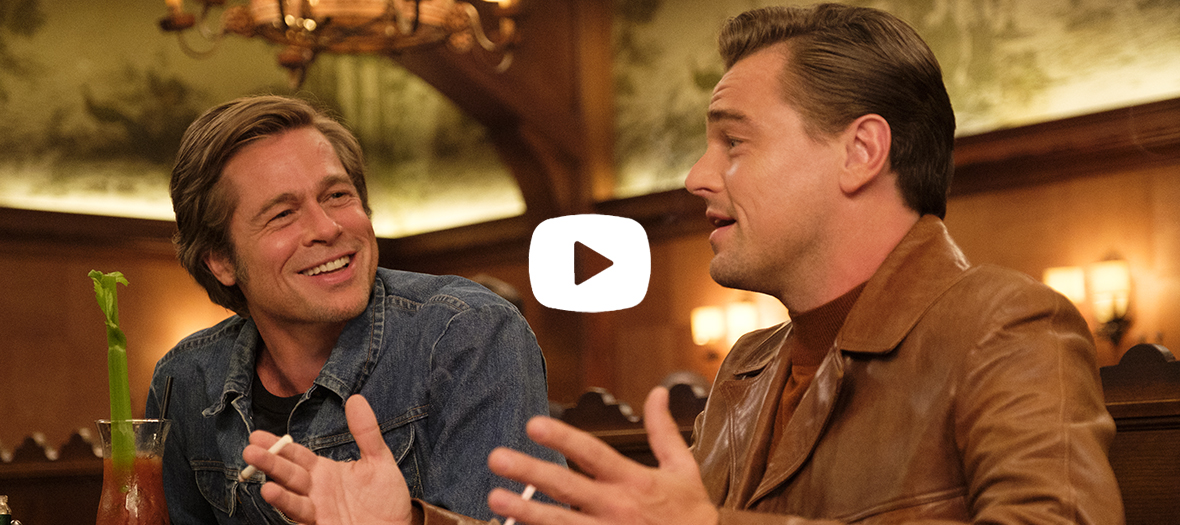 Rick Dalton (Leonardo DiCaprio) could have become a leading movie star after his success in a series of 50's Westerns. Yes, but life is not always easy, the star system has evolved and he did not manage to follow suit. Thus, along with his BFF / stunt-double / Jack-of-all-trades (Brad Pitt), he scours second best film sets and hits the bottle while practicing his lines around a bean-shaped pool.
In parallel, neighbours at the peak of their glory, Sharon Tate (Margot Robbie) and Roman Polanski (Rafał Zawierucha), move into the house right above. In the meantime, the hippie movement is in full swing, while a worrisome "family" squats a ranch above Los Angeles.
A joyful buddy movie
First of all, what a joy to discover this new complicity between Brad and Leo. The perfect pair support each other no matter what in this progressive looser and often hilarious situation. The comic scenes are delicious (note Brad making fun of Bruce Lee during a filming scene, nugget) and the suspense grows as the menace approaches. In the end, the 2h45 of film seem to roll by and without any dead time until the incredible curtain dropper.
A "Tarantinesque" folly we were all waiting for since the beginning...
What we regretted
The performance of

Margaret Qualley

, ultra-embarrassing as a provocative teenager (and all the super long scenes on her bent-over fanny)

The very few phrases coming out of the mouth of

Margot Robbie

, frustrating. We were expecting a leading role!

The scene of

Brad Pitt

shirtless on the roof (it does not last long enough).
Released since the 14th of July.
Also discover : Harvey Weinstein, the documentary film revealing the real scandal.