This is the secret recipe you've been dreaming of! The pastry pope François Blanc, journalist for Fou de Pâtisserie, released the bible of the pastry shop Le Paris des Pâtisseries at Editions Alain Ducasse around the 100 recipes of the kings of Parisian cakes, from Montmartre to Belleville via the Trocadéro, the 'Opera, Saint-Germain-des-Prés or the Goutte d'Or.
So many inspirations and ideas for sweet delicacies to try once in a lifetime ... Or to reproduce at home, like the recipe for the extraordinary Madeleines Infiniment Noisette by Pierre Hermé. You'll see, it's addicting. It's your turn.
The recipe for 12 madeleines
Prepare the roasted hazelnuts : spread the hazelnuts out on a baking sheet and bake them for 15 minutes in a convection oven preheated to 160 ° C. Leave them to cool then, using a roller or a knife, crush them.
Prepare the madeleines dough. Sift the flour and baking powder, add the hazelnuts. Melt the butter with the butter oil at 40 ° C, add the hazelnut paste . With the whisk of the food processor, mix the eggs with the sugar and fleur de sel. Gradually add the flour and hazelnut mixture, then the butter, the cooled hazelnut paste and the milk. Brush the madeleine molds with a veil of butter, garnish with the dough halfway up. Bake on a hot plate in a preheated oven at 220 ° C with rotating heat, for about 8 minutes. Remove from the oven and let cool on a rack.
Prepare the hazelnut cream . With the whisk of the robot, mix the dough at medium speed, gradually adding cold water to create an emulsion, and set aside in the fridge.
Prepare the icing: melt the icing dough and the chocolates at 45 ° C in a bain-marie or in the microwave. Add the oil, mix.
Prepare the caramelized hazelnuts . Roast the hazelnuts for 15 minutes in an oven at 160 ° C. Cook the water and sugar at 118 ° C, pour in the hot hazelnuts. Sand, then caramelize the hazelnuts, still stirring. Add the cocoa butter, pour onto a silicone sheet, separating them well. Crush them when they are cold.
For mounting. With a lightning nozzle, pierce the back of the madeleines and garnish with hazelnut cream. Dip the ridged side in the icing between 35 and 40 ° C and place them on a wire rack, iced side up, to let the excess drain. Sprinkle with caramelized and crushed hazelnuts, store them in an airtight box at room temperature.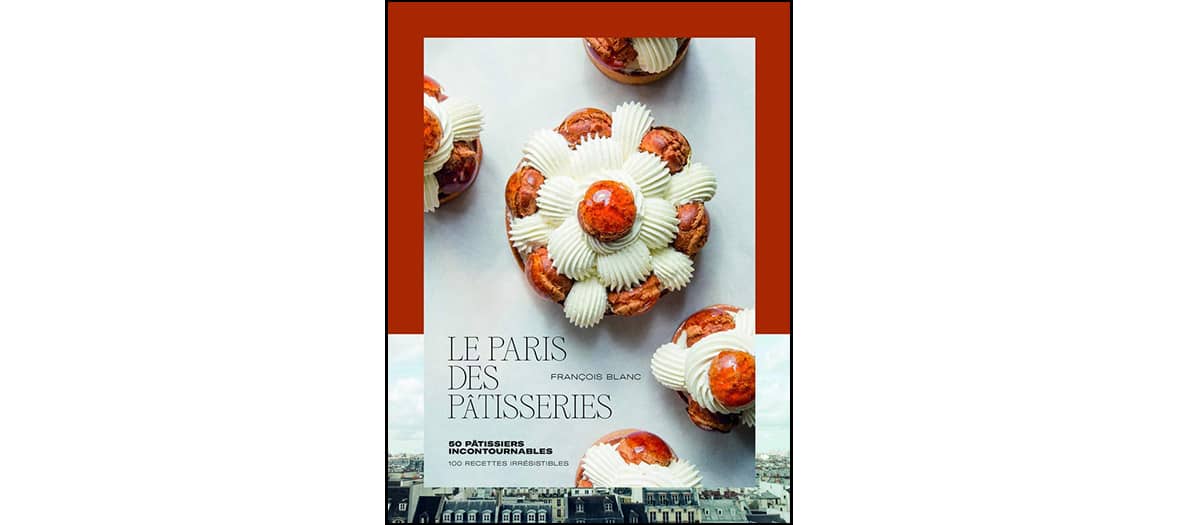 The Paris of Pastries
Publisher: Ducasse Edition
On sale: September 24, 2020
Author: François Blanc
Photographer: Pierre Monetta
Available in bookstores for € 39.00
Also find the salty mounted piece and the homemade panettone