Winter is definitely upon us. You feel like a light comedy without any tortuous plots and one main goal: make you laugh? We have pinpointed just the right series: Deutsch-les-Landes, a Franco-German production signed Amazon, with Marie-Anne Chazel as zany as she was in the cult films Les Bronzés.
When the Germans land in the village…
Jiscalosse, a charming burg in the South-West, nestled at the foot of the dunes, a country of oysters and surfers, is on the edge of bankruptcy. To refill the coffers, the lady-mayor of the village decides to sell communal land to a German car-design company, Jäger Entreprise, which delocalizes all its employees and their families to the country of the Basque beret. The ball of Mercedes begins, under the mesmerized eyes of the locals. Because while some are very joyful, such as Odile, the German teacher, fan of Teutonic poetry, others, such as Ghislaine, the grumpy owner of the local hole-in-the-wall bistro are not happy about the arrival of these invaders in Birkenstock footwear. Pint of beer vs heavy red wine: war is declared.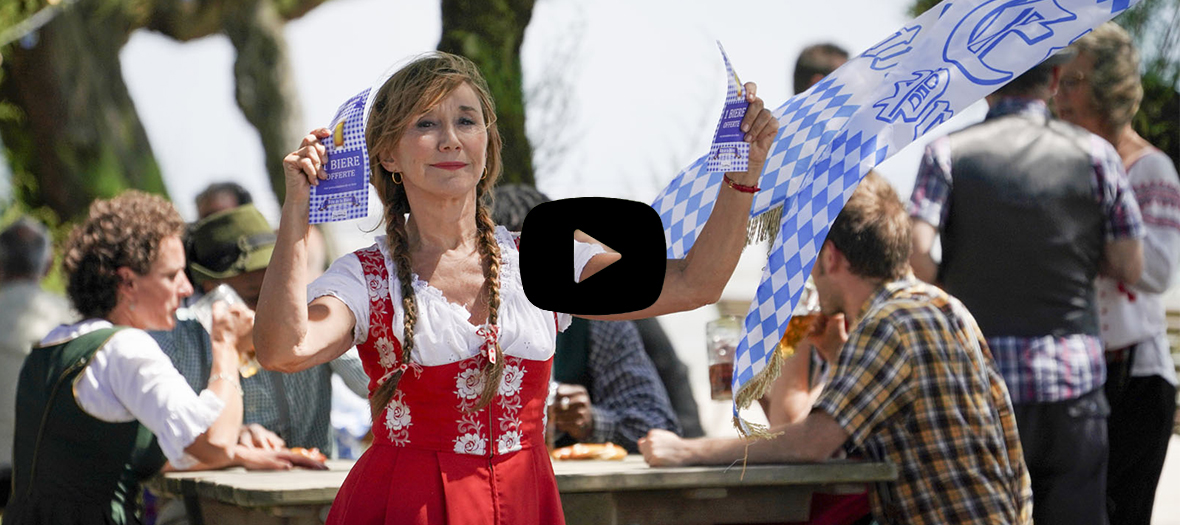 A big shock of cultures and clichés galore
At the helm, one finds authors Alexandre Charlot and Franck Magnier, former Guignols on Canal+ scriptwriters for Bienvenue chez les Ch'tis, who continue with success the film's recipe­—a cultural shock, here between French natives and sausage-eating Bavarians, with a series of gags featuring many clichés (the naturist German boss, the very French farmer…) Not always very subtle but a great way to unwind and totally zany.
Marie-Anne Chazel, the sun ray of the casting
Next to Sylvie Testud and Roxane Duran, the unforgettable interpret of Gigi in Les Bronzés flutters about with delight in the role of Martine, the slightly off-the-wall mayor, who never runs out of good ideas to weld Franco-German friendship (her apprenticeship of Goethe's native tongue: quite a poem!)
We adore: her vivid rainbow dresses and her glib way of talking. Chosen excerpt:"There you can see the bunkers of World War II, which should make you feel right at home."Malicious and sparkling, she brings panache to this UFO series that deserves to be watched.


10 x 26 minutes
The 30th of November on Amazon Prime Video

Discover also the new serie with Louise Bourgoin Hippocrate