Plougastel, marat, gariguettes.... At Springtime, pastry chefs go all out and shake up strawberries with a very keen off-beat sense of aesthetics. As a charlotte, tarte, shortcake or sablé… Choose your favourite delight.
La Charlotte aux fraises de Cyril Lignac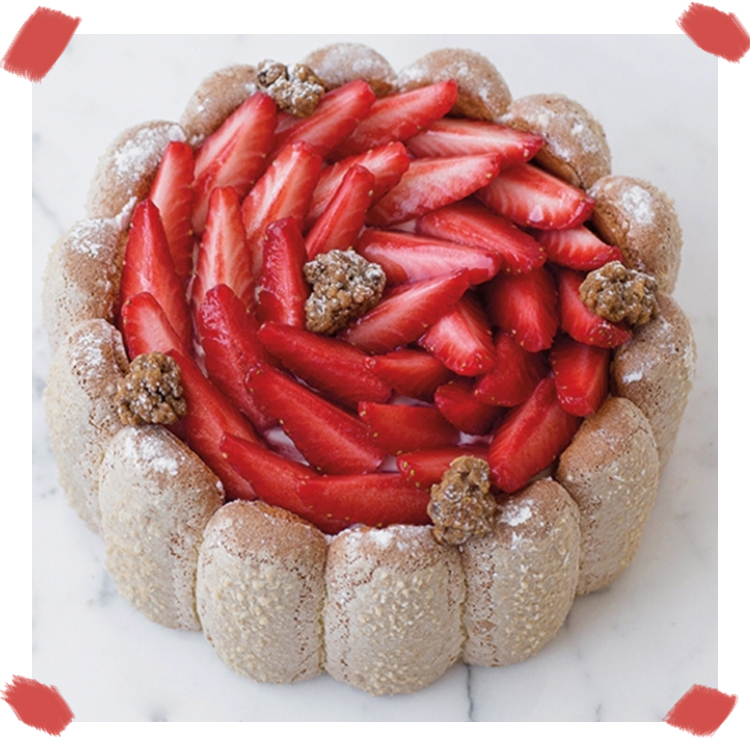 When our national Lignac national gets his hands on strawberries, the result is such a cool and sassy charlotte, one almost hesitates to bite into it. So what is hidden behind the spoon biscuits? A combination of strawberries, vanilla bavaroise, a crunchy feuillantine, fresh strawberries and streusel almonds.
Price:  € 48 for 6 pers
Where to taste it? In the pastry shops of Cyril Lignac located at Sèvres, Paul Bert, Pasteur, Chaillot and Poncelet.
All the info on gourmand-croquant.com
Le Fraisier de Yann Couvreur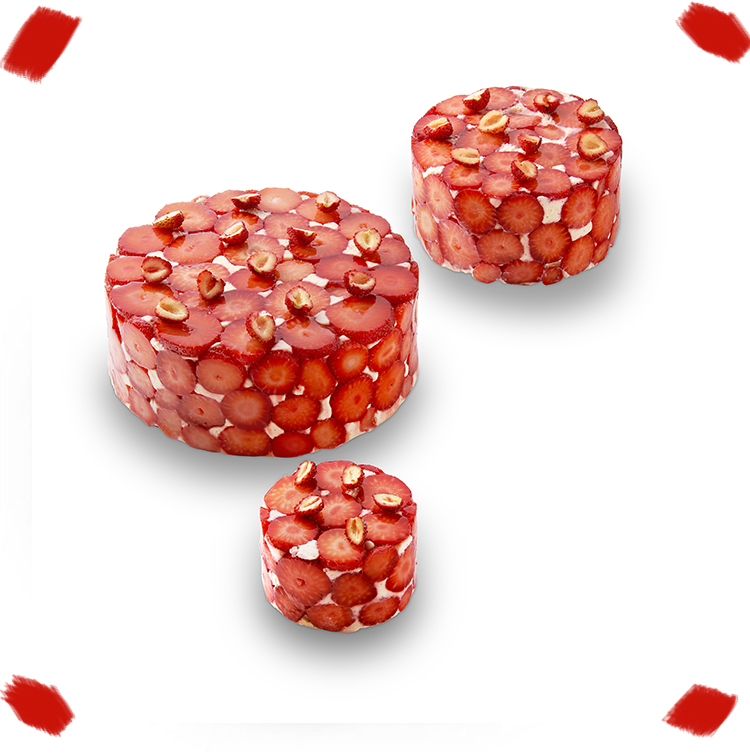 A little ecstasy in a world of thugs. Pastry chef Yann Couvreur signs an orgasmic strawberry shortbread that matches an incredible vanilla mousseline with fresh strawberries.
Price: €8 for an individual pastry. €46  for 6 pers
Where to taste it? In one of the three Yann Couvreur pastry shops at Parmentier, Rue des Rosiers and Galeries Lafayette Gourmet.
All the info on yanncouvreur.com
The Senoble
Strawberry tart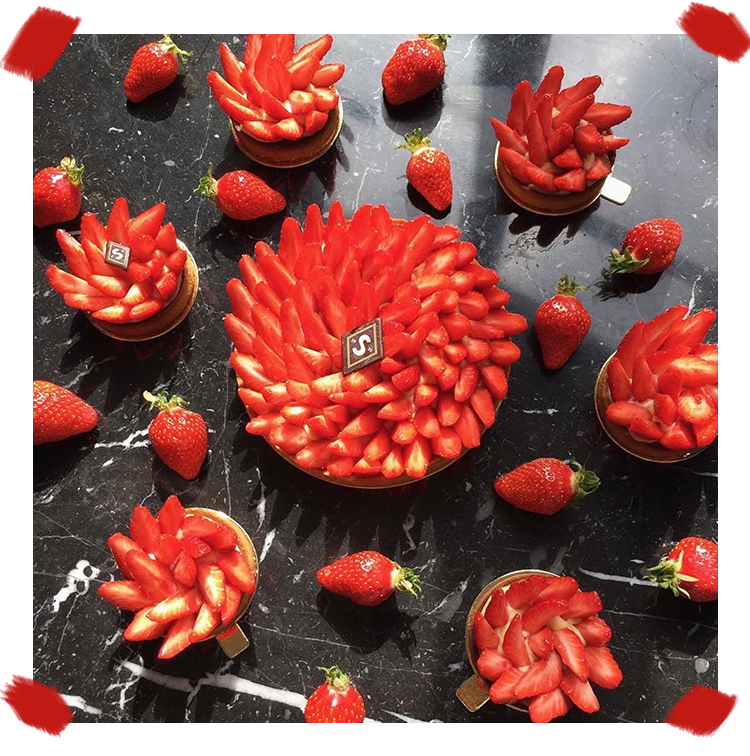 Well if you are going to suggest a tart, might as well choose the one of Senoble, by far the one with most fragrance. Shortbread crust, a cream filling with vanilla from Madagascar covered with gariguettes strawberries. A killer.
Price: €30 for 6/8 pers, €5.60 € per share
Where to taste it? In the Senoble pastry shops/ tea salon Senoble at 11 Rue des Petits-Champs 75001, Paris and at 69 Rue Saint Louis en l'île 75004 Paris
All the info on senoble.com
The Hugo & Victor part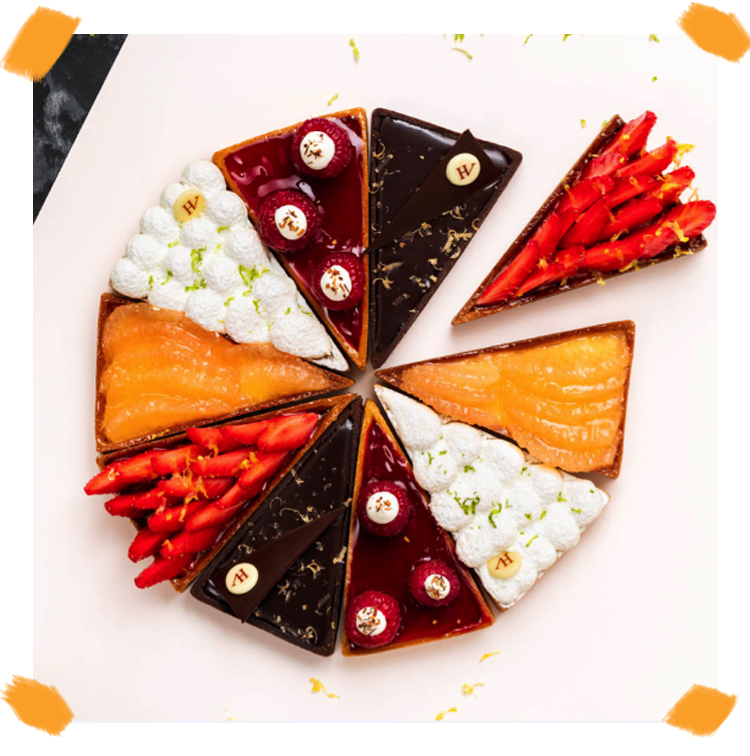 Hugo Puget does not kid around when it comes to fruits. He only chooses the best ones, it's even the claim to fame of his high pastry. When it comes to strawberry, he cooks it couture, and in this case, those from Plougastel with a lemon and almond creamy filling offered as an individual "share" of tart. Quite simply divine!
Price: 7.20 € (lemon-strawberry tart) or € 70 the reconstituted tart with 10 shares
Where to taste it? In the Parisian pastry shop of Hugo and Victor at 40, Boulevard Raspail 75007 Paris
All the info on hugovictor.com
The Bontemps sablé strawberry-chantilly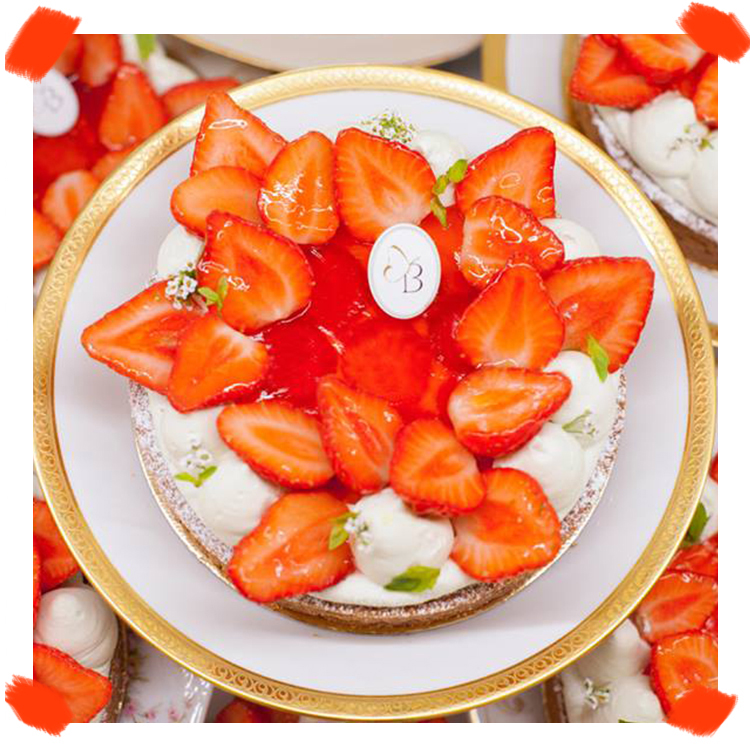 The super chic Bontemps pastry shop has all the heart assets. A marvelous shortcrust covered with chantilly and gariguette strawberries
Price: €38  4/6 pers, ⅔ pers €18 (strawberry olive oil basil or strawberry chantilly vanilla)
Where to taste it? In the Bontemps pastry shop at 57 Rue de Bretagne, 75003 Paris
All the info on Bontemps
More informations on our dedicated article
La bouchée Marcolini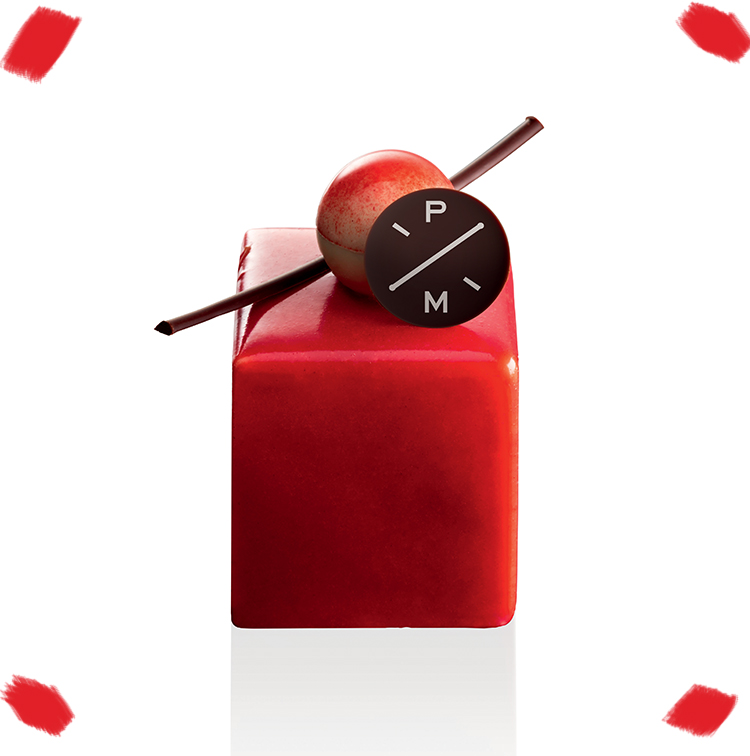 The Marcolini mouthful
A delight named "Désir". It's the ideal name of the latest pastry creation of Pierre Marcolini that is creating the buzz amongst gourmets with a sweet tooth. Its wood strawberry version is an absolute must: white house chocolate, Genova bread with lemon notes, pistachio cream and mascarpone, wood strawberry insert.
Price: 7,90 €
Where to taste it? In the boutiques of BHV Marais or Galeries Lafayette Gourmets and in his boutiques at  Saint Honoré, Rue Scribe and Rue de Seine.
All the info on marcolini.com
The pavlova of La Meringuaie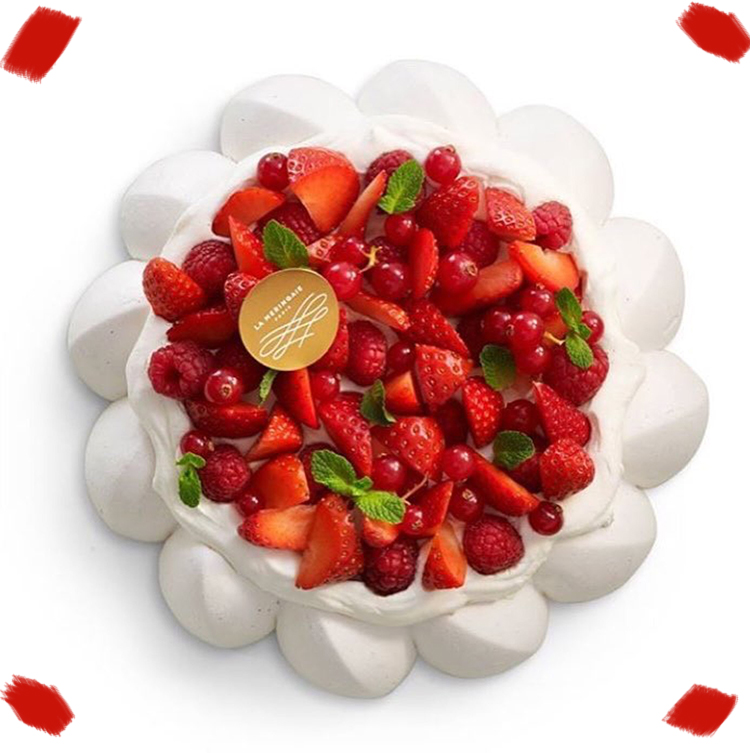 The monomanic Pavlova pastry really goes wild in the Spring. An ode to lightness, with meringue, melt in the mouth whipped rhubarb and gariguette strawberries…
Price: €26.50  for 6 pers and 4.80 € each share
All the info on lameringaie.com
La barquette de Sébastien Gaudard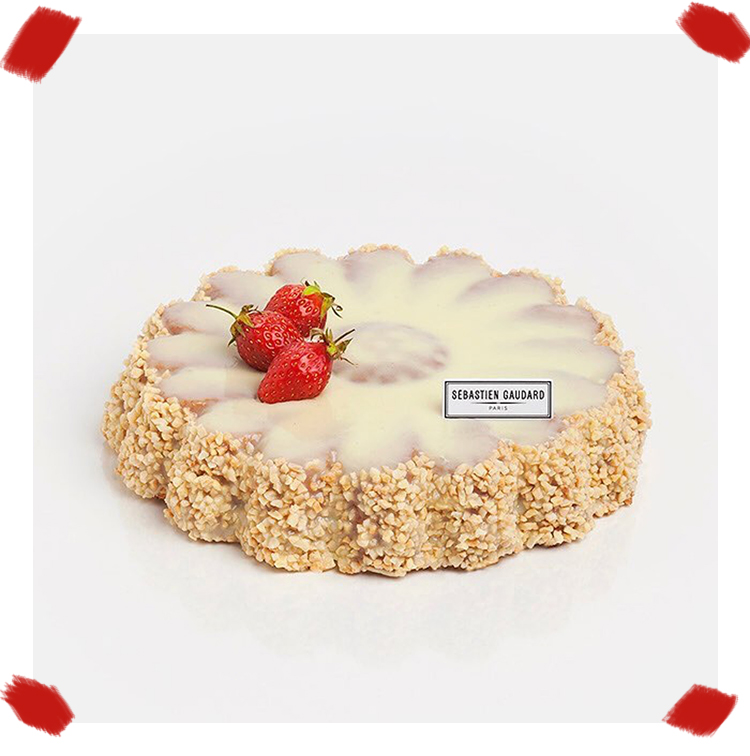 The barquette of Sébastien Gaudard
The one who counts as one of the leading pastry chefs in Paris reinterprets with brio the great Parisian classics… And when it comes to strawberries, he sticks them into a barquette (the one of our childhood)  with a crème pâtissière and gariguettes.
Price: €5.50€ for an individual barquette
Where to taste it? 1, rue des Pyramides 75001 Paris
All the info on sebastiengaudard.com
L'Eclair de Génie à la fraises des bois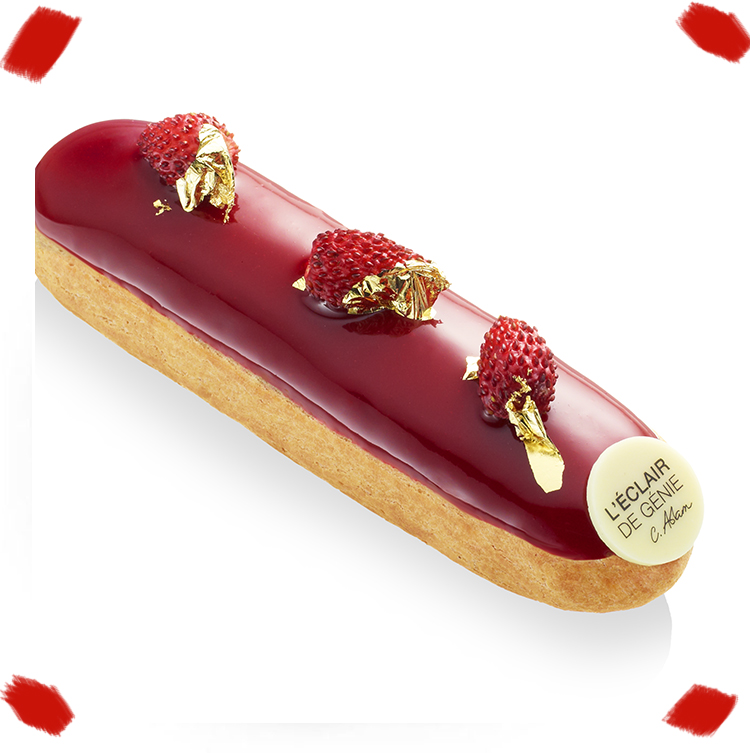 Christophe Adam went all out with this éclair ! A puff pastry filled with mascarpone and chantilly, strawberry coulis, covered with a nut streusel, et and fresh wood strawberries. Wild !
Price: €6.50  per éclair
Where to taste it? In one of the L'Eclair de Génie boutiques.
All the infos on leclairdegenie.com
Lenôtre la Douceur d'été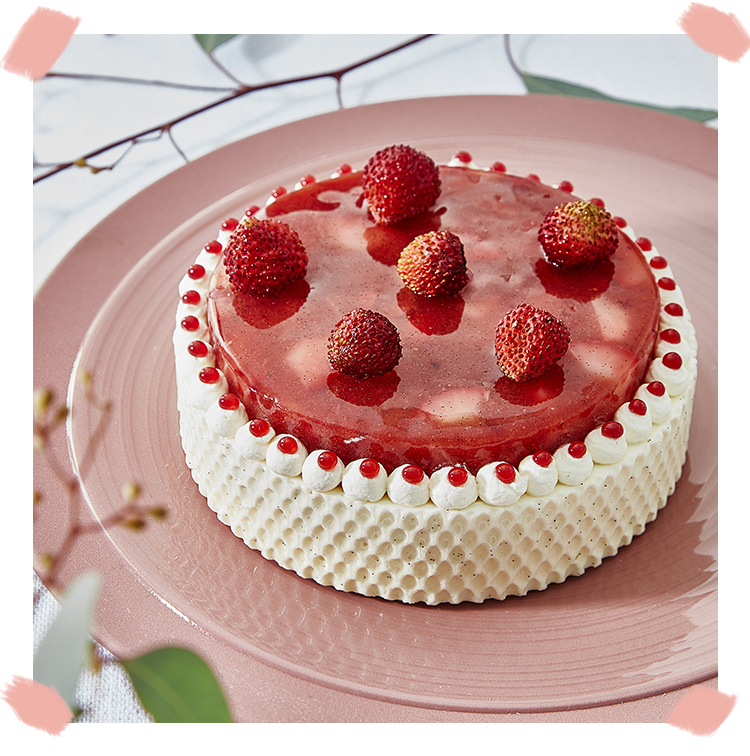 Guy Krenzer, chef of Lenôtre pastry creations, has imagined a brand new strawberry dessert, La Douceur d'été: a kind of upgraded baba filled with green lemon on top of which comes an unctuous green lemon cream and a combo of strawberries and wood strawberries on a  baba filled with green lemon juice and a strawberry crisp.
Price: 59€ (for 6 pers)
Where to taste it? In all the Lenôtre boutiques.
All the info on lenotre.com
Also discover La Patisserie du Meurice by Cédric Grolet.