Do you frantically develop Pinterest moodboards , dream for hours in front of the dream homes of decoration magazines and can name more than three French interior designers ? Then this information will necessarily fascinate you. Tikamoon , the French and eco-friendly interior design house that deals incredible solid wood furniture, is setting up its ephemeral corner for a furiously stylish pop-up at BHV Marais , from August 23 to September 26. Suffice to say that the inspirations will fuse.
Furniture to see and touch (finally) for real
This is the very first time that you will be able to see and touch Tikamoon 's minimalist, durable and so elegant pieces in real life . The appointment is made on the 4th floor of the BHV , where the refined scenography leaves room for the imagination, presenting the iconic pieces of its collection over 40m². To be won: beautiful solid wood furniture giving pride of place to oak, teak, rosewood or walnut, as well as noble materials such as leather , marble and even terrazzo for an interior inspired by the Memphis style .
Our favorite pieces
Tikamoon 's green guarantee is above all to develop furniture designed to last, handcrafted by craftsmen in high quality wood, cut at the maximum of their maturity. The result is a mindi display case to display your beautiful crockery (€539), a sublime pine and cane cupboard (€989), the perfect rattan armchair (€119), a teak bench seat with ivory cushions right on trend In & Out (€999) or chairs to mix and match like the Mio in walnut / white metal and ash / gray metal (€109).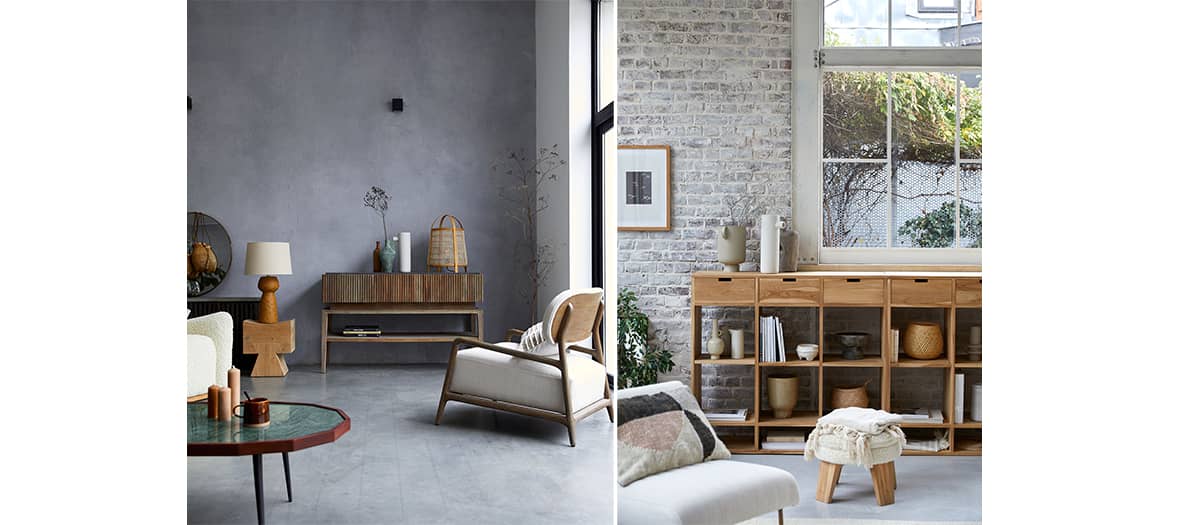 In a perpetual quest for the perfect dining table that is both elegant and practical without taking up all the space? We put a big option on Helga in rosewood with metal feet (679 €), the very round in terrazzo Elio for small surfaces (599 €) and the superb Luna with curved feet (799 €). The height of joy: all Tikamoon furniture is delivered already assembled...
Supporters of the least effort?
Tip, top: for the duration of the pop-up, the brand will offer " comfort " delivery (carried out by two delivery people by appointment, in the room of your choice) for any order placed at the corner. It's a gift.
Tikamoon at BHV MARAIS, 4th floor facing the escalator, from August 23 to September 26, 2022. Open Monday to Saturday from 10 a.m. to 8 p.m., Sunday from 11 a.m. to 7 p.m.