The spirit: like a contemporary lost in the boondocks surrounded by tropicool vegetation and equipped with all the modern critter comforts. Except that you are neither in South Africa nor in New-Zealand, but right in Paris, a skip and a hop from Gare Montparnasse to boot. With its jungle in the city setting and its wildly cocooning ambiance, the 9Hotel Montparnasse is the ultimate fantasy of Parisians on the edge of a burn-out.
The room to book: the cabin with its private terrace cut off from the rest of the world. An authentic small shack in lightwood, independent from the rest of the hotel, nestled in a garden where you can lock yourself up for a wild night with your Robinson Crusoé. Because in addition to being really unusual, this pretty hideaway offers a tad naughty surprises: a king size bed, erotic books, champagne bottle, shower for two with jets and mist sprays as well as other amusing gadgets…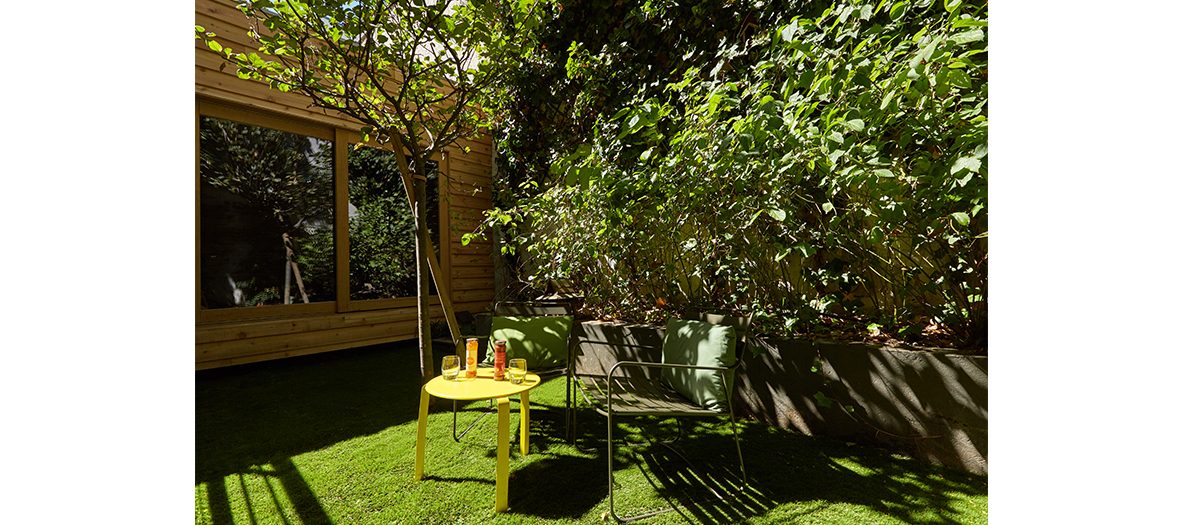 Hello, room service? Eggs, crêpes, yogurts, cereals, tea, coffee, freshly squeezed juice… Breakfast is served in bed. In case of sudden hunger pang, dial 9 to order foie gras (25€), a Caesar salad (22€), a beef tartare with fries (24€), arrabbiata pasta (23€) or a mega comforting crème brûlée (13€).
The extra touch: the collaborative library set up in the lobby. The purpose ? You leave your old books there and you pick new reading material directly on the shelf.
199€ during the week, 259€ for the week-end, breakfast included and complementary champagne.
A log cabin fan ? Spend the night in Scandinavian cabins set up at the heart of the Finnish Institute.