Sleeping in a Finnish chalet without leaving Paris and enjoying an amazing Nordic breakfast? Challenge accepted. The latest chic is spending the night in Koti, a mini village of six wooden huts, a skip and a hop from Saint-Germain-des-Prés.
At the origin of this wild project, Institut Finlandais is celebrating the 100 years of its country's independence by welcoming until May 100% 'hygge' small chalets in its Latin Quarter enclave. These small huts —aka aitta— inspired by the cozy and calm small huts where Finns welcome family and friends for a few nights near their main dwelling.
A pop-up installation created by Linda Bergroth, whom one can thank for the graphic aesthetics of Trabendo, a super trendy venue. All this pimped with an ultra trendy selection of Finnish design, such as an adorable small bedside mirror in smooth wood.
The must : a soft awakening around a big table to share a Nordic breakfast with all the hut neighbors. On the menu: tartines of black bread, granola, yogurt, fruit… And let's not forget a big Finnish treat… coffee to be enjoyed  at length in the ceramic creations of Nathalie Lahdenmäki.
We adore: super soft house linens, that come in an absolutely divine harmony of grey and yellow. Do you feel like going home with just what you need to create a hygge ambiance at home? Head for the boutique and pick up an amazing yellow and white plaid (120€), a grey linen bathrobe (150€) or a big linen towel (60€).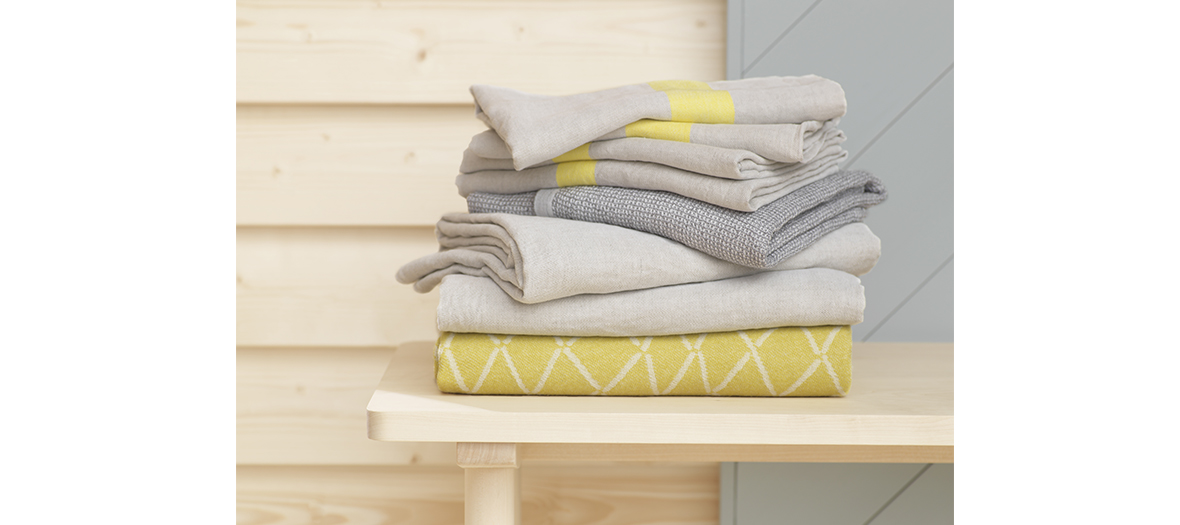 KOTI from the 25th of January to the 6th of May 2017. Rates: from 90 to 320 €. Reservations on Airbnb.
Visit of the huts open to the public every day from 1am to 6pm.
Follow the golden rules of Scandinavian decoration and our little uide for a perfect week-end in Copenhagen.