This year, Advent calendars are a total must… From leading chocolatiers to glitzy fashion labels: the result is small accessible luxuries from the top houses or just an occasion to have fun in front of the latest LOL creation of a Rue de la Paix jeweller. Spotlight.
All-chocolate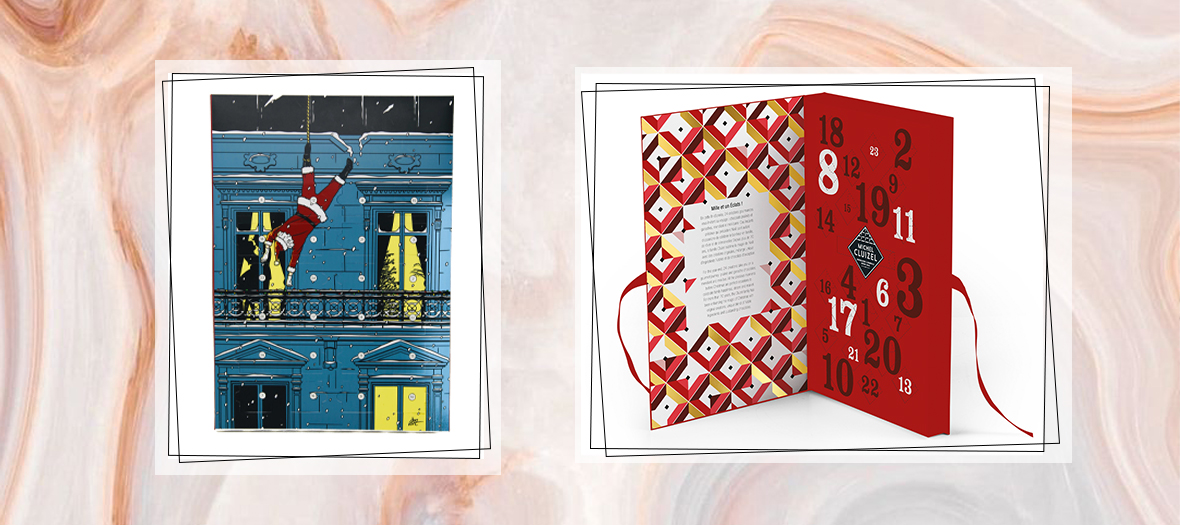 For whom? Real cocoa-addicts

When the brilliant illustrator Jean-Michel Tixier (Le Monde) sketches the calendar for Maison Plisson (€25), it's a big hit ! Every day, yummy chocolates from their friends À la Mère de Famille: praline balls, mendiants, crunchy tidbits, dry fries. Yum.
Impossible to resist the super chic calendar of Manufacture Cluizel (€43.45) that whips up the best chocolates in Paris. In this case, 24 slots of old-fashioned pralines, melt in the mouth ganaches from the best plantations, crunchy mendiant and mini- fruit bar. Amazing!
Label or nothing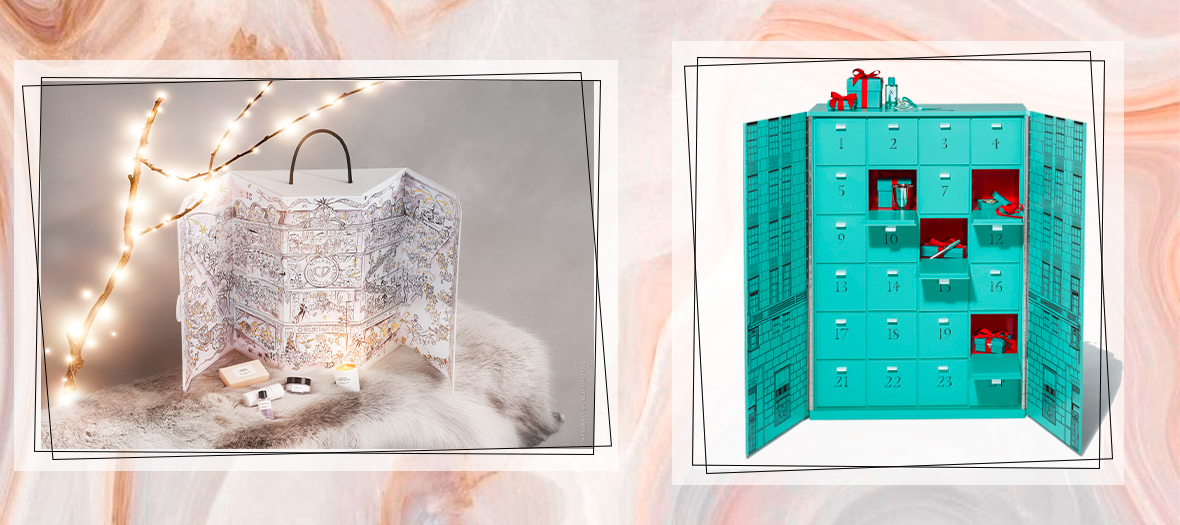 For whom? Deluxe gals.

We want it! Vincent Darré has come up with the most desirable calendar for Dior featuring all the house codes. We dream of it a little bit more when we discover the candles, soaps, creams and other surprises of absolute refinement hidden in the slots of this gem.
You need to see it to believe it. Impossible not to pinpoint this Advent curiosity: the very first edition of Tiffany & Co ($112,000) with a thousand treasures. Each morning: a silver pen, diamond earrings, a bracelet in 18 carat pink gold… So, if you were hesitating between a flat or an Advent calendar…
Parisian all the way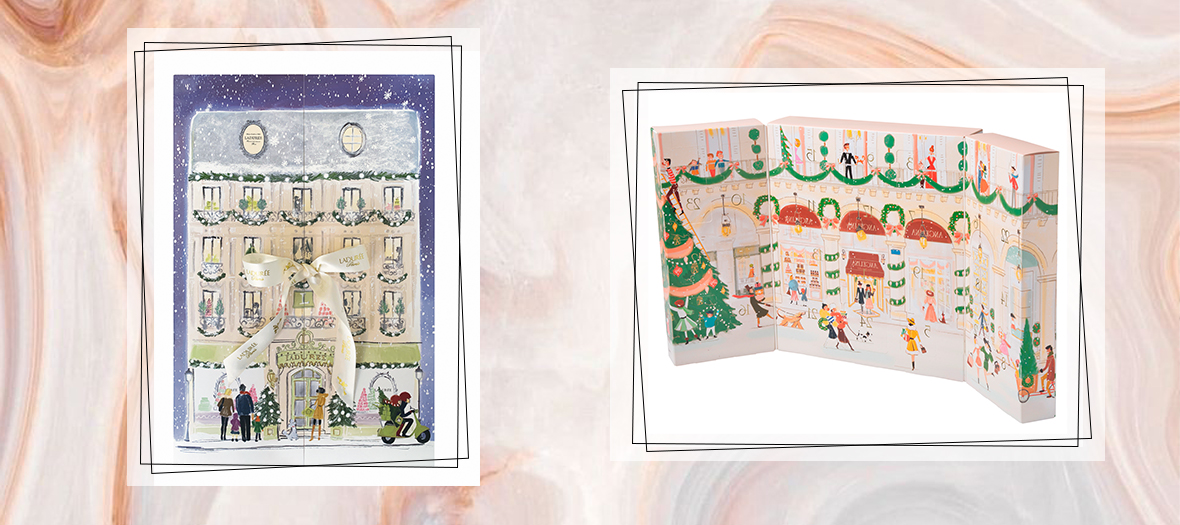 For whom? Pure Parisiennes.
The ultimate calendar of Parisiennes is the one by Ladurée (€40), the illustration of a Haussmannian building wrapped with a ribbon and that opens up on a pasty shops where are hidden 24 windows of yummy nougats, calissons and caramel candies.

Other delight : Angelina (€30) that takes us to the Tuileries and 226 rue de Rivoli, at the heart of its mythical address with a hot air balloon flying over Paris... Poetry, magic and sweets: lace crêpes, giandujas, black and white chocolate pralines and napolitains, almonds wrapped in milk chocolate, crispy pearls...
Ultra chic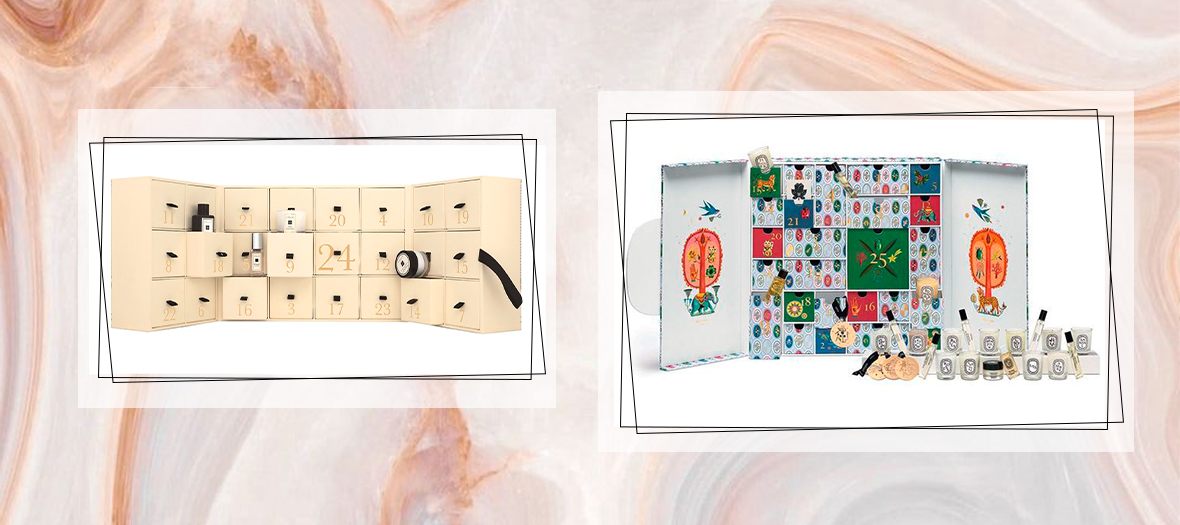 For whom? Coquettes.

Perfumes galore … The superb calendar of Jo Malone (€350) is filled with fragrant surprises— eaux de Cologne, body treatments and unusual candles.

At Diptyque (€375), the ambiance is very fairy like with a mix and match packaging and 25 good looking drawers to contain mini candles and small dream-like fragrances.

Girl power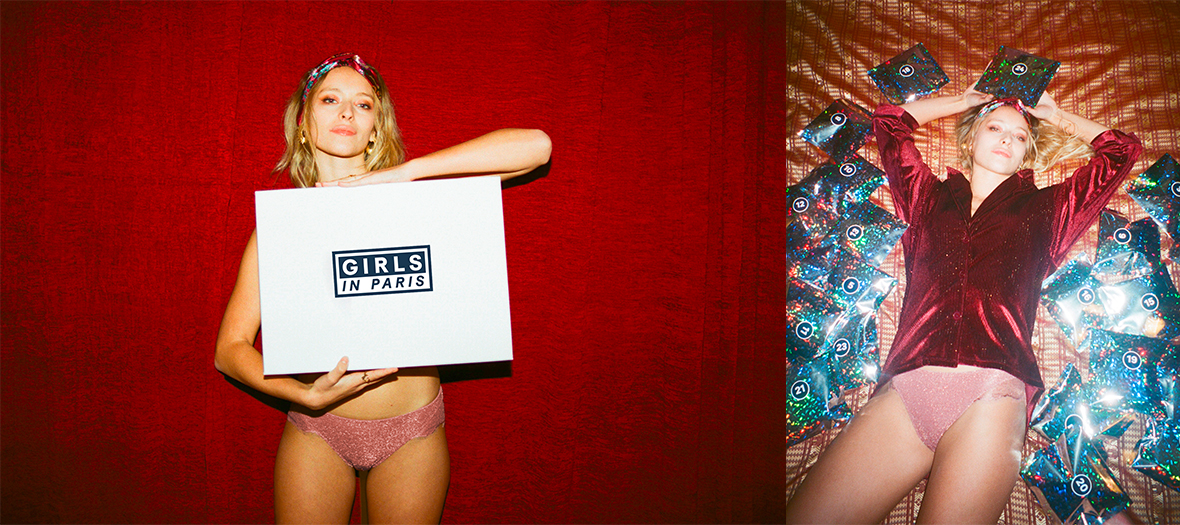 For whom? Lingerie loving fashionistas.

At Girls in Paris (€89), forget chocolate. Here it's all about pretty shapes… For each day a different pair of panties, a sexy tanga, comfy pyjamas… and many other! surprises.
Make-up and beauty products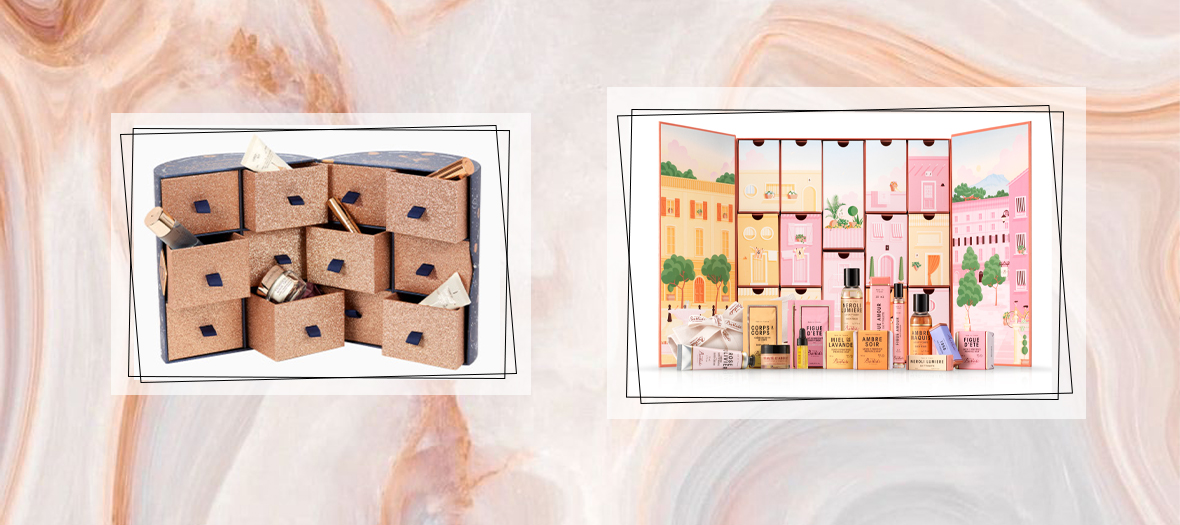 For whom? Beauty-addicts.

Lipsticks, moisturizing creams, nail polishes and other wonders with a wild girly packaging are highlighted in the very coveted Paul and Joe calendar (€74).

And why not an express trip to Provence with Bastide (€125 ) filled with natural 100 % Made in France tempting beauty items: solid soaps and fanciful eaux de toilettes.

Heart throb for the  Charlotte Tilbury kit (€185), cosmos blue and sequins galore, filled with iconic make-up products, from full size glittery eye shadow to a 3 in 1 face treatment that gives a perfect glow.
Caramels, candies and calissons...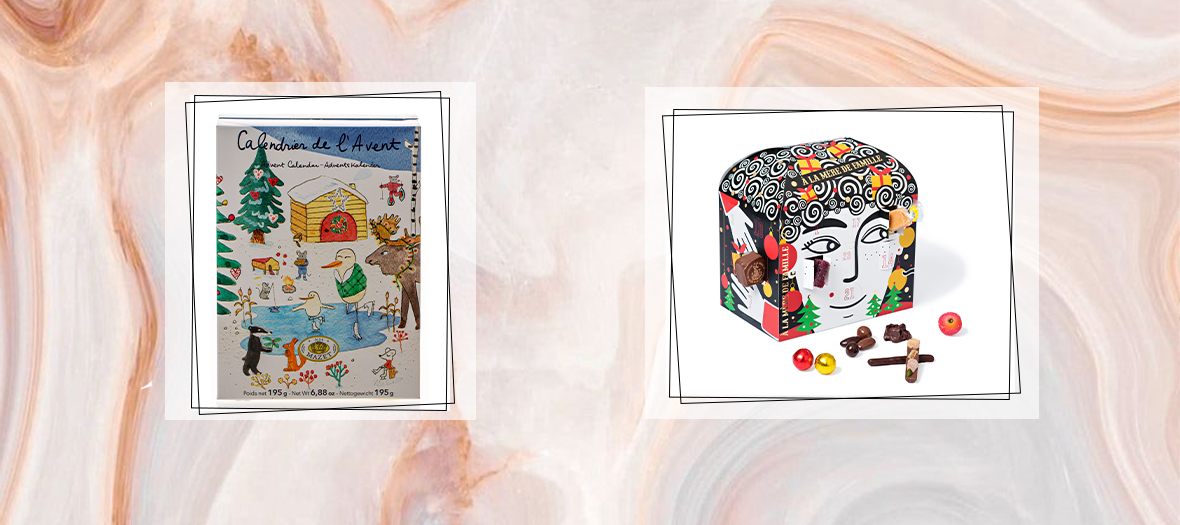 For whom? Total gourmets.

As for the kings of pralines, aka Maison Mazet (€22.40), they have launched a divine collab' with illustrator Marina Vandel.
And let's not forget À la Mère de Famille (€39), the calendar represents a large family house, sketched by Zeina Abirached. Pralines, almonds and chocolate hazelnuts, mini calissons, caramels, candies, etc. Just like kids, we feel like opening all the windows without respecting the days. 


Also discover the new brasserie of Yannick Alléno.