Overbooked Parisians swear by Alpha Dogs House to keep their animals (dogs, cats, rabbits, etc.) free in the middle of the countryside. The founders Koffi Miessan and Virginie Barbarin have just hit it big by opening their very first Parisian space with daycare , grooming , cat hotel and shop opposite the Museum of Modern Arts and the Louvre . A real little all-in-one revolution.
A sharp selection
At level zero, it is now possible to shop hand- picked accessories for dogs and cats in the most touristic district of Paris . Among the nuggets spotted: pretty crochet toys (€19), multicolored rope leashes (€71), adorable medals to engrave with a popcorn , hot dog or ice cream cone motif (€30), embroidered sweatshirts ( €51), brooches in collab with Macon & Lesquoy (€40), Swedish game treats (€12) or even a superb basket for woven cats (€150) and a very warm cuddly carrying bag for the winter (€153).
Expert groomers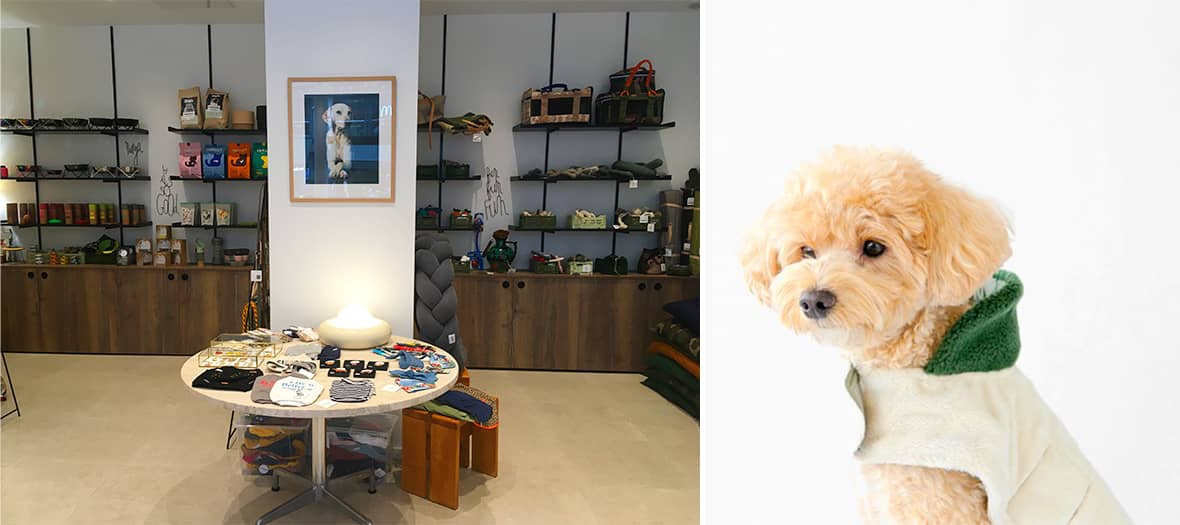 Direction the basement, where the two groomers take advantage of the Rolls Royce of grooming to pamper the animals. Recalcitrant cats will have their claws cut for 10 € and the prettier ones will treat themselves to a bath and brushing for 120 €. Count 90 € for a scissor cut on a small bichon -type dog , 70 € for a bath / brushing / clipping on a medium-sized doggie. The height of luxury, spoiled animals will get a 30-minute massage (€70) with a light therapy option worthy of the most chic spas in Paris (€100). What a life !
Dog daycare, cat hotel
The good idea of Alpha Dogs ? Relieve working moms / dads in the neighborhood by keeping their dogs for the day (€40) or half-day (€25) in an enclosed space where they can play with friends, also ideal for dropping them off while they get used to it an exhibition at the MAD and other surrounding museums. Top: the concept store obviously serves as a starting point for a walk in the forest or educational courses in the neighboring Tuileries garden .
But the highlight of the show is in the hotel for cats upstairs (€25 a day), where the aristocats strut proudly in an XXL room with spotlights perched to observe the city from the large window, in an atmosphere candy pink cocotte furnished with pretty rattan pieces . A real haven of peace that we would like to squat...
Open Monday to Saturday from 9 a.m. to 7 p.m.
Also discover the new concept store for stylish dogs and 12 very chic doggie accessories .