If you dream of giving a little "Pinterest" zip to your kitchen or dining room, come here. This concept-store, obsessed with design and food, gathers pieces with character to upgrade your table and boost your shelves.
Here: everything looks fab: whether it's graphic Miss Etoile cardboard goblets for a picnic or an arty pitcher molded in a tree trunk, Japanese ceramics or amazing surrealist plates by Casalinghe Di Tokyo, sea salt wrapped up in a pouch with a Nicolas Vahé handicraft spirit to The Geometry of Pasta truffle sauce for deluxe house pastas. Budget? From 4€ to 200€.
Ultimate coolitude, a real à hot-dog chariot allows you to satisfy hunger pangs along with fruit juices and yummy pastries!
Because for the story, Thomas Delahaye, the co-founder, is also an interior architect and designer. His latest creations? The Beast, Hero restaurants and the Broken Biscuits coffee-shop, that supplies the eponymous cookies!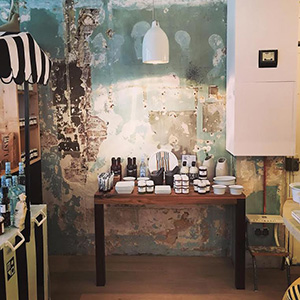 Open Tuesday to Saturday from 11am to 3pm and 4pm to 8pm.
Also discover Datcha, the decoration and crafts boutique in Paris.