After London and Amsterdam, it's in the Sentier area of Paris that the hotel has opened and continues to create the buzz. Decorated in a chic and easy-going style, the team has wagered on a very British style, a bit of vintage and always very hipster. Great inspiration for your own decoration.
Setting up your living room like an English cottage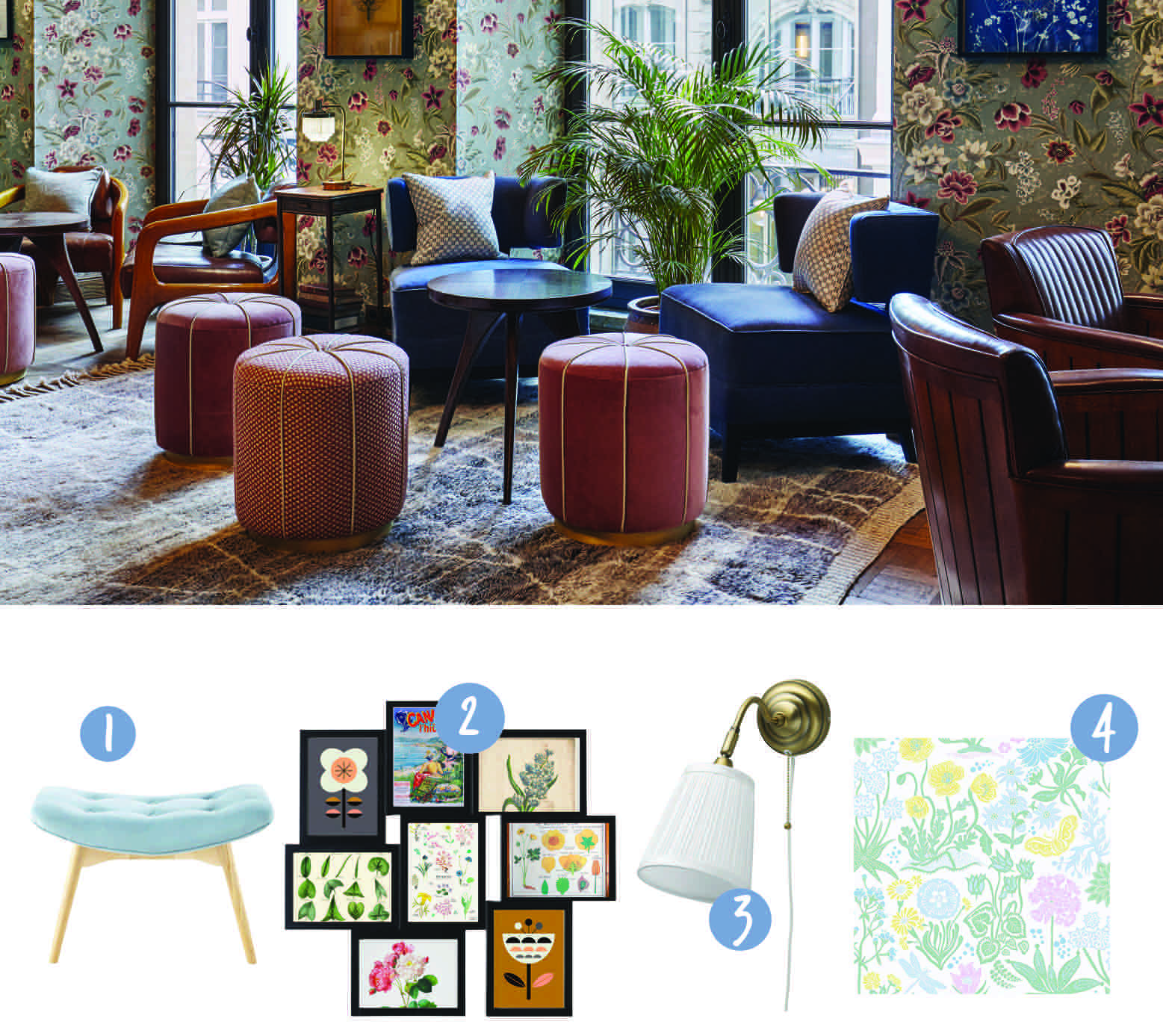 1.Iceberg foot stool, Maison du monde, €99.99. 2. Växbo set of frames, IKEA, €6.99 3. Årstid mural lamp, IKEA, €17.95 4. Lotte wallpaper, Au fil des couleurs, €99.
It's like being in the English country side, nestled in a living room with a fresh and natural spirit. This bucolic chic style wagers on liberty prints and soft nuances.
How to do it at home? Dare busy and flowery wallpaper, but always assemble it with a more modern style such as a foot stool with streamlined and minimalist lines. A good solution to avoid emulating the interiors of our grandmothers.
Our tip: find very simple frames, print vintage posters on internet and slip them inside. The perfect DIY.
Go for the industrial style in the bathroom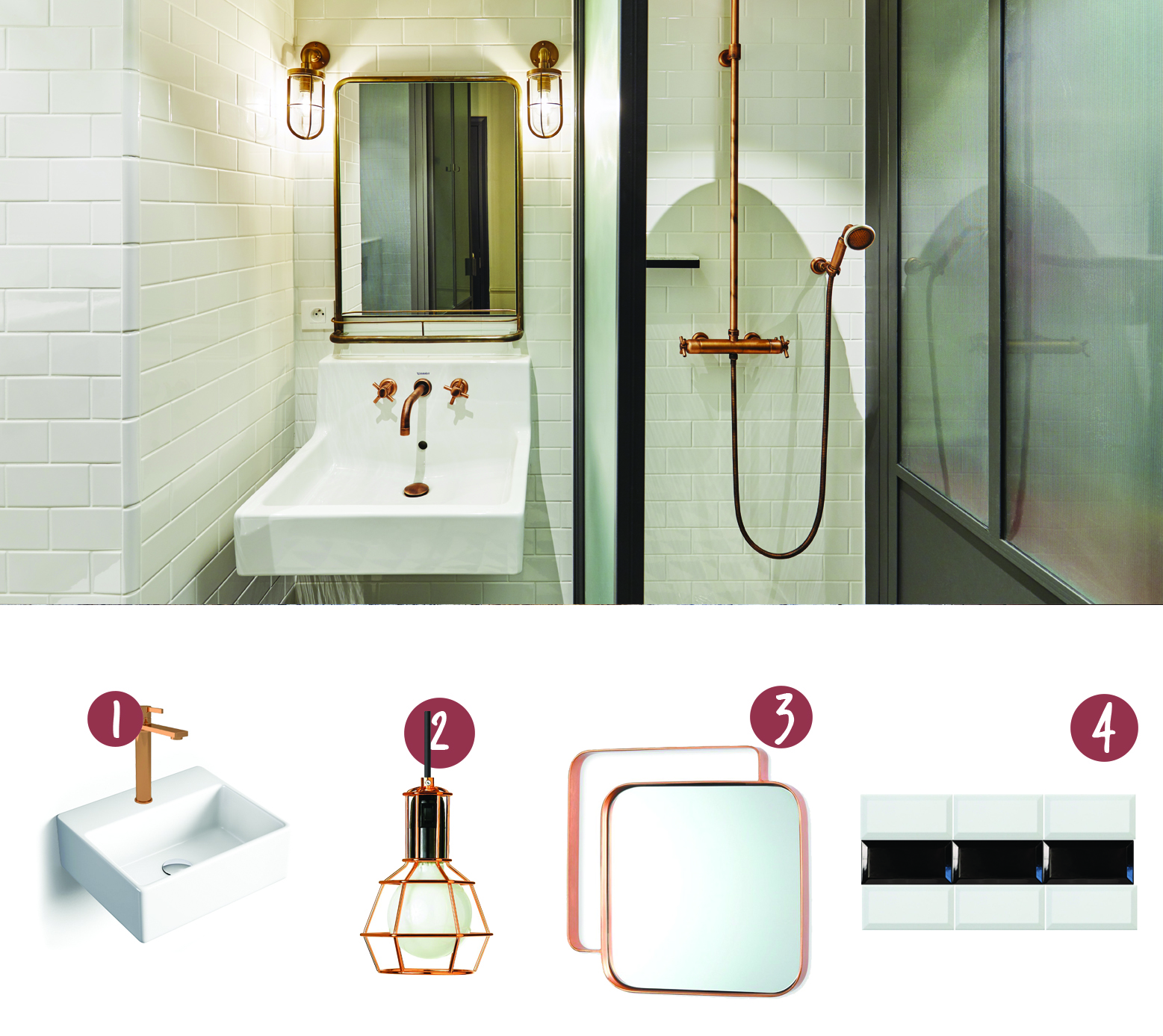 1.Vask in ceramics, €99 and Valmy, sink faucet, €249, masalledebain.com 2. Hanging fixture, delamaison.fr, €109 3. Romy miror, Bruno Evrard, La Redoute Intérieurs, €71.90 4. Metro tiling, asdecarreaux.com, €12.50 per tile
In bars, restaurants and now, even in bathrooms, the industrial look, straight from New York, has become the trend to follow. And the Hoxton is going with the flow.

How to reproduce it at home? The ultimate of chic is of course the combo brass/tiling. Very simple and efficient. Find a mirror, a faucet and a lamp with a metallic grid mixed to the famous bevelled metro tiling, all available on www.asdecarreaux.com.

Our tip: For the tiling, go for the total white look highlighted with a line of black tiles. Art Nouveau effect guaranteed.
A room pimped with vintage 60's pieces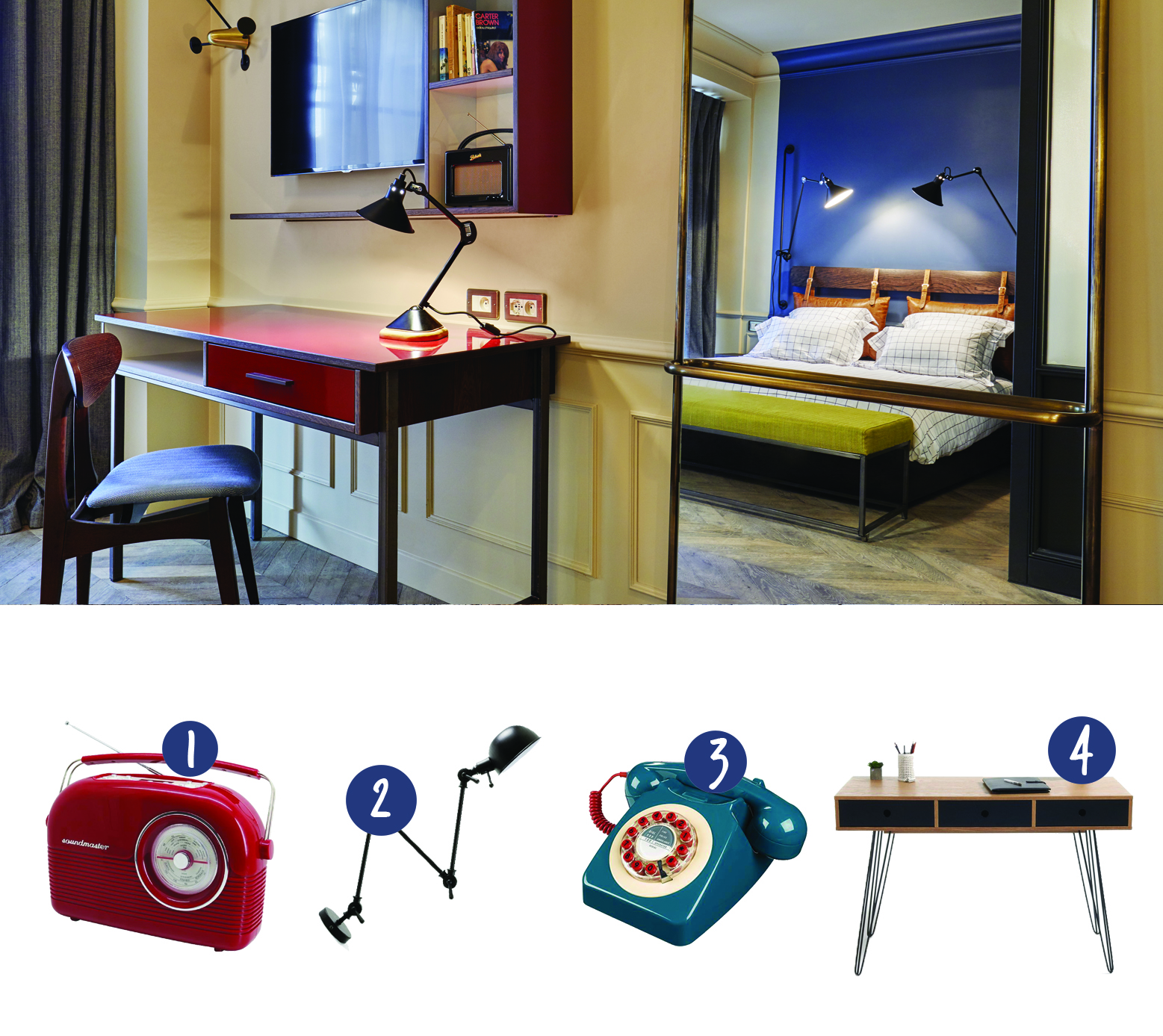 1. Retro radio, Cdiscount, €74.99 2. Tornade, 3 arm wall unit, AM.PM, La Redoute Intérieurs, €109 3. Retro telephone, Wild & Wolf, The Cool Republic, €53 4. Desk, La Redoute, €187,19
Dispatched a little bit everywhere in the rooms of Hoxton, these 60's objects are hard to bypass and bring to mind a "home sweet home" spirit.

How to reproduce it at home? Naturally, we could have found one at a tag sale, but to make it easier, we opt for pretty re-editions such as this old phone with a turquoise dial by The Cool Republic.

Our tip: It is the icon of 20th century design that everyone is wild about, the hot object we ask our grandpa to give us, the "Gras" lamp is making a big comeback. At LA Redoute, in the same spirit, we spotted a model around a hundred euros. An absolute must-have.
Creating a glam and cosy bookshelf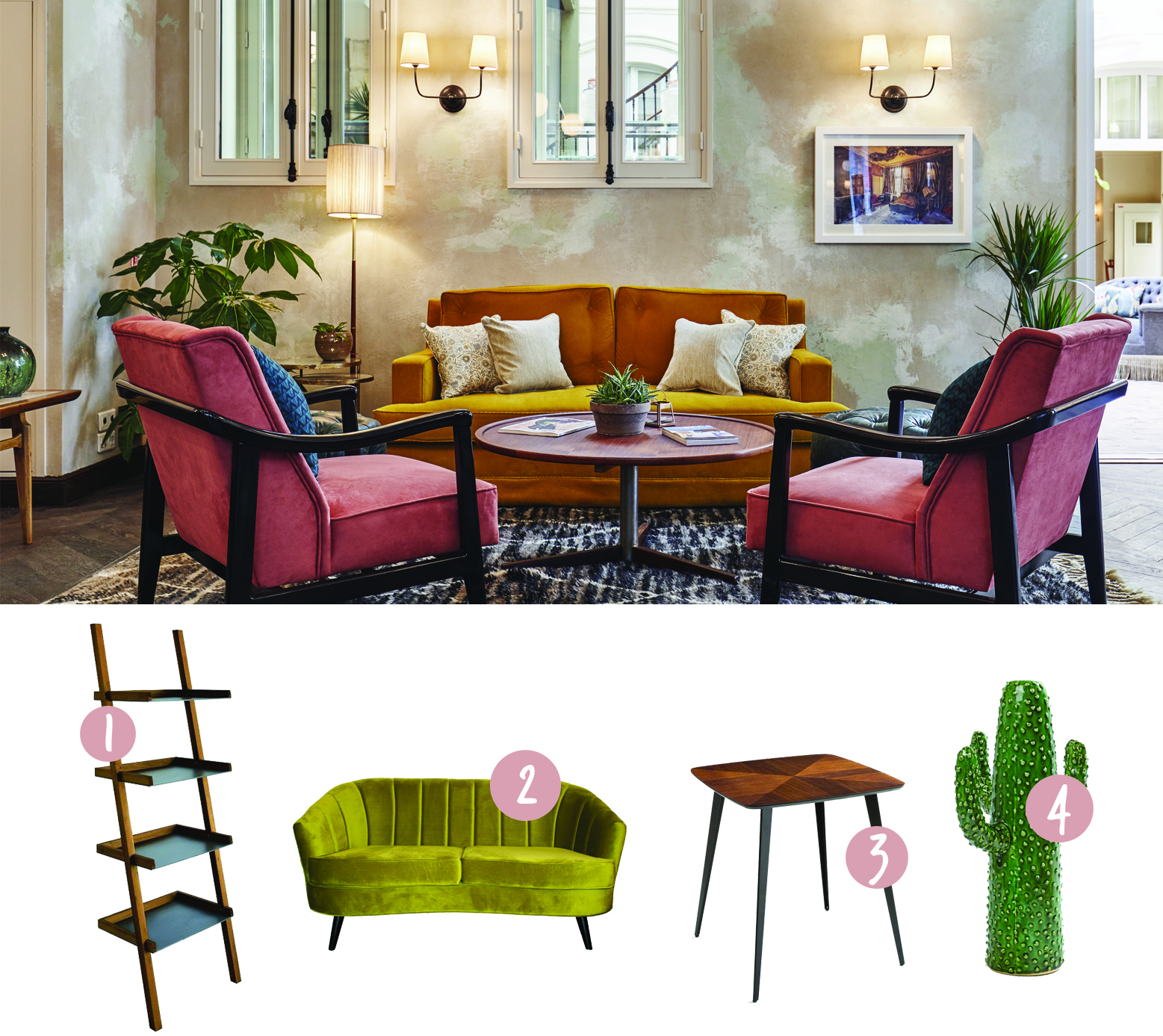 1. Level ladder staircase, Jardipolys, La Redoute Intérieurs, €119 2. Velvet « Monroe » banquette, La Petite Boutique, in shops, €890 3. Marquetry 2-person bistro table WATFORD, La Redoute Intérieurs, €219 4. Cactus L vase, Serax, The Cool Republic, €72
For all those who work from home, nothing is more important than creating an inspiring cocoon that is always chic.

How to reproduce it at home? The sofa and armchairs set the tone. So dare flashy colours and handsome velvets. For storage, nothing is more aesthetic and practical than ladder shelves.

Our tip: Don't forget the green touch for the Zen attitude by adding lots of plants. For cactus aficionados, the famous Serax vase will create the illusion.
Drawing inspiration from a very casual Winter garden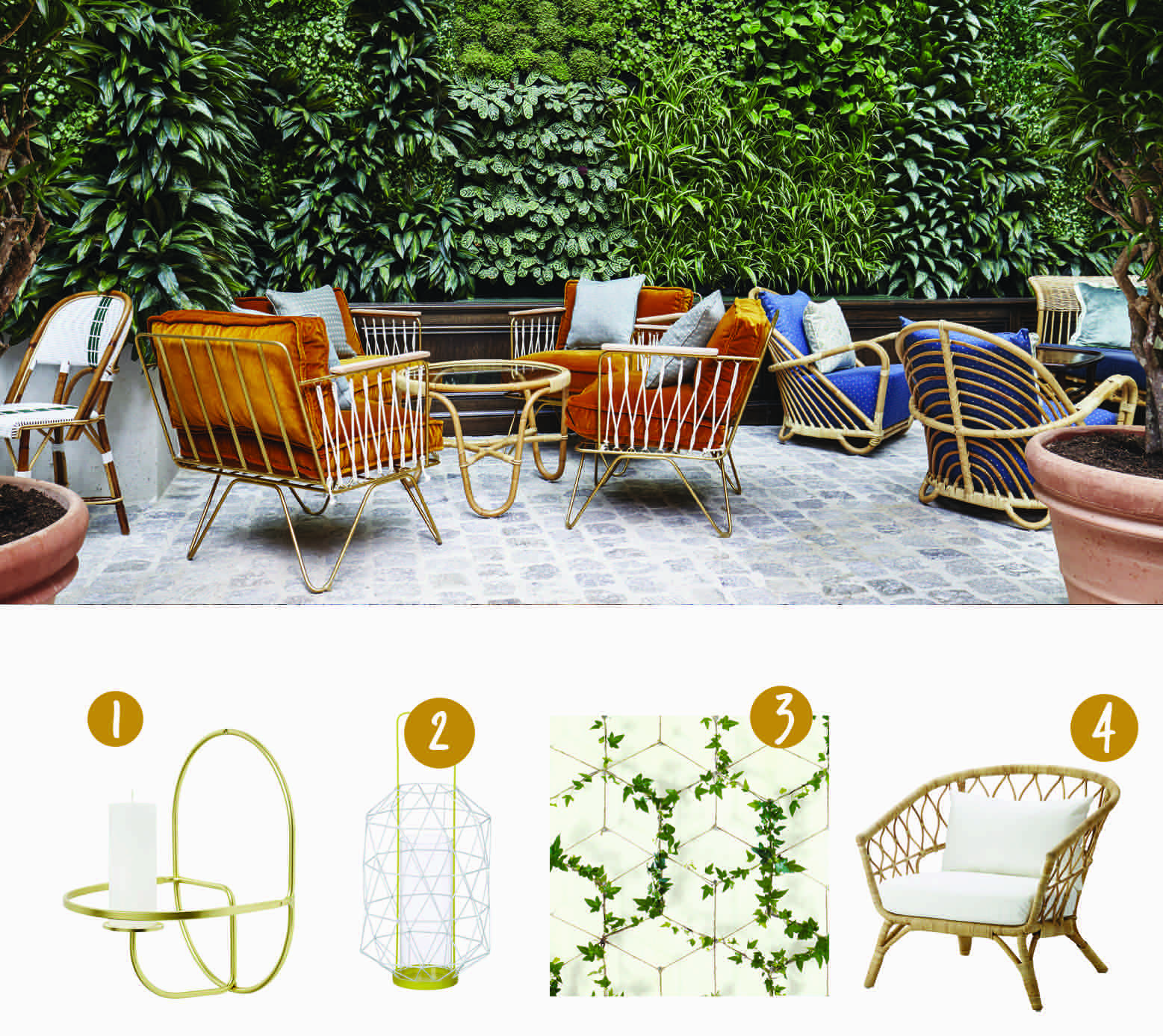 1. Mural candle holder Lup Wall Round, Hay, Madeindesign.com, €59 2. Lantern in yellow metal, Pomax, La Redoute Intérieurs, €47.20 3. Ivy pattern, By Koziel, 4murs, €19.95 per roll 4. Chair with cushion, rattan, Collection Stockholm 2017, IKEA, €229.
This is an occasion to take advantage of softness and summer in the middle of January for your interior, exactly like under the skylight of the Hoxton, very chill.

How to reproduce it at home? Have fun with the green touch combo and tubular style, playing with full and empty spaces. A lighter and more aerial design.

Our tip: Since wicker and rattan are making a big comeback, we let ourselves be tempted. Especially considering they are discrete, these materials know how to mingle with everything.
Also discover 7 clever tips to depollute your flat.