Is running your passion? Run over to Distance. After Lyon, the concept-store dedicated to stylish running gear has just opened a Parisian relay, a skip and a hop from the Cirque d'Hiver. Right on target.
The jogging concept-store
Between the minimalist decor—a white cube surrounded by neons— and  the very trendy, even deluxe selection (niche brands, limited editions, exclusive collabs), you are closer to colette than Décathlon! Stéphane Sultana and Guillaume Pontier, two sports buffs from Lyon at the helm, have hit the bull's eye with this new high-end temple of streetwear for men and women.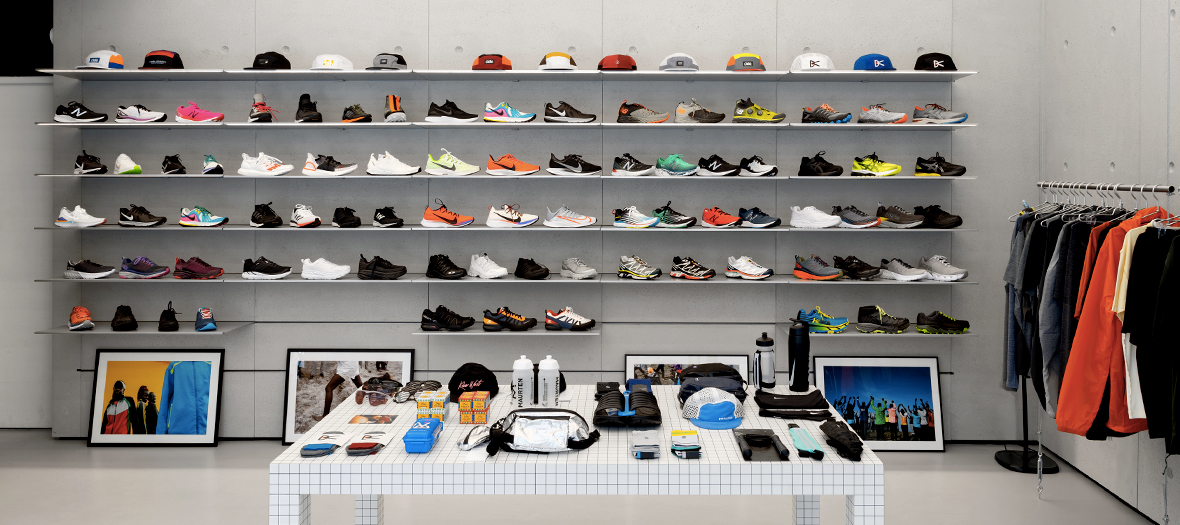 A quick tour? The wall of sneakers displays real nuggets such as the Nike Next%, spotted on marathon stars. The Satisfy collection, equivalent of Hermès amongst equipment suppliers, brings its trendy touch (t-shirt €120), just like the caps of the Canadian label Ciele as light as a feather (€35) and American sunglasses by District Vision, whose high tech lenses allow concentration during the race (€200).
In the gadget category, impossible to resist the Nike mini fanny bag (€25), the mini flask with a harness in order to run and never be thirsty (€17) and the Patagonia bag as practical as it is good looking (bag €110).
Reserved for gals
Support bra (€45), all-comfort technical bra ensemble (€50) and leggings (€120), rainbow trainers baskets… joggers can perfectly combine style and performance, with a more complete range arriving in the next few weeks.
Also check out Snearkersnstuff