Destination: the park of the château de Courances, a 60 hectares, bubble of greenery where your new country house awaits you only 1h out of Paris. A very off-the-beaten-track escapade since the adorable hamlet, nestled amidst lush greenery, served as outbuildings for the famous nearby Louis XIII small castle. Renovated, implemented and equipped with state-of-the art 2.0 comfort, this charming venue is now available for rent on Pierresdhistoire.com, a new platform for customized holiday reservations specialized in beautiful period homesteads.
What is there to do? Everything or nothing, it's up to you to decide. Concretely, you can take advantage of your cosy home sweet home to read quietly, play Monopoly or chess, have breakfast on the terrace, soak in the vintage copper bathtub, stroll in the historic Renaissance park that also happens to shelter one of the most beautiful Japanese gardens in France—in short, live the slow life. But if you like to move around, ask Pierresd'histoire.com to put together for you a 100% personalized programme of activities: horseback riding, painting course with a professional artist, guided visit of the château, golf. Many amenities and services are also available on demand, to pick according to your degree of farniente: household chores, private chauffeur, in-house chef, grocery delivery...
The added plus: the possibility of settling under the same roof as a couple or with your tribe, even pets are welcome. Entirely modulable, the homestead comprises three side-by-side residences that can communicate or be separated according to whimsy.
How to get there ? Count 1h30 door-to-door by car from Paris. For those without wheels, rendezvous at Gare de Lyon and get off in Fontainebleau. Once there, order an all-terrain bike (50€ A/R).
The price? Starting at 135€ per night via the platform www.pierresdhistoire.com.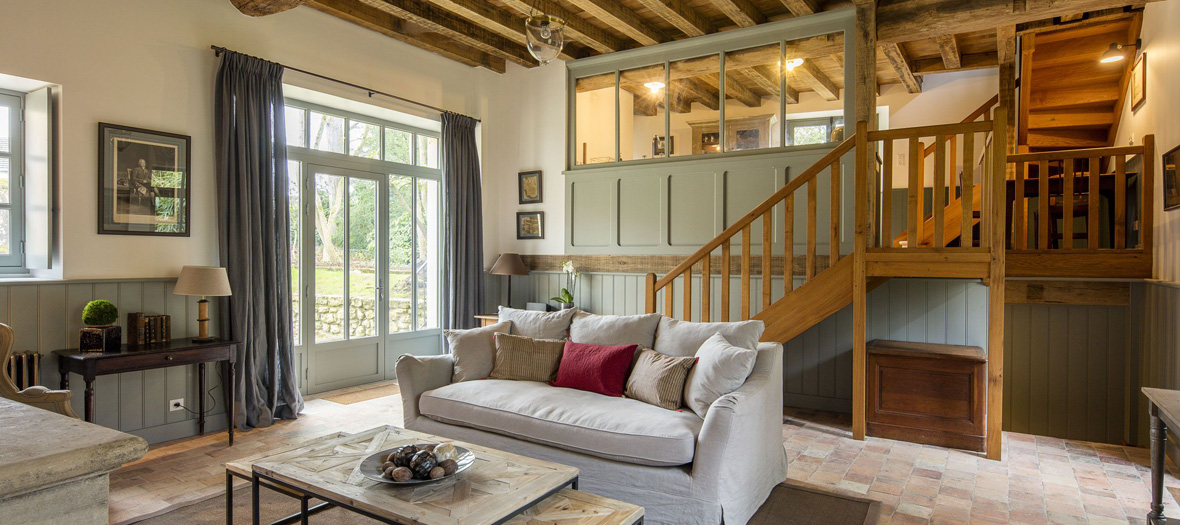 © Eric Sander