This new address is already a must for anyone wishing to eradicate stress from their lives. Ho Karan (" I love you " in Breton), a wonderful brand of natural , vegan and Made in France care based on Breton hemp founded in 2015 by Laure Bouguen , is opening its first center dedicated to serenity .
Coming from a hemp family , the popess of CBD tells us: " I have always been convinced that hemp heals and soothes. This plant has a thousand virtues: regenerating , antioxidant , anti-inflammatory … and a thousand uses. It is also used to de-stress the skin, relax the body and calm the mind. "
This pretty Breton brand has found no better place than to settle in the very lively rue Bretagne (you can't make it up!) in the heart of the Marais . A veritable laboratory of ideas and innovations around hemp ... which even makes up the walls and the furniture!
food side
At the entrance, the first Eau Karan CBD Aqua Bar welcomes us in a tea room spirit with quality cuisine signed by the Breton chef Anne Bienvenu and the naturopath Emilie Billaud : sweet and savory snacks made from hemp , enriched water in CBD but also all kinds of delicious and beneficial hot or cold drinks, ideal for breakfast or snack. The plus: the terrace for the last rays of summer and the takeaway service.
Shop side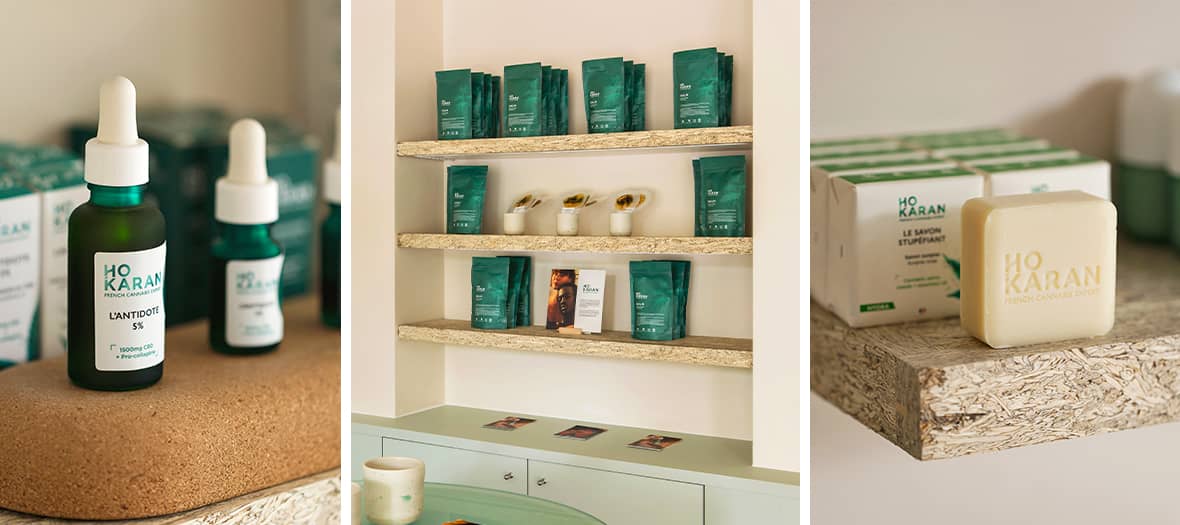 Ho Karan wants to be a real consultation space rather than a simple shop to better define everyone's needs and offer suitable products, skincare but also food supplements . CBD is therefore a must in the beauty routine of stressed Parisiennes with a deodorant (€18), a cleansing gel (€26), a face and body repairing balm (€21), a surgras soap (€15) and even a edible lubricating oil for olé olé evenings (€46). But the star product is without a doubt L'Antidote , the 5% CBD oil to ingest or simply place on the skin for an antioxidant treatment (€49 for 10 ml).
Spa side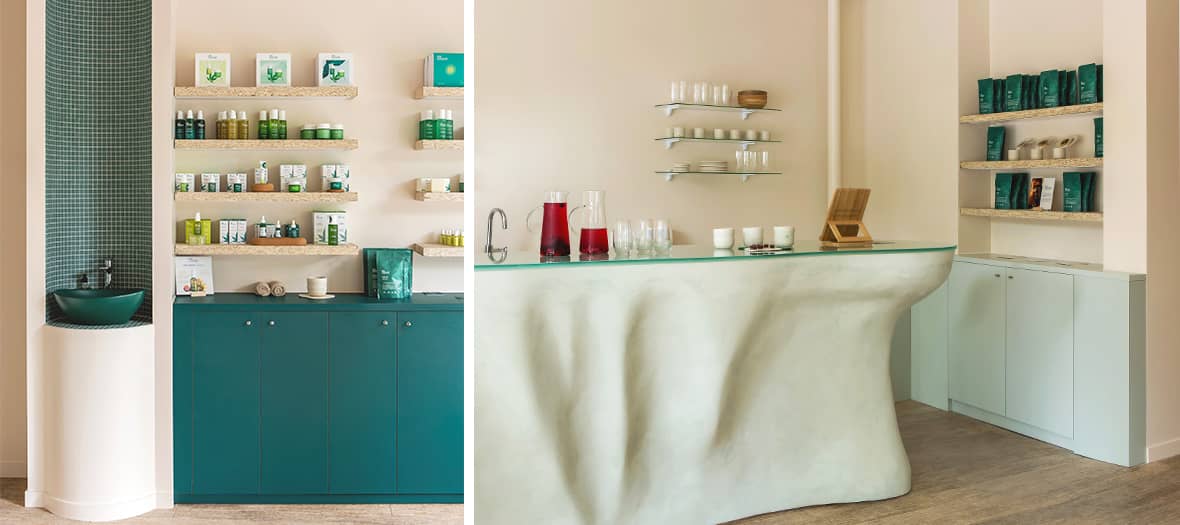 At the back of the store is a beautiful bright space where yoga classes will soon be given . It serves several areas including that of the Bol d'air Jacquier to breathe fresh air, oxygenate our cells and regain vitality in just 3 minutes, not to mention a treatment cabin for targeted massages that combine the power of the hands and of CBD and hemp extracts .
In the basement is the first CBD flotation bubble which, with sensory isolation, weightlessness and anti-inflammatory action, provides absolute serenity in 45 minutes. Finally, still in the basement, a great hammam awaits you, perfect before a massage .
Creators side
Ho Karan also puts the accent on designers with in particular hemp rugs and cushions in co-creation with the Bloom meditation studio , yoga mats in hemp and recycled plastic from the HeJHej brand and loungewear signed Couleur Chanvre .
Open Tuesday to Sunday from 11 a.m. to 7 p.m.

Also discover the best hammams and saunas in Paris and the first Oh My Cream flagship store.