Quick, a weekend trip! Our favorite hotels less than 2 hours from Paris without a car for a well-being getaway with spa and good food.
The Manors of Tourgéville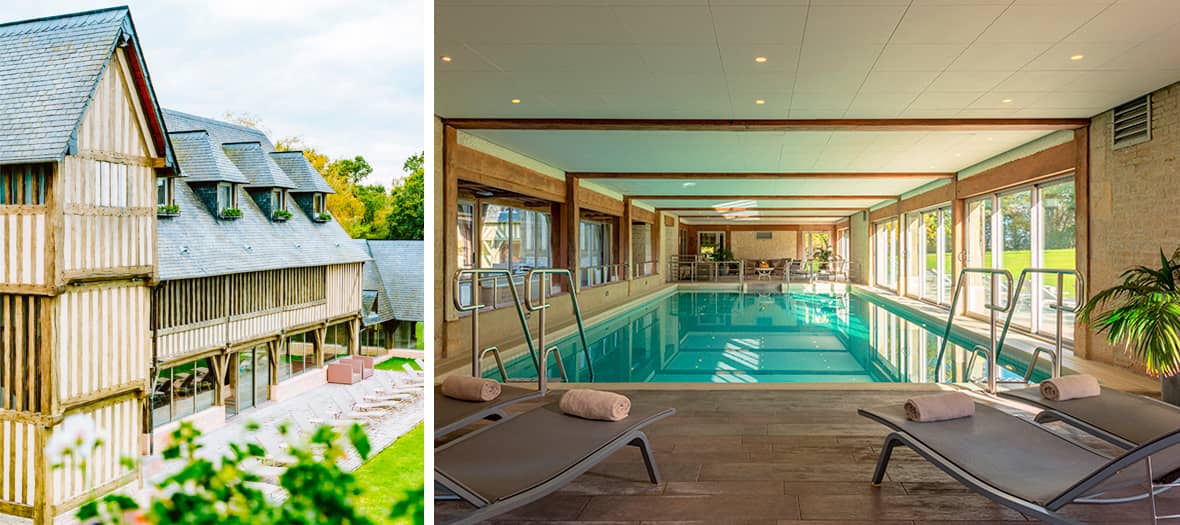 Beautiful Normandy continues to host addresses that are as desirable as they are easily accessible, right in the middle of green countryside all year round. The Manoirs de Tourgéville are the perfect stop just a stone's throw from Deauville for a cocooning and well-being weekend in a setting " like at home ". This 4-star hotel consists of a main building and four charming Norman mansions with a bistronomic restaurant , a spa by Esthederm , a heated indoor swimming pool and even a private cinema . The dream! The hotel has 57 rooms, including 35 suites, triplexes with a fireplace in the living room, duplexes and connecting suites, some of which even have a private terrace.
And for a classic girls ' night out or a memorable EVJF , the Manoirs de Tourgéville offer a new concept of Pajama Nights in a connecting suite with 2 bedrooms, 2 bathrooms and 1 living room in a cozy and warm atmosphere. Room-service! We bring you sweet and savory delicacies, champagne, bonbecs and popcorn, not to mention the unmissable romantic comedy (with Julia Roberts , it's even better) or a good series. Until December 15 from €195 per person, based on 4 people.
On the food side. Attached to the local terroir, chef Emmanuel Andrieu gets his supplies from the best Norman producers and picks his herbs directly from the adjoining vegetable garden . At his bistronomic table Le 1899 , the beautiful vegetable stands out as the absolute star: seasonal soup , cream soufflé with herbs (€17), warm potato, cream and smoked herring roe (€20), mushroom ravioli (€29)... without forgetting the eternal gourmets with a very juicy filet of Normandy beef and carrots (€42) or an effective truffle croque (€24). In winter, sit around a large open fire in the Lounge Bar to share a platter of charcuterie (€20) washed down with a shot of cider , Norman of course (€8).
Spa side. All year round, splash around in an XXL indoor pool heated to 28° before a small sauna then a chill and reading session on a deckchair around the pool. The Spa By Esthederm offers facial treatments (from €55 for 30 minutes), relaxing back massage (€60 for 30 minutes), exfoliation with Dead Sea salts (€80 for 45 minutes) and other treatments by dozens, as well as waxing or manicure .
To do, to see: stroll through the streets of Villers-sur-Mer , a pretty town on the waterfront accessible by taxi in a few minutes, or have a plaster of mussels and fries with your feet in the sand in Trouville . Unless you prefer to treat yourself to a movie in the hotel's private cinema to re-watch your cult film for the fiftieth time?
How to get there without a car? By train from Gare Saint-Lazare to Deauville-Trouville (1h30), then count 20-25 € by taxi from the station to the hotel.

The Manors of Tourgéville , 668 Chemin de l'Orgueil, 14800 Tourgéville. 02 31 14 48 68. Wellness stay from €545 for two people.
Royal Champagne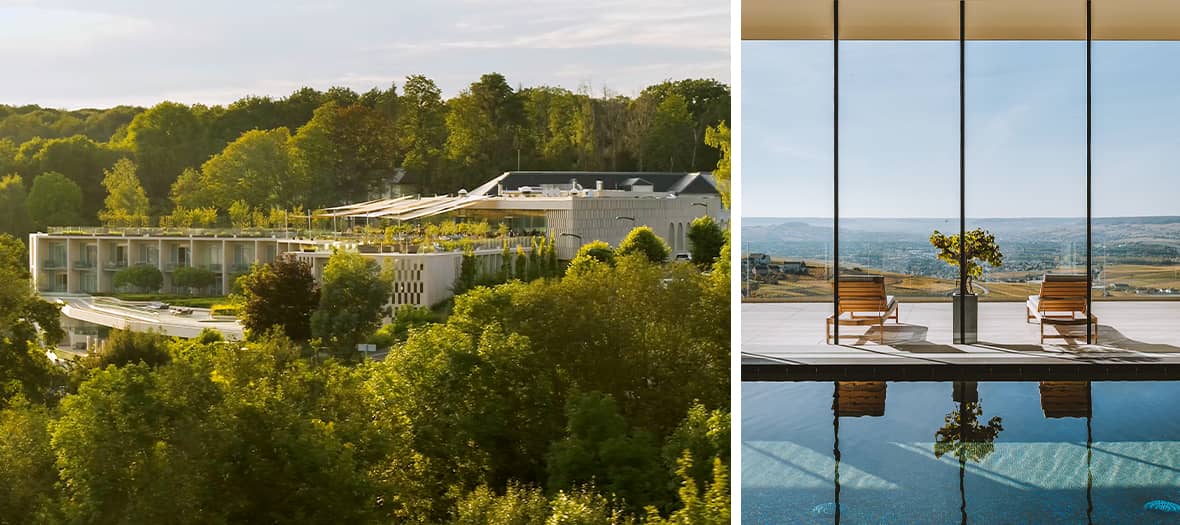 Overlooking the vineyards that line the hills of French Champagne, the Royal Champagne , opened 4 years ago, is considered one of the most spectacular 5 star hotels in the world. Usually trusted by chic travelers from all over the world, this architectural gem by Giovanni Pace is a dream destination.
On the food side. With grandiose suites decorated by Sybille de Margerie , all with terraces facing nature, the getaway becomes a delight. Starting with the champagne bar and sparkling cocktails, ideal for toasting to the sunset or improvising a lunch in the sun. For wow cravings: the starred table Le Royal where you can find the creations of the new pastry chef Claire Andreux , like her Tea Time Royal offered on Saturdays and Sundays.
Spa side. You are at the heart of the most monumental spa in the region: heated outdoor pool overlooking the estate, free access to the splendid indoor pool from 8 a.m. to 8 p.m., not to mention the private sauna. And to complete the break: exceptional facial treatments provided by Biologique Recherche or a massage by KOS Paris.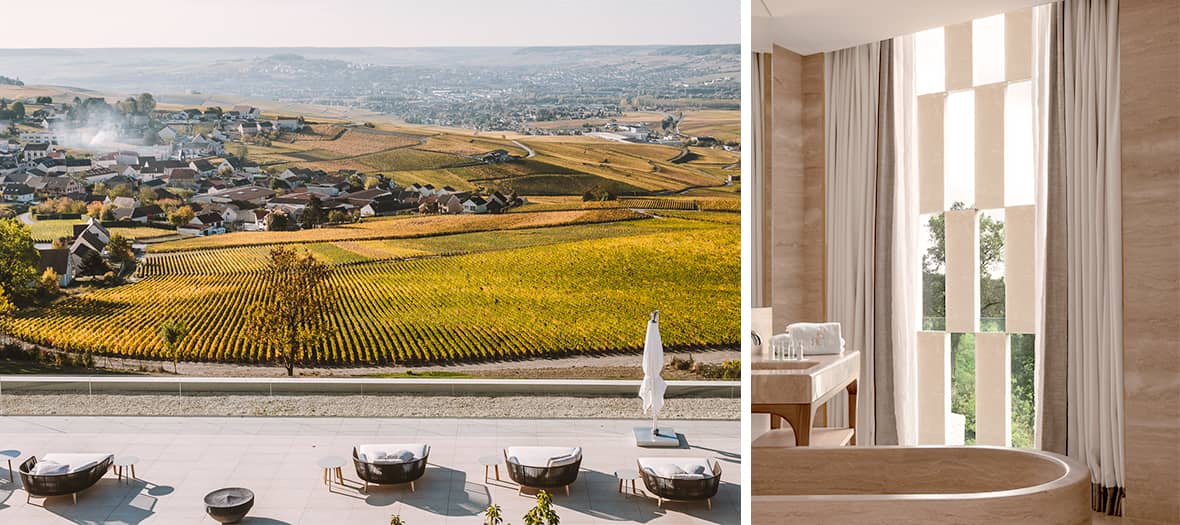 To do, to see: horse riding, Nordic walking, electric scooters, golf, tennis or downright quad biking… Not to mention trips in an electric Méhari for a cellar visit or a champagne tasting.
How to get there without a car? By TGV from Gare de l'Est to Reims (40 mins) or by TER to Epernay (1h15). Possibility of valet service in Tesla from the station to the hotel.
My weekend in Champagne from p. from €569 including one night with breakfast for 2 people. All information about Royal Champagne.
The Springs of Cheverny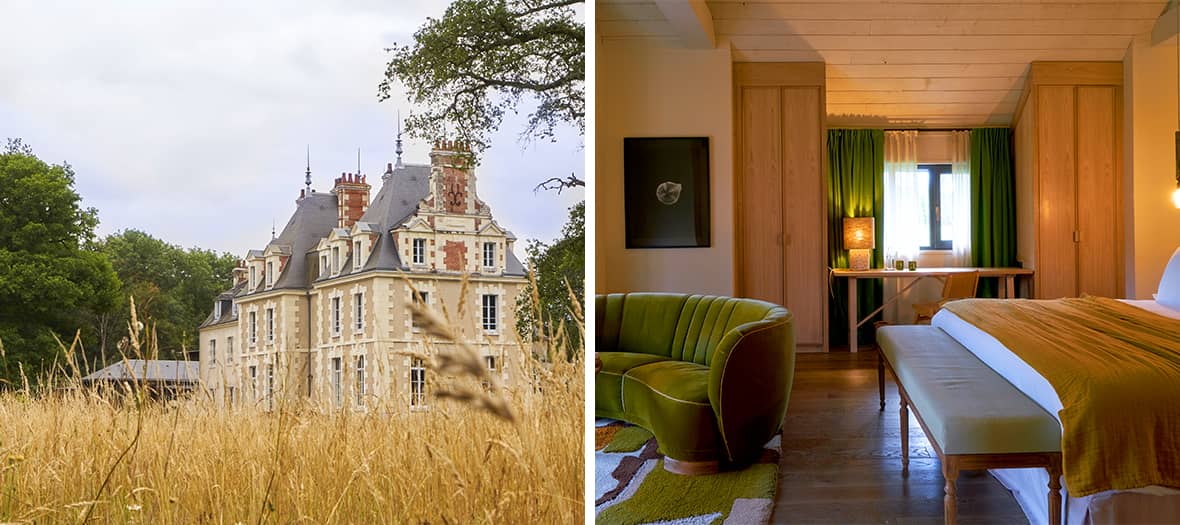 Château life in the vineyards. We dreamed of it! The little brother of Sources de Caudalie , Alice and Jérôme Tourbier are doing it again by settling in the very 18th Château du Breuil , rehabilitated under the leadership of the architect Yves Collet and the Be-Poles studio for a princess outing in the heart of nature.
On the food side. Chef Frédéric Calmels offers a gastronomic and locavore dinner at his starred restaurant Le Favori or rather bistronomic at L'Auberge . The must ? The picnic to enjoy during a bike ride or under a tree.
Spa side. A veritable wine therapy paradise, the Sources spa is the new luxury and bohemian reference in well-being for chilling for hours on its beds with a view of the forest. An invitation to slow life between its indoor and outdoor pools, the sublime hammam or the Norwegian bath at the edge of the wood. And, of course, Caudalie skincare rituals.
To do, to see: table football room, bikes available for strolling along the Loire, yoga classes, loan of Aigle boots for walks in the forest, hot air balloon rides, horseback riding, visit to the park of the Château de Chambord (the only one open during the Covid).
How to get there without a car? By TER (1h20) from Paris Austerlitz to Blois then transfer provided by the hotel (45 €).
Sources de Cheverny : from €180 per room.
The Dungeon of Etretat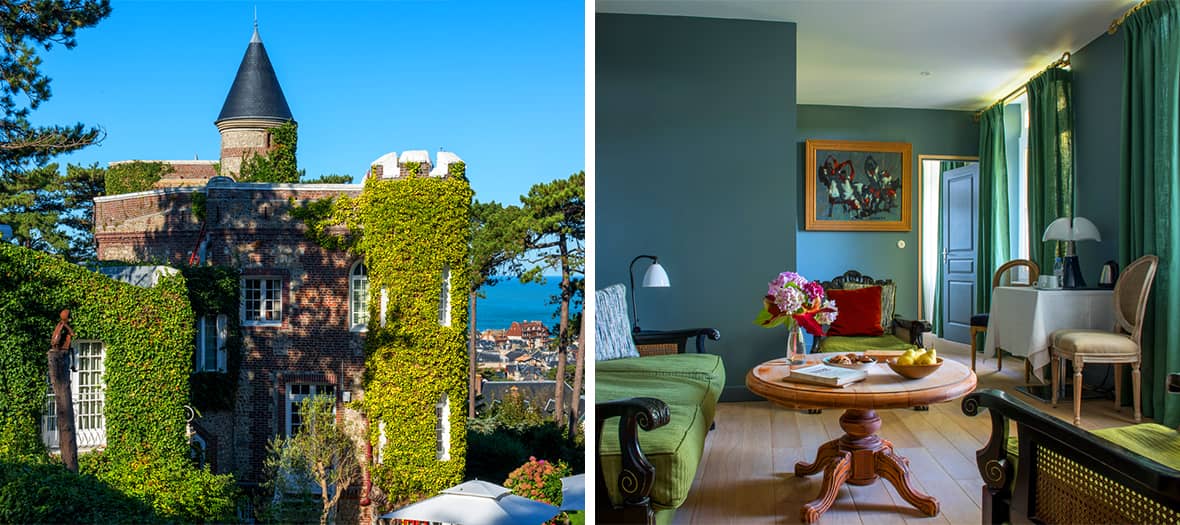 It feels like being transported to a contemporary version of L'Aiguille Creuse by Maurice Leblanc . Head to the Domaine Saint-Clair , a hotel-dungeon with a green garden, floral wallpaper, heated swimming pool and vegetable garden with a view of the sea and the cliffs.
On the food side. Chef Gabin Bouguet , awarded a Michelin star , is overflowing with creativity, even in room service. We find his work with seafood products in a service in the form of origami that is both chic and playful (menus from €55 to €125).
Spa side. A treatment cabin for two has just opened its doors in partnership with Thémaé . The love to treat yourself: a massage that alternates a manual technique with that of the pebbles diffusing heat for a total letting go. Alternative for amateurs: shiatsu . The ideal is to combine your treatment with a hammam.
To do, to see: treat yourself to a crepe in the village to devour while strolling on the pebble beach or in a zodiac along the cliffs, a picnic in the gardens of Etretat , golf, a Horse ride. Rainy days: an escape game in the form of a plot dedicated to Arsène Lupin in their cabinet of curiosities.
How to get there without a car? 2 hours by train from Saint-Lazare to Bréauté Beuzeville . Connection with Etretat by taxi in 25 minutes.
Le Donjon : Cocooning getaway for 2 from €420 including dinner + overnight stay + breakfast + a 1 hour treatment.
Also discover Saint-Ouen market, the instructions for use and 3 good reasons to go to Versailles