It's THE trendy group that is creating the buzz in Paris. Since their single Vanille Fraise in 2015 that seduced millions of web surfers, L'Impératrice has given a slew of les concerts and is setting the dance floor on fire. For the release of their first album Matahari, we wanted to know what was hiding behind this disco-pop Parisian sextuor. Encounter.
Tell us the story of L'Impératrice…
CHARLES: The story began in 2012. At the time, I was a music critic and then I started making my own music. I met the right persons at the right moment, and I was offered to release a first EP named "L'Impératrice" where I asked Lany to play, he was the first musician who teamed up with me in the group. He introduced me to the drummer who presented me the guitarist… We all met through the domino effect. During three years, we only played instruments, I did not want any voices, because I wanted to offer to the audience something else than a very standard pop format where you only identify by the voice. And then when things started running out of steam, I met Flore at a concert in 2015.
FLORE: Since I was a fan of l'Impératrice at that moment, I went to talk to the leader of the group. He had heard my voice on an other project, he sent me instruments so that I could try out melodies and he liked them!
CHARLES: At the time, we worked with featuring, but I was not thinking of taking a singer in the group. Flore changed everything..
How did the arrival of Flore transform L'impératrice ?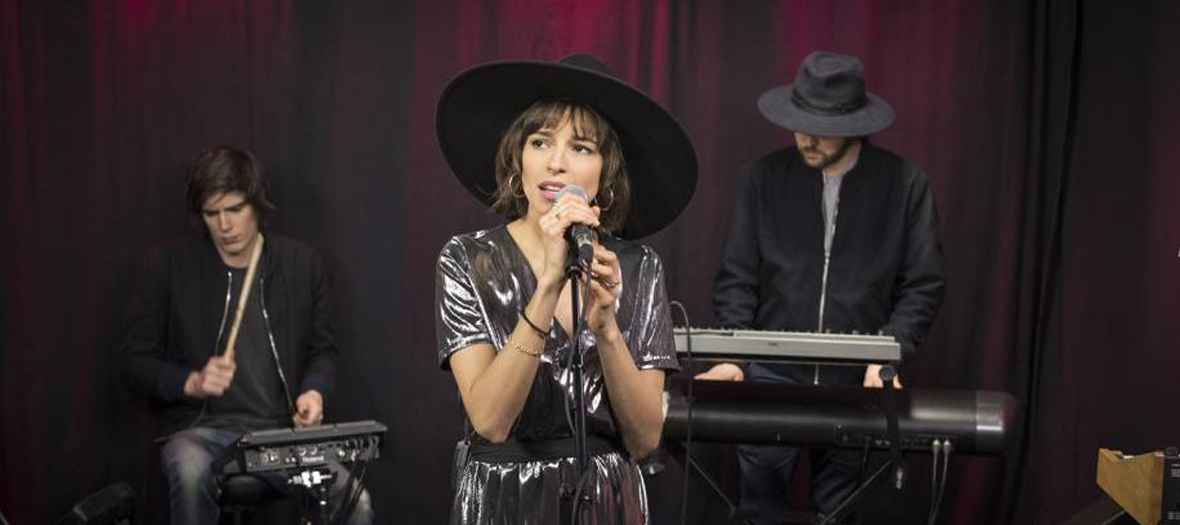 CHARLES: At the outset, we used her voice like an instrument because Flore tends to compose a melody along the way. This allowed us to convey to our instrumentals the soul that was missing. And then rather quickly we began spontaneously to explore the song format that contributed to offer us a broader audience.
How many of you are there in total?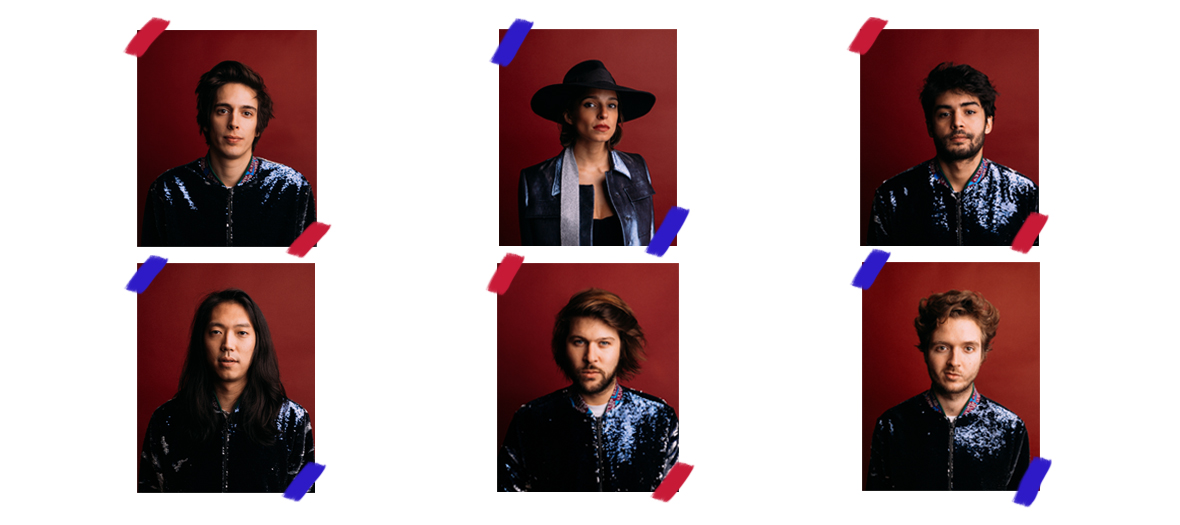 FLORE: We are generally six of use on stage full time, but sometimes we have additional musicians. During our concert at the Casino de Paris in April, we had guests such as singer Isaac Delusion or Lomepal who came for a featuring.
CHARLES: In order for our group to function, we need more than six persons, there is also an entire team that gravitates around us.
In fact, your group almost looks like a start up... How does l'Impératrice function, how are the roles divided?
CHARLES: Intrinsically, Flore composes her voice melodies and we both write the lyrics. For the instrumental compositions, until recently it came from me, but now everyone is free to suggest a harmony, an arrangement,... In the group, everyone participates equally, each one is autonomous. Even if I have the final cut on the pieces, it's important that each member has his say and can be hands-on. Then, we have a manager who handles the relationship with the enterprises gravitating around us, a PR, the publisher who is Universal and a lawyer.
What happens on a typical day of L'Impératrice when you are not on the road?
FLORE: In general, when we are not on the road, we practice in our studio at Point Ephémère. Sometimes we spend the day there and only come out late. Otherwise, we work on promoting the group, interviews,...
CHARLES: Right now, we are working on a project called "Les récréations sonores". It's a composition in collaboration with our fans: everyone can suggest texts or rhythms, so that we can create a piece all together. This project is overseen by Culturebox and Spotify—it's a 5 episode documentary.
FLORE: We are also going back to composition, and we put together lots of playlists with different medias and remix as well as DJ sets for brands that organize ephemeral events such as 1664, Hermès, Cartier, Perrier, Lancôme… To grab a bite, we often go to Palais Royal, to a super Korean restaurant Bistrot Mee by Dany, a guy from the group.
Why did you wait six years to come out your first album?

CHARLES: People have completely changed their way of consuming music: with streaming, the album makes much less sense because it costs a lot to spend two months in a studio for recordings. Making an EP is much more simple: it can be done at home, with friends, you can make mistakes,...
What motivated you to make this album ?
FLORE: After a certain moment, we realized we had enough pieces to launch into the album, and we also had the financial and technical means: the Microqlima label followed us, we had our editor and our distributor... We were ready!
Are you proud of yourself?
CHARLES: It's difficult to be proud of yourself when you have a certain level of requirements. I have no pride, just huge relief. I am very frustrated by certain things, to the point of not being entirely satisfied.
FLORE: it's a big step in the life of a group!
Why Matahari?
CHARLES: The idea was to draw our inspiration from the life of this incredible woman: she marked history with her audacity and her freedom at a time when women were locked into being housewives, under patriarchal authority. Matahari is a gal who lied to everyone, managing to bluff and deceive whomever she chose: she invented herself as a dancer, secret agent, she found herself at l'Olympia giving concerts to a full-house even though she was nothing at all.... The group is called L'Impératrice because we all have a certain fascination for everything this woman represents: her sensitivity, her sensuality, her elegance...The analogy seemed obvious to me between Matahari and L'Impératrice­—it was a way of covering our tracks and not defining the character of the Impératrice. What one finds in this album is the multi-faceted side of Matahari: there are many of us and we come from very different backgrounds— jazz, classic, rock, disco, funk…
What are your influences?
FLORE: There are many because we are all very different in the group and we are proud of this melting pot. Mostly, there is the French touch...
CHARLES: Yes the French touch, it's music I grew up with and I like to transcribe this universe. The French touch is already a mix of disco, house… In our pieces, we mostly try to create emotion by opposing feeling such as joy and melancholy.
CHARLES: Paris is a very tough, violent and mean city. One tends to forget that it's a small sect of insiders who stick together. This is why the first theme of our piece is disillusion, we wanted to break up the Épinal image of Paris: "Paris you are not like at the cinema". At Point Éphémère where we work, there are dozens of migrant tents right in front and nobody seems to care. It's very symptomatic of this city's selfishness, where it's easy to get lost.
You only write in French?
FLORE: It's a real bias because it's a language we wanted to defend. I personally know that I can interpret a piece in French with much more strength because it's my maternal tongue and I can really play with words. We wanted to demonstrate that when this language is well used, it can literally groove! However, we have two pieces in English in the album and we intend to have more in the future.
When you go off to give concerts in the United States, you sign a little bit in French, a little bit in English?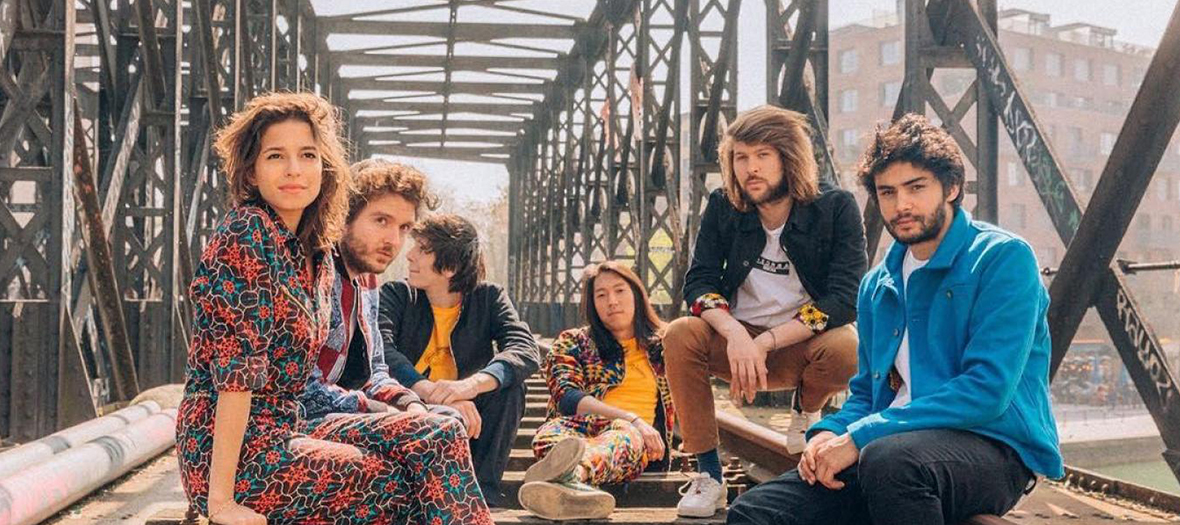 FLORE: In New York we just presented an English version of Erreur 404, otherwise we play our set in French. And even though people did not speak French, they sang in French ! It can work, there are many groups that exported themselves abroad such as Femme.
Your next important project?
CHARLES: We have two big concerts planned at the end of the year at the Olympia, on the 29th and 30th of January. It's kind of our consecration so naturally it's a little scary. We are also thinking of a second album, it's somewhere in the corner of our heads. Right now with the nice weather, we decided we wanted to compose something much more summery, contrarily to this very nocturnal, balanced, secret, intimate album. Then, I want to do the reverse, and we are going to work on it. And of course, we have a big road trip ahead of us this summer.
Are you more into festivals or concerts?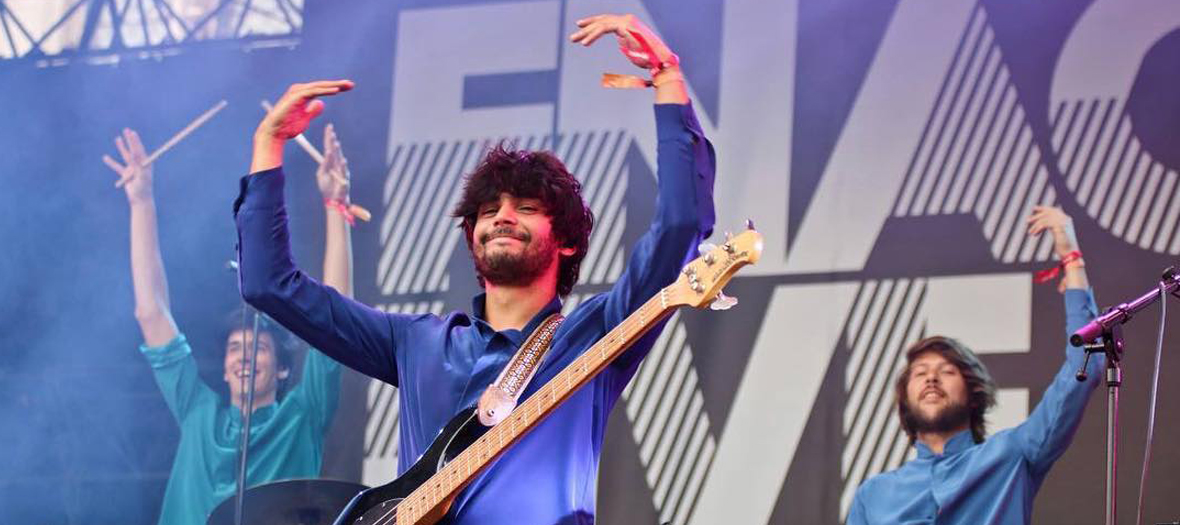 FLORE: Both. We have performed lots of concerts since the month of March and now this summer is more about festivals. Starting in September, we are going to hit the road again with concerts, this time in large auditoriums.
What to you like about your clips ?
CHARLES: What interests me in the clip is having the interpretation of the lead and not imposing something on him. We agree on a pitch, I give them key words, then we discuss it and I give them carte blanche. Paris, was the first clip to be made by Clémence Demaine. We felt like discussing this fake thing, this thing of the superficial girl into which you fall. A clip is a way of giving another life to a piece.