If the first rays of sun make you feel like escaping the city doldrums: we suggest the chicest promenade of the weekend where you can rummage and find small marvels
It's now or never the moment to visit the mythical house of Louise de Vilmorin, aka LOULOU, (muse of Malraux, St Exupéry), who hosted ALL OF Paris in her famous SALON BLEU, less than half an hour from Paris.
Because from Thursday to Sunday, the delicious owner is organizing a super sale of small retro pieces of furniture, amazing table settings with pretty plates just as we like them— 60's bamboo coffee table and small vintage lamps.
Fashionista Parisiennes are going to adore finding famous MAURICETTE pouches, signed by the young and talented Victoire de Vilmorin, that come in different models to be collected in many colors.
The must? Sitting in the sun for lunch at the Brasserie on the Place de La Mairie, A 5' walk from the brocante—final touch for a day in the country.
Thursday the 17th to Sunday the 20th of March 2016 from 10 am to 7pm.
Sur le GPS : indiquez 2 rue d'Estienne D'orves 91370 Verrière Le Buisson   Code 25 84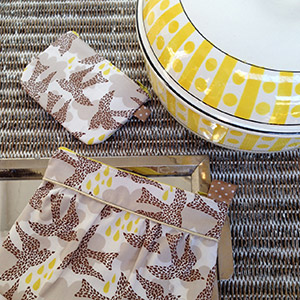 By Elodie Rouge @elorouge