Bring some sun to your happy hours! Emilie, the pretty brunette behind the Plus une miette blog, has created this super recipe « with a twist ». A flaky pastry tart with pesto and pine nuts, the perfect anti-blues remedy of the moment.
Preheat the oven to 180 °C. Place the first disk of flaky pastry crust on a plaque covered with sulfurized paper.  Spread the green pesto on the dough, making sure to leave a border of about 2 cm.
Sprinkle half the pine nuts on top.
Humidify the border with water and cover with the second disk of flaky pastry. Close the borders well by pressing with your fingertips. Baste the dough with egg yolk using a brush.
Place a glass upside down at the centre of the crust and cut 24 strips departing from the centre towards the outside (see page 4). Remove the glass and twist each strip of dough by slightly rotating so that the base is not torn. Sprinkle the remaining pine nuts on top of the tart, then bake for about de 40 minutes.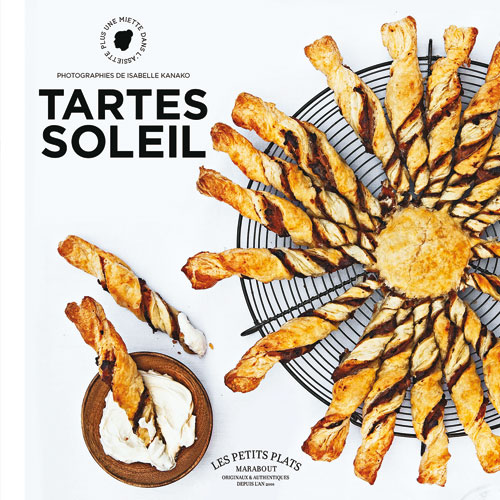 Tartes Soleil, Plus une miette, Marabout, 72 pages, 7,99€.
Also discover the vegan recipe for the feuilleté Xmas tree and the focaccia with cheese and cherry.