White paradise has a name: Lapland. Located less than 3h30 from Paris, an unexpected parenthesis of nature where pollution is non existent, turns out to be the ideal spot for urbanites seeking snow and coolness.
For a maximum of snow less than 3h30 from Paris
The end of the world? Absolutely not. For sure, you will have a feeling of ultimate appeasement upon arriving at the heart of this wild paradise, where the temperature is around -6° and where the pine trees and the roads are covered with a snow blanket just like in your fantasies… Small geographical reminder: located in the north of Finland, Lapland is a European destination where an ID card is enough and where one pays in euros...

Ultimate thrill, the ultra comfy Finnair company has launched direct Paris-Kittila flights, at the heart of Finnish Lapland. To crown the "easy access" side, it happens to be that Levi, the most popular resort of Lapland is… 10 minutes by taxi (€25) from the airport. In short, it's faster to get there than Val d'Isère. Incredible.

Our recommendation: leaving Friday and coming back by the direct flight of Tuesday morning (7h-9h30).

Flight Paris-Kittilia on www.finnair.com, starting at €259 round trip. All the information and activity reservations on www.levi.fi.
To sleep in the middle of snow and nature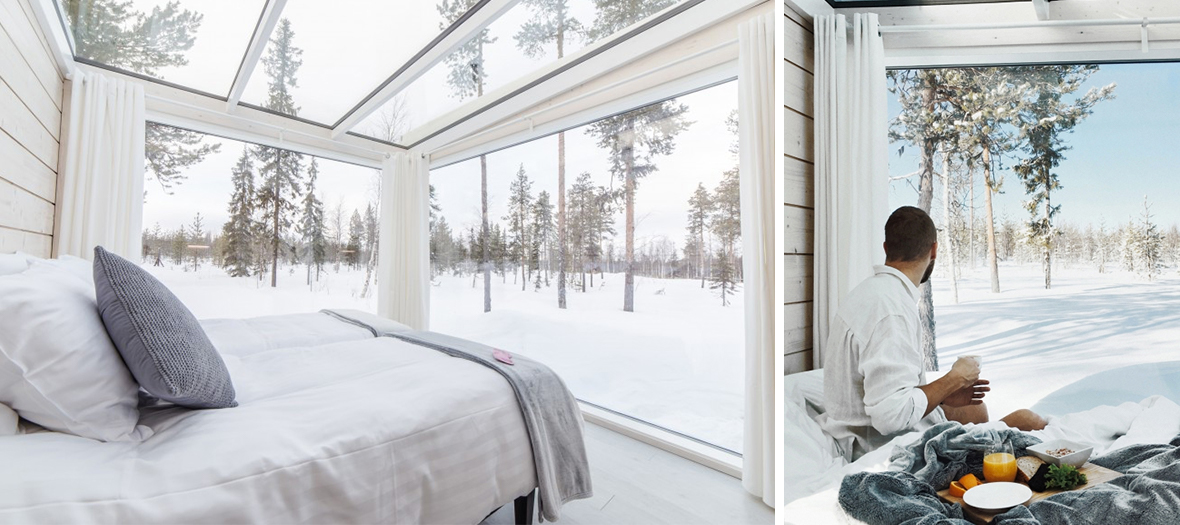 And to make this amazing experience even more fabulous, treat yourself to a night in a very unusual deluxe refuge in the nature in order to sleep and wake up in the middle of snow and pine trees. Lapland is filled with furiously unusual and romantic dwellings.
The absolute must? A night at The Ranch, in the heights of Levi. In the middle of this domain, small ultra design and comfy huts enable you to live one very special night with the impression of being alone in the world and the possibility of watching aurora borealis… from your bed.
With each room, an outdoors private jaccuzi at 40° makes you feel like taking a dip… Starting at €360 per night for 2 persons. All the infos on www.theranch.fi.

The alternative? To have the impression of overlooking the forest, at night at the Arctic House, the brand new hotel that just opened in Rovaniemi where there is also an airport.
All the infos on www.arctictreehousehotel.com.
For dog-sleeding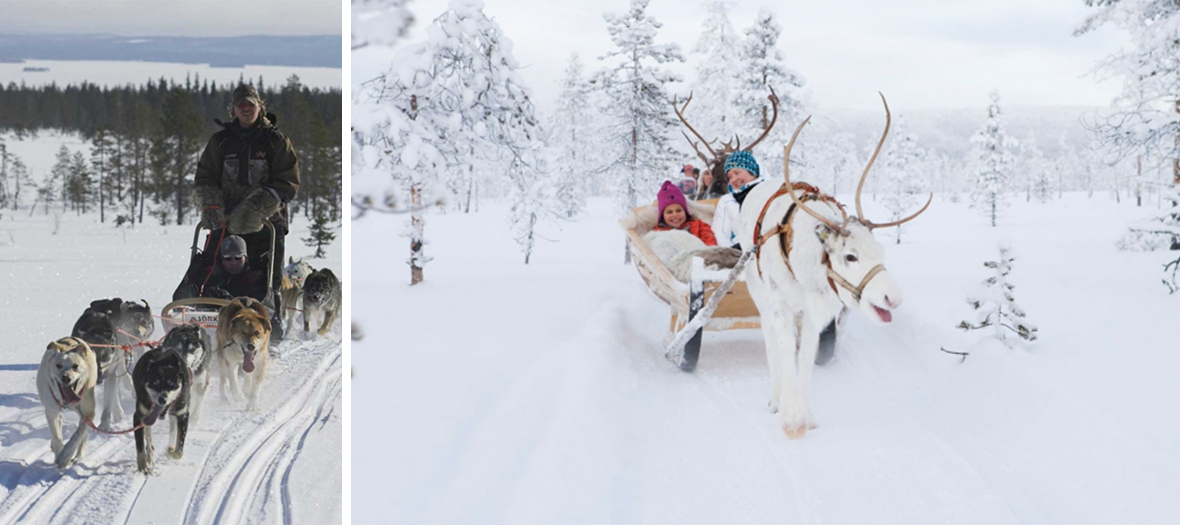 Amongst the enormous local thrills, going for a Husky dog sledding adventure is almost a national sport and a real must. Take off for 4 hours in a sled drawn by fabulous dogs. Back to the starting point with a sausage and a nice little coffee by the fireplace in a hut. One almost feels like elves.
Reservations on www.levi.fi.
The great alternative? A promenade on horse in the snow during 2h. The ultimate thrill is if you like riding.

Reservations on www.levi.fi.
To chase aurora borealis in a skidoo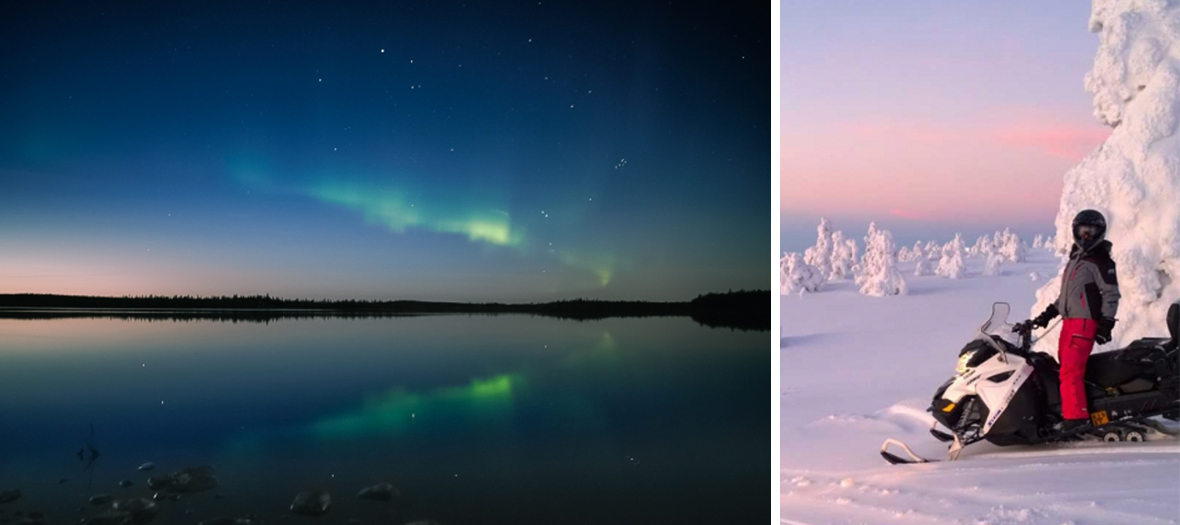 Aurora borealis? You know, this incredible phenomenon, that occurs with the interaction between the particles charged with solar wind and the high atmosphere… Concretely: a sky charged with green lights, and a hallucinating experience.
You depart for your discovery by skidoo for an escapade in the middle of the forest, on frosty lakes and at the heart of great snow expanses. The absolute must. A 35 km adventure in the middle of nature.

Starting at €85 for a 2-3h skidoo escapade. Bring your driver's licence (mandatory). Info and registration on www.levi.fi.
To have dinner in an igloo-restaurant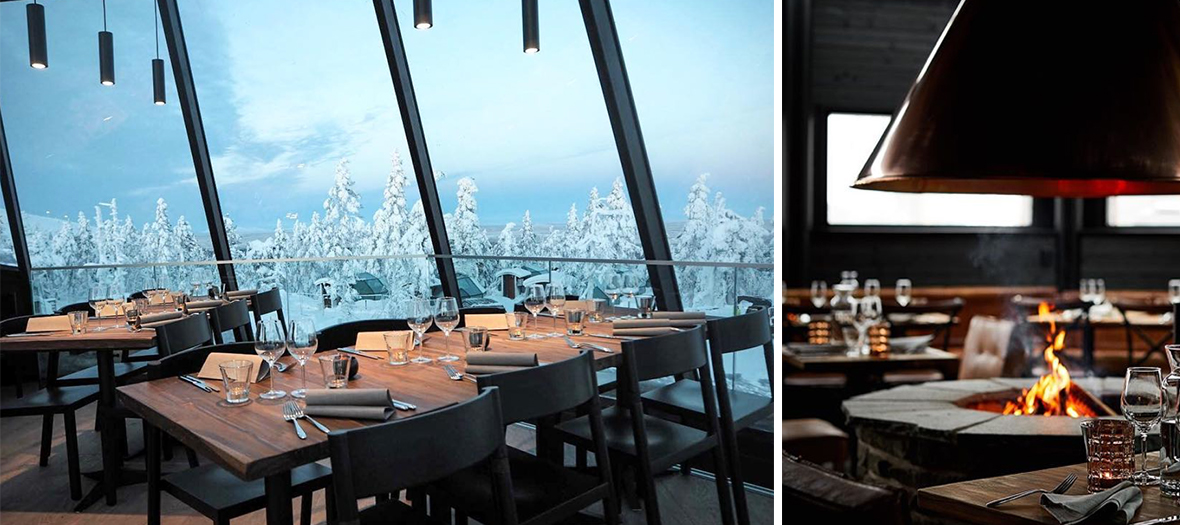 Considered as one of the best restaurants in Lapland, the Aurora restaurant offers a double delight.
First because it's a furiously Fooding worthy table. On the menu, dinner concocted with local products. A gin tonic with berries worthy of top mixologists.
An incredible menu at €62). Count €40 à la carte. All the infos on www.leviniglut.net.
For an orgy of reindeer burgers and blue berries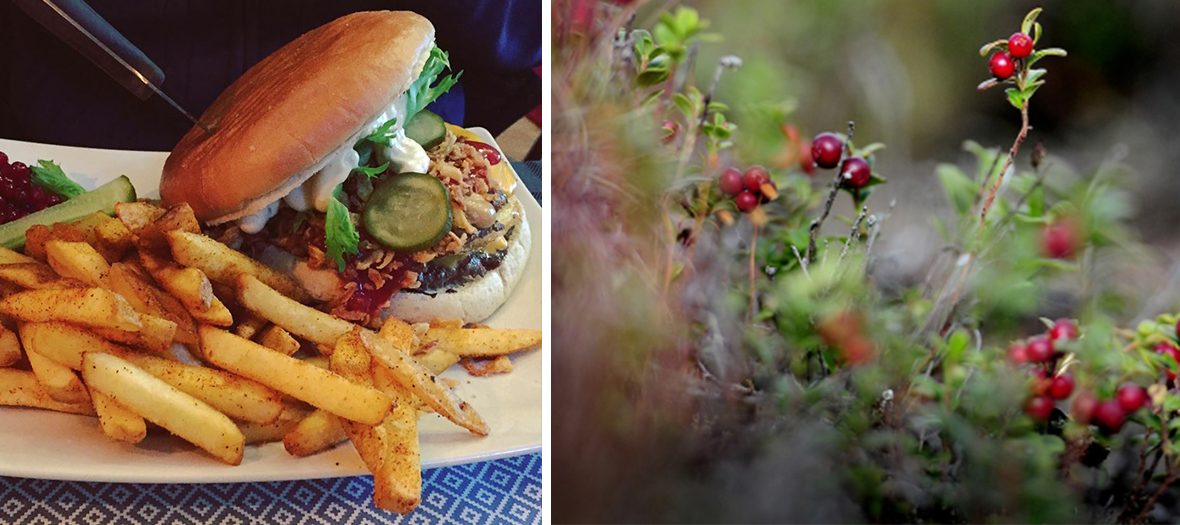 The great local specialty? Berries, particularly blueberries that you can nibble on everywhere and in a wide array of presentations: as a juice, yogurt, jams, tarts­—they are in all the leading restaurants as well as in the small supermarket of the village...
Another real delight: reindeer, to be enjoyed in many different ways… Ah, ah… You are wondering what it tastes like? Like beef, very simply. To experience it: a must-go passage at Nili-Poro, a small 100 % Scandinavian and ultra cosy tavern, well-known and really delicious at the heart of Levi. Their specialty: reindeer, in meatballs version, as soups, shepherd's pie or even a fab burger ! Count 30 €.
All the info on www.niliporo.fi.