It has always been your dream to taste the same meals as Sissi or Queen Elizabeth ?  No need to be a blue blood to treat yourself to a Princess dinner. Just imagine a long table where a festive banquet and opulent feast is served, directly inspired from the meals served at the most prestigious royal courts.
Soon to be yours, the delicious meal that Sissi enjoyed during her wedding anniversary with Franz in 1911 or the Gala dinner of George VI, hero of the Oscar film, The King's Speech, while visiting Versailles with the young Queen Elizabeth in 1938.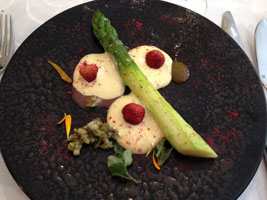 The dream becomes reality on the occasion of the 5th edition of legendary banquet menus. The concept? Eleven young starred chefs, all over France, revisit in their way the menus that made their mark on history.
For example? At Masa, we reveled in an 8 course menu: flat oysters and brie, then asparagus from Roques Hautes, breaded bone marrow,  crayfish in a broth of Pata Negra, cod signed Hervé, a pâté en croute "warm" crusty paté by la Mère Bourgeois with a medallion of fois gras. The "boisseau" from the Yvelines, a mysterious cheese before a wide array of desserts. Imagine Gariguettes strawberries in a Japanese sauce with wasabi and to finish an Opéra cake, Snickers style with caramel and peanuts...
And to accompany these exceptional dishes? Champagne with the collection of Grand Crus G.H. Mumm. The prestigious house with the Red Cord, already present at the time on royal tables, has put together exceptional assemblages.
We like: the ballet of services that comes with these updated and modernized menus, served in a dozen of small dishes!
In the Ile-de-France region to be tasted at MaSa and l'Arôme and all over France, for more information here