The well-known designer is opening the doors of her House. Welcome, make yourself at home (or almost). For her new flagship set up on place des Victoires, Sarah Lavoine has set up with style a real home sweet home—boutique, apartment and cantina. Better than Pinterest, here you don't pin it, you live it!
Ready for the visit? On the ground floor, the kitchen/dining room with all the required table settings: plates featuring the signature overtones of the hostess (Sarah blue, sun flower yellow, baby pink), matching bowls, design forks and knives, chic linen dish towels… And in the middle of all these items of very good taste, restaurant Lala Cuisine, HQ of the socialite friends of Sarah and trend setters of the area, run by David Lahner (Caffè Stern, Racines, Le Bon Saint Pourçain). Tartare of red tuna (€13), steamed fish (€19) and Noglu carrot cake (€950), a quick specially brewed coffee and you can make a bee line for the upper level.
Here you will discover a superb space of adjacent rooms: living room/ office/ dressing room. While you are there, check out the blue Sarah sofa, the fluffy Berber carpets, the tempting house linens, the Lola James Harper photo prints and geometric mirrors. A real lesson in style, right down to the soft cotton sweatshirts and the fun inexpensive stationary. Can we move in?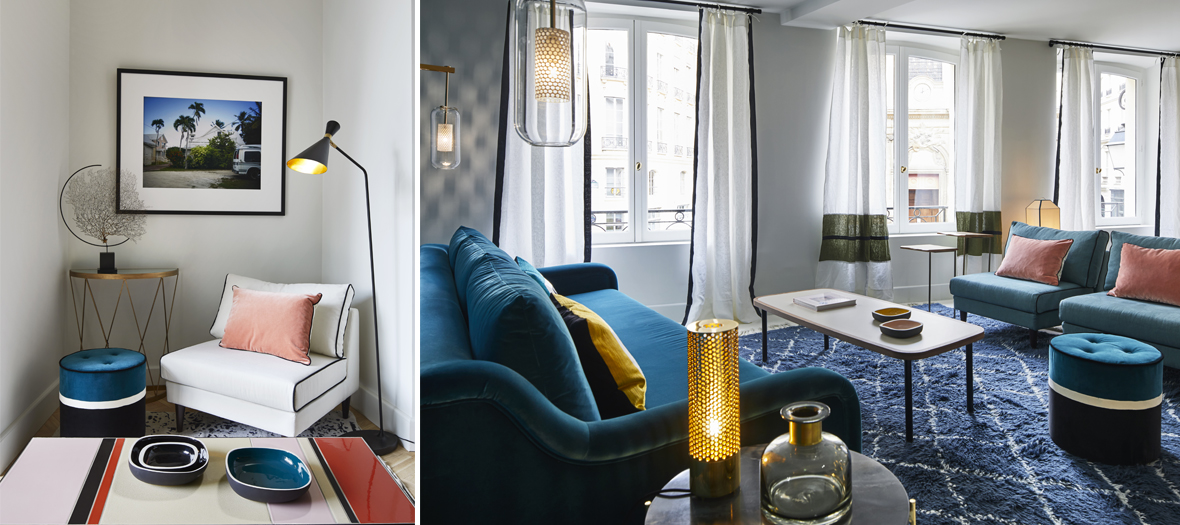 © Francis Amiand