From Neuilly to Saint Germain… Upscale Parisian carnivores are still wondering about the magical ingredient of the divine sauce served at « l'Entrecôte », the historic monument of addictive top notch meat where American tourists and, CEO's of the CAC as well as show biz types all come here…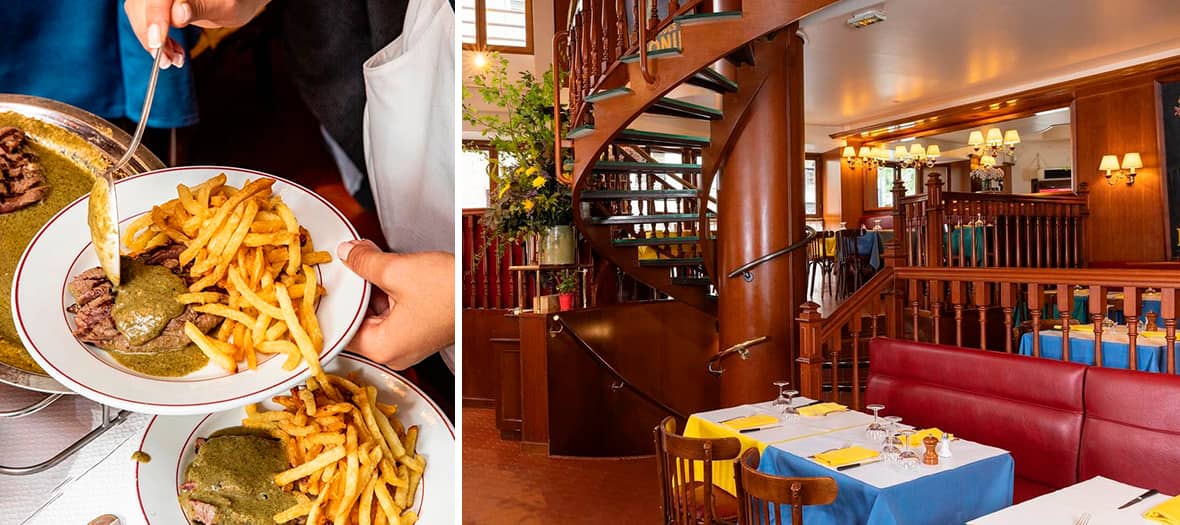 On the program: no reservation and of course their unique menu: a salad sprinkled with nuts as a starter then ultra tender to notch meat + a divine magical sauce + golden crispy fries served in two helpings by charming ladies wearing white aprons. Authentic is chic!
Behind the success story… This very clever concept is a family secret shared by two enemy sisters who have not shared it with others.
One of them is located in the 17th with her « Relais de Venise » along with her expat kid sisters in London and New-York,  while the other « Relais de l'Entrecôte » venues are on rue Saint Benoit, rue Marbeuf and Bd Montparnasse, as well as  Geneva…
formule 26,50€
Le Relais de l'Entrecôte
101, boulevard du Montparnasse, 75006
+33 1 46 33 82 82
Le Relais de l'Entrecôte
20, rue Saint-Benoît, 75006
+33 1 45 49 16 00
Le Relais de Venise : formule 24€
271 Boulevard Pereire, 75017 Paris
01 45 74 27 97
Also find The best burgers in Paris and the best Baguette of Paris