Parisiennes at the end of the rope have found their new Eden. A small well-hidden corner of paradise, open behind the main courtyard of Officine Buly, in the Marais. No need to add that Ramdane Touhami and his wife Victoire de Taillac, founders of the beauty label Buly, are right on target.
An unusual almost philosophical cabin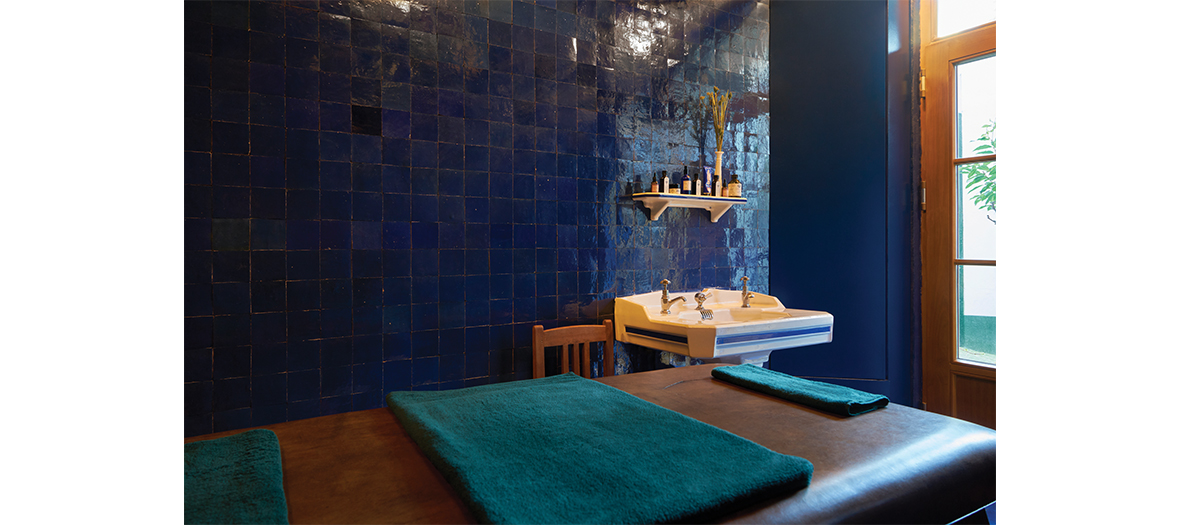 Hidden behind the Officine and its amazing soaps, oils and other brilliant natural beauty, we lead you through a backdoor into a very charming cabin, actually the former workshop of  the in-house artisan-florist of the house.
Blue tiles, leather table, an incredible composition of dried flowers on the ceiling, sound track signed Jean-Sébastien Bachand candles to embalm the atmosphere with an almost monastic fragrance, it's at the heart of the most inspired spa in Paris that master masseurs officiate…
The cardinal motto of Buly is simple: "The best looking makeup is great looking skin." Targeted massages take place here in an antique spirit. A fit body leads to a fit mind, according to the triptych: detoxification,softening and letting go.
Ancestral beauty secrets for contemporary bobos
As always, the Buly method is to invoke invoke ancestral to heal today's small ailments such as high heel massotherapy shiatsu massages (€60  les 30 minutes).
Another massage ideal for stressed out urbanites: the perpetual massage computer(€50 for 60 minutes) where energy circulates and ocular and muscular t fatigue is reduced thanks to the stimulation of vital points related to shiatsu, unless you prefer a total fitness option(100 € pour 1h)—incredible.
The Miho Japanese method is also incredible during a ritual and an anti-pollution facial massage. An incredible lifting (€ 50 for 30 minutes).
S.O.S. at home feel-good massages
With an added €100 for coming over to you, specialists are sent to your home to repair your aches and pains, treat your hangover on Sunday and offer you a miraculous face treatment before the most important evening of your life. 

Also discover the favourite subscription of healthy parisiennes and where to go for a good hammam in Paris.