Season after season, the Thé & Beauté by Ladurée institution is still seducing Parisian fashionistas—from the most trendy to neo-classics— awakening their whims with highly desirable up-to-date events and collabs. Such is the case of its brand new and irresistible Paris in Love collection, inspired by the Parisian poetry of Victor Hugo and Sacha Guitry. And the result is two exclusive creations: a tea and a candle, like a love declaration to the city of Paris. In other words, the perfect gift idea to collect or to place under the Christmas tree.
Parisienne style chic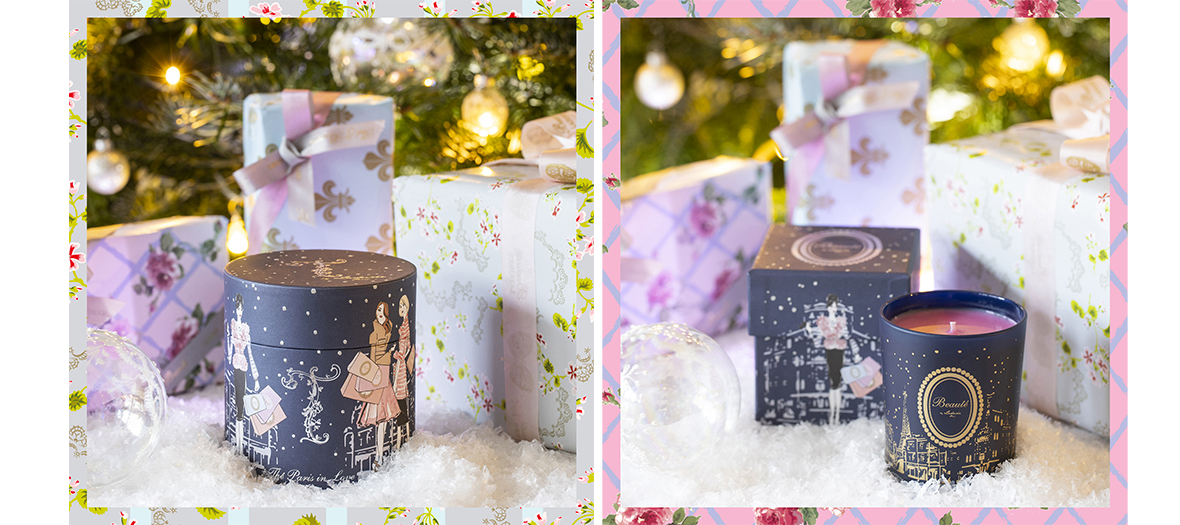 With this collection, Thé & Beauté by Ladurée wanted to combine the marvellous with elegance, around a stylish candle and couture tea— the chic essentials of a true Parisienne's apartment.
With an ambiance reminiscent of Midnight in Paris, the midnight blue illustration by Kerrie Hess dresses up with poetry the box of black tea mixing our favourite flavours (cocoa, caramel, almond and creamy biscuit), available in loose leaves (€24) or in a box of 20 sachets (€23).
The candy pink candle (€50) is also right on target with its fragrances of super delicate macaroons: almond, praline, cocoa and caramel. A real dream...
Where to find them?
To come shop for these objects of desire, the rendezvous is taken in the very chic boutique on Rue de Rivoli—only 3 minutes by stilettos from Place Vendôme. An almond green and pink setting, worthy of Marie-Antoinette in the Sofia Coppola version— dedicated exclusively to teas, candles and indoor perfumes!
Tea starting at €23 and candle at €50, also available on www.ladureethebeaute.com
Game contest
Very (very) good news: in order for our readers to benefit from exclusive privileges, Do It In Paris and Thé & Beauté by Ladurée are offering as special prizes this enchanted pink candle and winter tea. A real small luxury!