Big news: after invading Yaya, La Villa Rose and L'Appartement Sézane last summer, the Parisian Herbarium House has settled down at La Felicità, the huge food emporium in the 13th, created by the Big Mamma group, this Thursday.
On the programme of festivities: an unusual workshop to learn how to make your own herbarium— so chic.
Une masterclass DIY à la Station F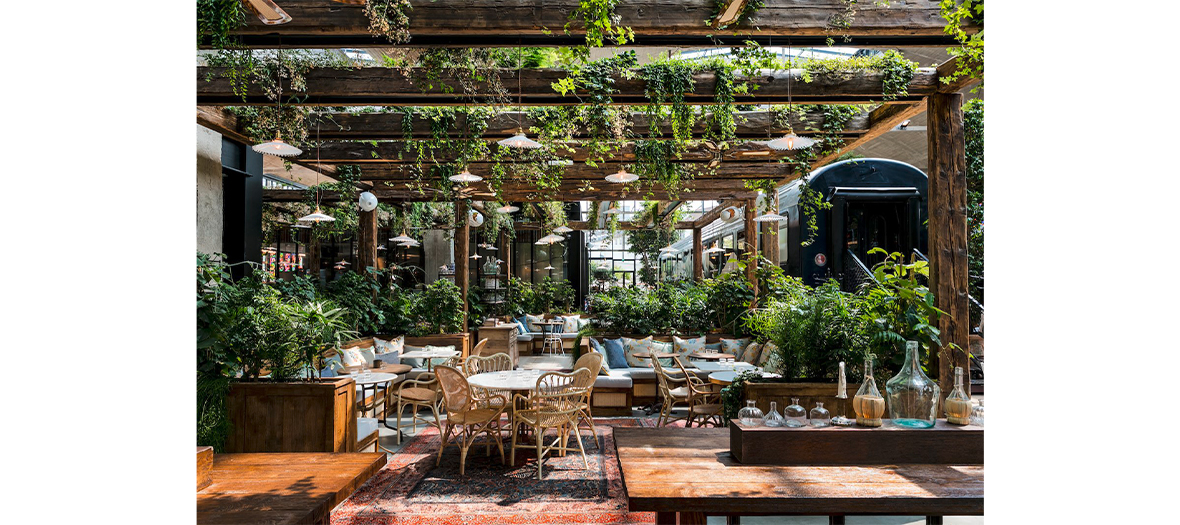 The rendezvous is taken this Thursday on the incredible vegetal mezzanine, like a Parisian terrace, overlooking the fabulous XXL restaurant of La Felicità. Understand: a workshop with a view, featuring wrought iron, plants, garden tables and a floral carpet. A mix and match that works very well!
Animated by two herbamakers during 1h, allow yourself to be guided all along the workshop with total freedom in terms of creation. Take you pick from incredible vegetals: daisies, maple tree leaves, ginkgo leaves, larkspur, belle de nuit, rosemary, ferns… A great way to put together a beautiful coloured herbarium!
How does it work
First step: slipping on your creative apprentice apron lent for the event, and become familiar with the materials supplied by Herbarium. Small pliers, brush, glue and an A4 paper sheet of 250 g.
What's the procedure? After a few explanations on the drying and pressing process of the vegetals, one goes directly goes on to the actual making of the herbarium.
The goal: creating the composition of your choice, memorizing it through an express' photo and delicately gluing each dried flower. Now just frame it in glass and each one departs with their DIY work in A4 format with a small explanatory certificate— really classy.
Pssstt: you might just win two places on our Insta!
And for latecomers: rush to book one of the workshops organized at the Herbarium boutique of Le Marais, on Tuesdays and Wednesdays. €65 for 2h.
Workshop at La Félicità on Thursday the 14th of November, from 6:30 pm to 7:30pm, €55. About 20 persons. Information and reservations on herbarium.fr.
Also discover the most stylish 10 vases of the moment and the workshop of ceramicist Marion Graux.