Between the days getting shorter, temperatures dropping and the memory of those around us who have departed from this world, there are many reasons to feel down and under. But this year, we promise, you will not be affected by the All Saints Day blues. The idea? Gathering your kin, families and/or friends, for a new generation Day of the Dead. A positive method to distillate joy as the 1 st and 2nd of November inch closer.
The Day of the Dead in the Día de Los Muertos spirit, are you tuned in?
Impulsed by Lajoiedesfleurs.fr, the Day of the Dead in the spirit of Día de Los Muertos draws its origin from the Mexican tradition and was adapted to our French culture. The principle? Celebrating persons we miss in a joyful manner, and more globally, celebrating the life of yesterday and today with flowers. A resolutely new feel good approach that focuses on happy moments. Good vibes only.
Inspiration Galore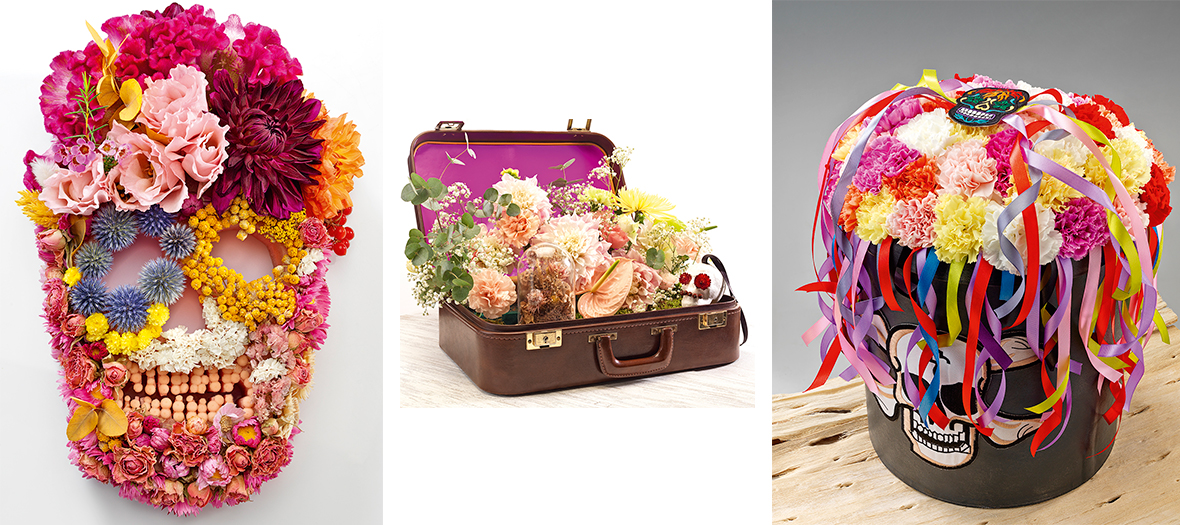 Three leading Parisian florists share their interpretation of this 2019 Day of the Dead through very stylish and super colourful creations imagined specially for the event.
Zoom on the lovely suitcase overflowing with dahlias composed by Philippa Glorian (Girls&Roses), the ultra pop skull surrounded by a floral crown in the spirit of Frida Kahlo, imagined by Audrey Buschini (Audrey B.) and the amazing hat box filled with carnations and rainbow ribbons signed Luc Deschamps (Deschamps).
These three colourful altars can be found during the entire week of October 28th in the following Parisian boutiques.
Girls&Roses, Marché aux Fleurs, Place de la Madeleine, 75008 Paris
Audrey B, 8 Rue Gabriel Péri, 92300 Levallois-Perret
Deschamps, 18 Avenue Niel, 75017 Paris
Your turn to play
With the Day of the Dead in the Día de Los Muertos spirit, lajoiedesfleurs.fr we encourage you to honour your loved ones thanks to flowers and the positive emotions they surround us with.
Now it's your turn to show your creativity and to have fun. Roses, carnations, freesias, anthuriums, lisianthus, dahlias, orchids and gerbera daisies, just choose the ones which bring to mind happy moments from the past. Simples bouquets or more elaborate floral compositions, the idea is that they will bring out the joy in you.
More information on www.lajoiedesfleurs.fr.