Imagine that instead of closing its boutique, colette converted to veganism… Welcome to Aujourd'hui Demain. Inaugurated last November in the 11th, this new archi-stylish concept-store has the particularity of being 100% vegan and sustainable. Proof there now exist solid alternatives in all the departments.
Sustainable fashion, natural cosmetics, no palm oil groceries, lactose-free coffee-shop … a radical commitment impulsed by Cheyna Bourguiba and Raphaël Francisco, former web pros, convinced vegans.
Amongst the wonderful discoveries, great pynatax bags designed by the young Frenchie label Camille, super chic card-holders by Wonder Woman of the World, Converse-like signed Ethletic (€74.90), Insecta shoes in recycled fabrics also with ultra clean and made in UK de PHB beauty products.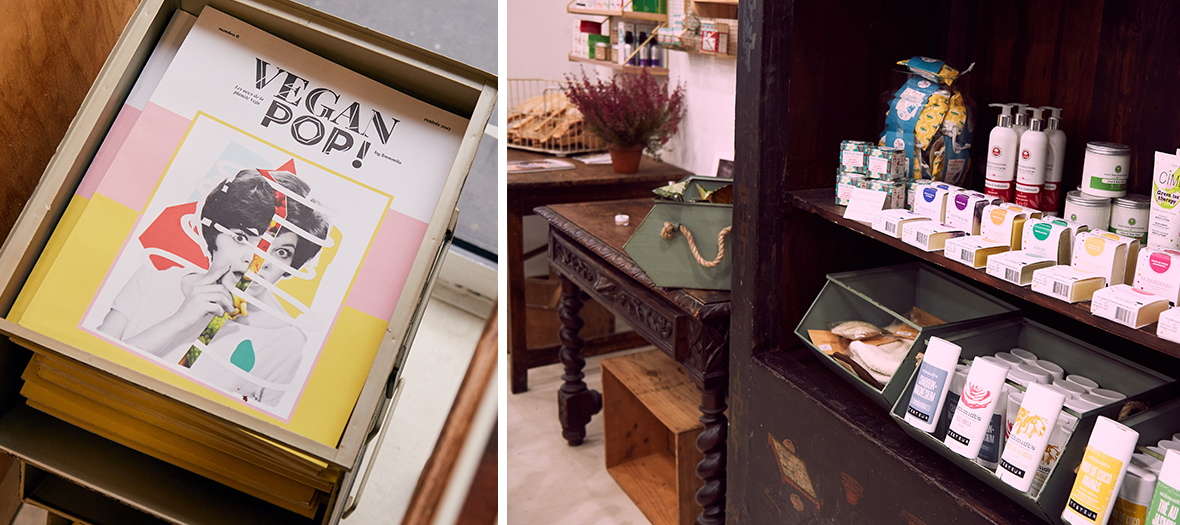 In the food department food,t here is a very wide offer of vegetal cheese (gouda, bleu, feta, cheddar), Caesar and Végan Ranch sauces are a big hit, as well as packages of candy (most jelly type candies like teddy gummies contain animal fat) that sell like hot cakes. There is even a shelf dedicated to cat and dog foods!
The added plus : the cantina to bite into a tofu minute sandwich #foodporn (€8), a matcha cheesecake (€4) and sip one of the super instagrammable colourful lattes (golden, purple, pink) in a cool and trendy atmosphere.
Open Tuesday to Saturday from 10am to 8pm, Sunday from 11am to 6pm.
Also discover Manisfeste011, the fisrt boutique of vegan fashion in Paris.