Let the gift hunt begin! New favorite brands of the most cutting-edge fashionistas, vintage decorative objects , trying on cuddly pajamas , pretty jewelry or artisanal creations , here are the 7 best Parisian pop-ups to surf on the vibe of coolness that is blowing over Christmas this year. Starting signal !
Nomasei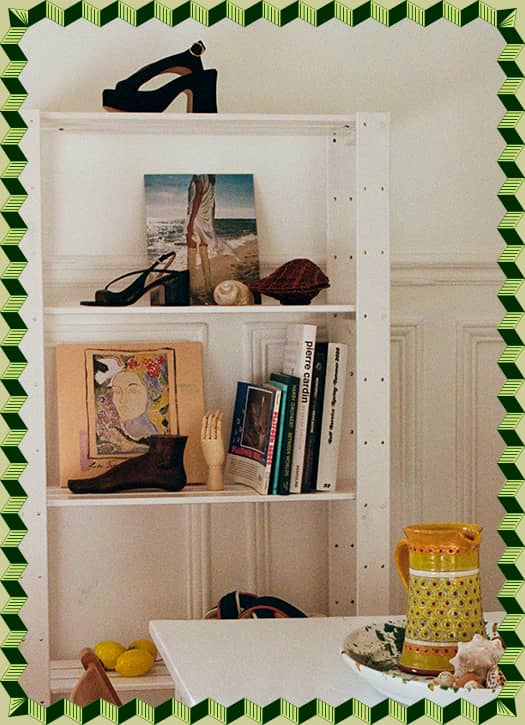 For who ? The shoe addicts always ready to crack for a new pair.
If you missed last year's one, the girls of Nomasei are repeating their fashion rendezvous to meet shoe addicts . And this time, all you have to do is send them a short message on WhatsApp (at 0615701441) to infiltrate directly into the offices, located in a beautiful apartment on boulevard Poissonnière .
The opportunity to discover the showroom and try on the sublime models from the winter collection in real life , and in particular the starlet of the moment: the sublime burgundy Whisper thigh-high boots (€750) as sexy as they are comfortable.
There is also a grocery store selling Italian products made in Montopoli , the town where Paule and Marine (both former Chloé workers ) have their marvels produced, and products to take care of your shoes.
Showroom Nomasei open from Saturday November 26 to Friday December 23 from 1 p.m. to 7 p.m., 25 boulevard Poissonnière Paris 2nd
Jean-Pierre Garrault x Monoprix
For who ? Decoration lovers who want to be super comfy.
This month of December will be the occasion to celebrate the great return of Jean-Pierre Garrault (star designer of the 70s in the spotlight during the Prisunic retrospective last year), who this time associates his ceramic stools ( €110) with cashmere sweaters in a super pop and colorful mood from Monoprix (from €90 to €140).
A contemporary gallery scripted with tangy colors full of pep, ideal for unearthing the essentials that our wardrobe needs to get through the winter.
Jean Pierre Garrault x Monoprix Open from December 7 to 11, from 11:30 a.m. to 7:30 p.m., 80 rue de Turenne, Paris 3rd
holi holi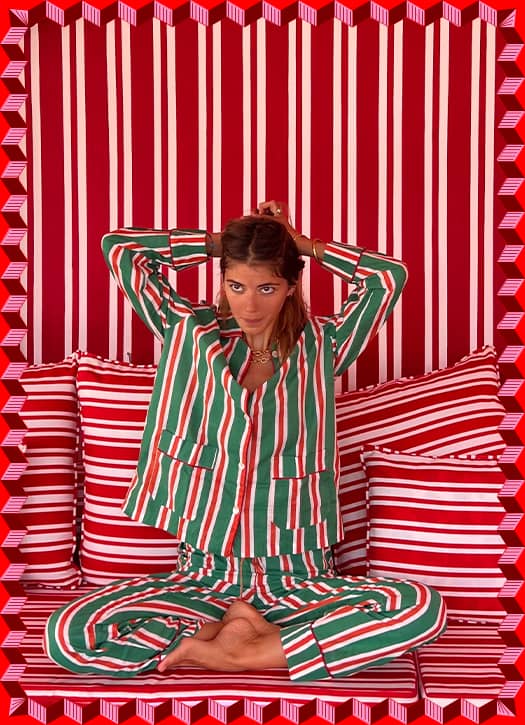 For who ? Loaded with gifts for the whole family, baby, trendy thirty-something, grandpa and fashionable little sister included.
She managed to elevate her pajamas to the status of essential fashion for the very select Parisian wardrobe . Holi Holi , the highly stylish label incubated by designer Jeanne Deroo (former Elle journalist and official member of the new Parisian cool mafia) is opening its first pop-up store in the 7th arrondissement.
The opportunity to stage its irresistible Christmas collection in cuddly materials with exemplary sourcing with tartan onesies (€50), nightwear in Christmas colors (€95), sleep masks for insomniacs with edelweiss patterns or tie and dye (€20), rainbow or 70's short pajamas (€75)... Enough to make you want to spend the holidays day and night in leopard pajamas or a zebra negligee (€40).
Holi Holi Open from December 1 to 19, from 11 a.m. to 6 p.m., 99 rue du Bac, Paris 7th
Chatelles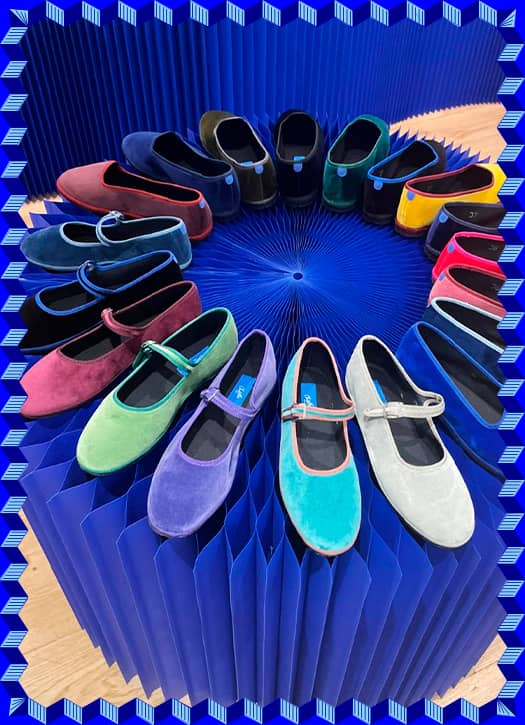 For who ? Those who want to keep the look flat!
We are immediately drawn to this Klein blue storefront that has taken up residence on the Parisian right bank . Inside, original slippers (from €250), unique but above all very elegant from Chatelles with shape memory soles for even more comfort and sophistication .
The extra thing? A collection of interchangeable accessories ( velvet bows , trimmings, pompoms, etc.) to personalize your pair as you wish. A great gift to offer from one Parisian to another, or the opportunity to pass on your distinguished tastes to a non-initiated !
Chatelles open from November 23 to December 31, Monday to Saturday from 10 a.m. to 7 p.m. and Sunday from 10 a.m. to 6 p.m., 9 rue du Marché Saint Honoré Paris 1er
Insidy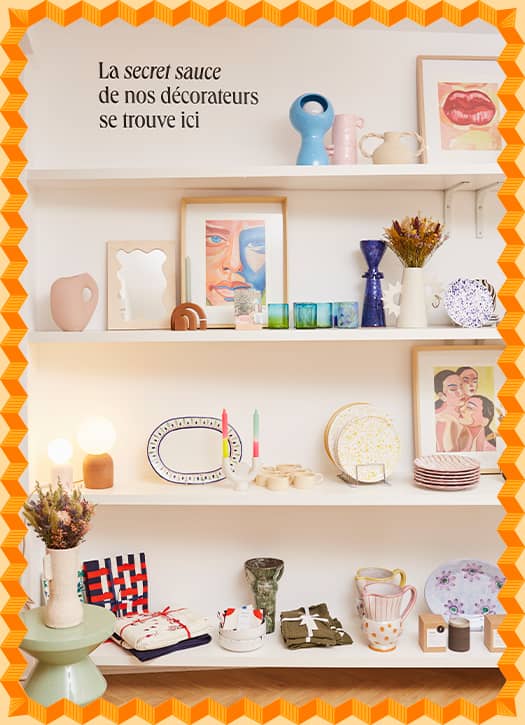 For who ? Decoration fanatics who want to cultivate their interior.
A unique place that brings together two concepts : on the one hand, a boutique area where you can find decorative and durable pieces from young independent brands such as Zuri concrete , Cosin Paris ... The opportunity to shop urgently, a resolutely contemporary cream cup ( €28), the small Charlotte lamp in mahogany with a linen lampshade (€315) or a nice set of two napkins in saffron yellow cotton double gas to make your meals a little more spicy , and much more . On the other side of the pop-up, a decoration studio !
The extra thing? A 1-hour consultation with interior designers from Insidy (book online , the lucky winners will be drawn!) to talk live about their renovation projects .
Insidy from November 23 to December 18, open every day from 11 a.m. to 7 p.m., Sunday until 5 p.m., 23 rue Coquillière, Paris 1er
histoire française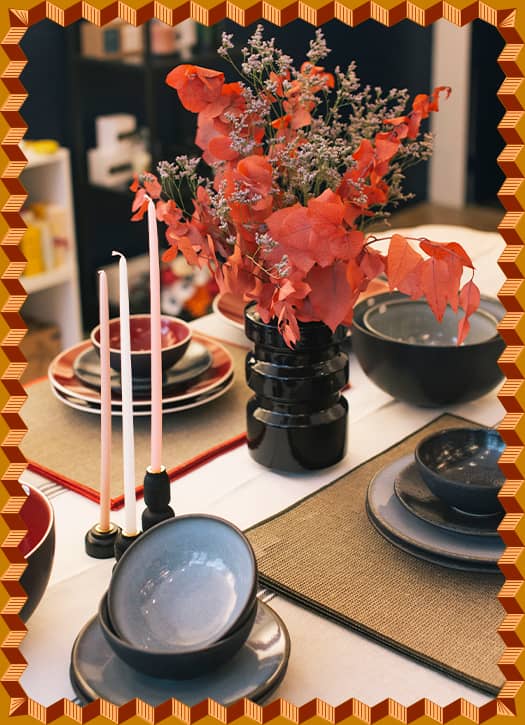 For who ? Patriots in love with artisanal creations.
Histoires Françaises or eco -responsible gifts for the whole family, designed by French designers . Bold collabs such as upcycled jewelry fromGigi (love for their upcycled Chanel necklace at €120) sublime ceramic pieces designed by Clément Boutillon , beauty corners with ethical products that are all good with the Oppidum brand , its soaps ( €12) and its care balms (from €40).
The extra thing? Everything is made in France ! Who said ethical gifts were boring ?
Histoires françaises , from November 8 to December 31 open Tuesday to Saturday from 10:30 a.m. to 7 p.m., 66 rue de Grenelle, Paris 7th
salut beauté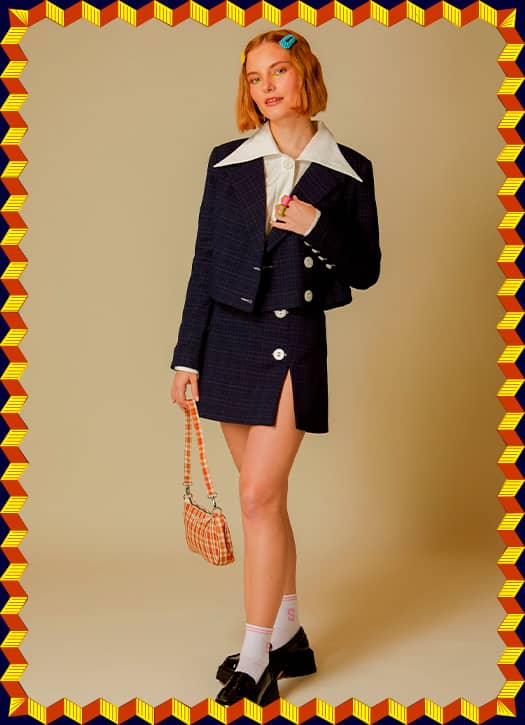 For who ? Inveterate fashionistas.
Hi Beauty , it's the modern day lady 's uniform made from recycled fabrics . The brand's credo? Unique and daring looks to conquer the world! We loved the air uniform outfits with the midnight blue jacket with a crazy cut (€265) to match with the pants that go with it (€185).
The extra thing? Exclusively, pieces from the overly beautiful Salut Beauté x Carel collab (love for the coach uniform sweatshirt at €145) where old-school sophistication mixes with the brand's own flamboyant urban energy . Pieces to collect directly from the pop-up, to deposit directly under the tree for your sister, cousin, bff, mother, or simply for yourself!
Salut Beauté from December 6 to 24, open every day from 12 p.m. to 8 p.m., 54 rue Charlot, Paris 3rd

Also discover The best tea room in Paris