With its facade worth of  Matrix and its resolutely innovative concept of digital guinguette numérique, EP7 is the new not-to-be-missed hot spot. Bar, restaurant, terrace, DJ sets, yoga course… This UFO of Parisian outings is certain to create an ambiance in the area of the Bibliothèque François Mitterrand, quietly awakening.
Divided on 3 levels, this ambitious project was impulsed by the team at the helm of Point Éphémère, that asked the guys from Animal Kitchen to take over. A good choice. On the ground level, one finds the inimitable street-food of the hot label (kefta-style sandwich, Nori chips, banana bread with yuzu…) to nibble on outdoors or under the multi-faceted XXL cocktails bar. Sandwich + side €13 .
On the upper level, you go up a notch with the neo-bistrot run by chef Adrien Tran(ex Passage, Verre Volé) : tartare of milk-fed veal, grilled Aubrac beef shank, nugget of yellow bass, cinnamon cake and caramelized pecan nut in a window-paned room with view. Lunch formula  €28.
In between, the pleasant perched terrace with deck chairs, that morphs into a space for yogis on the weekend... namasté !
We  adore : the 12 digital screens used to project the works of artists directly from the street and the tactile one available inside for a connected arty experience.Welcome to the 4th dimension.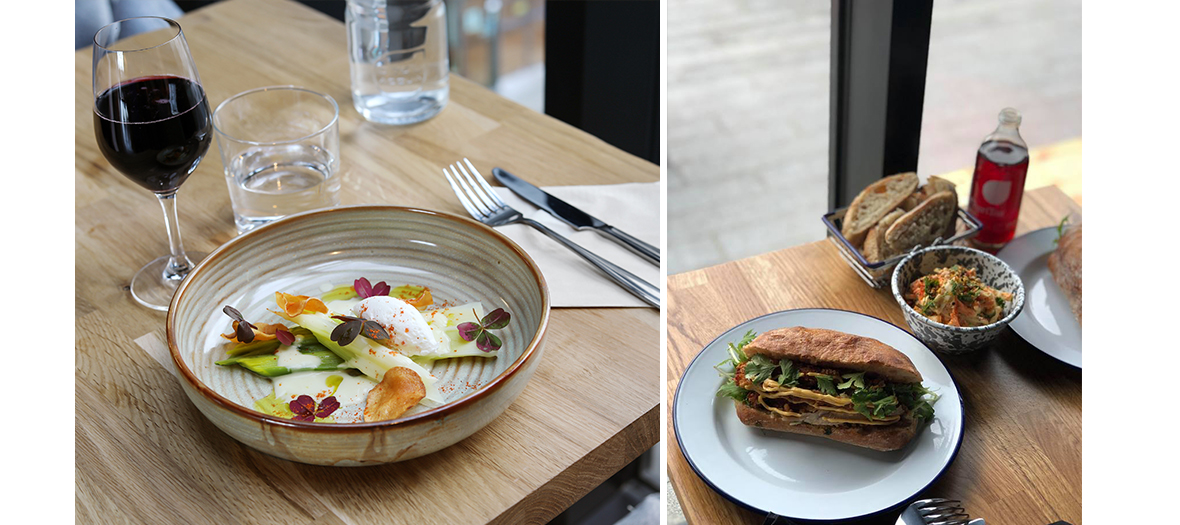 Open Monday to Sunday, non-stop  from 8am to 2am.
Also check out the Frenchie wine bar of chef Grégory Marchand.