Close your eyes and imagine. A good smell of coffee diffuses everywhere in a cozy decor. We hear the percos rumbling. Beautiful granolas parade between the tables, the maxi slices of cakes are eaten with a fork.
Inspired by the London and New York addresses that made us fantasize in the series (hello , Central Perk ), these Parisian coffee shops made us want to stay there for hours. That's what we did.
THE DANCING GOAT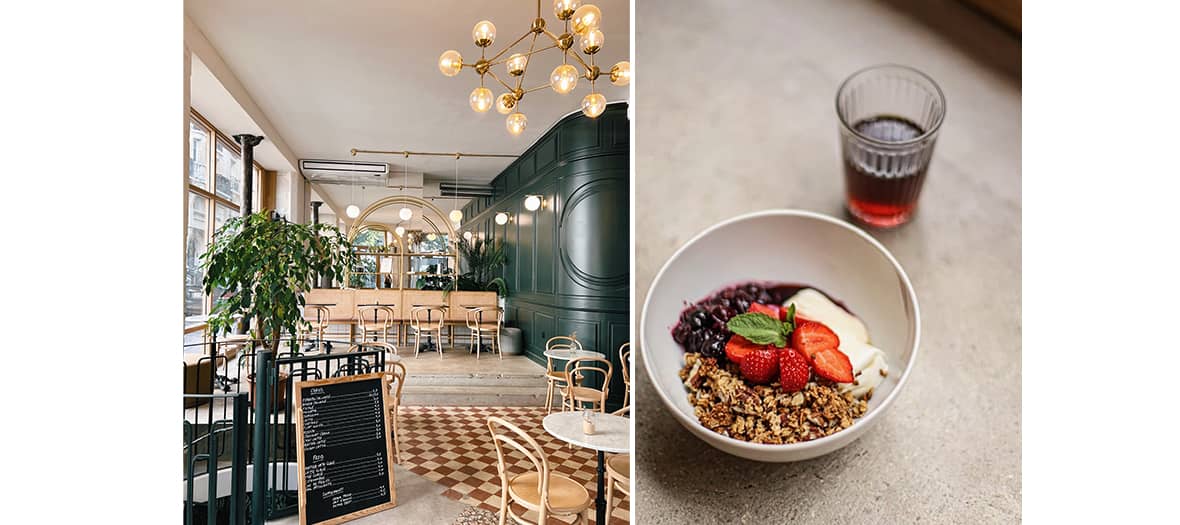 The district: Pelleport-Gambetta.
Why we love it: Because it's hot! Bathed in light, this place is a sweet mix between an English pub, a New York café and a French bistro. Congratulations to the designers of Cocorico Paris and to Daniel the smart owner, who landed in Paris from his native England with a dream of a place come true. Lulled all day long by a jazzy soundtrack , The Dancing Goat sets an ultra cool atmosphere. By far the best spot in the area to go to rest or work with your computer.
What we like to order: homemade pastries that catch the eye on the console, because sweets are the DNA of the house: cookies (€3), cakes (the orange one is hot, coconut too!), marbled cake (€4), chocolate brownie (€4)…. And for drinks, the slate compiles all the essential caffeines prepared by the local barista: espresso/long (€2.50), filter and cappuccino (€4). And cold drinks like the excellent iced matcha latte (€5.5) or freshly made fruit juices (€5).
The extra thing: for those in a hurry, a small window in the continuity of the bar which allows you to order your favorite drink from the street.
The Dancing Goat , 117 avenue Gambetta, Paris 20th, open Monday to Friday from 8:30 a.m. to 5:30 p.m., Saturday and Sunday from 10 a.m. to 6:30 p.m.
FIKA at the Swedish Institute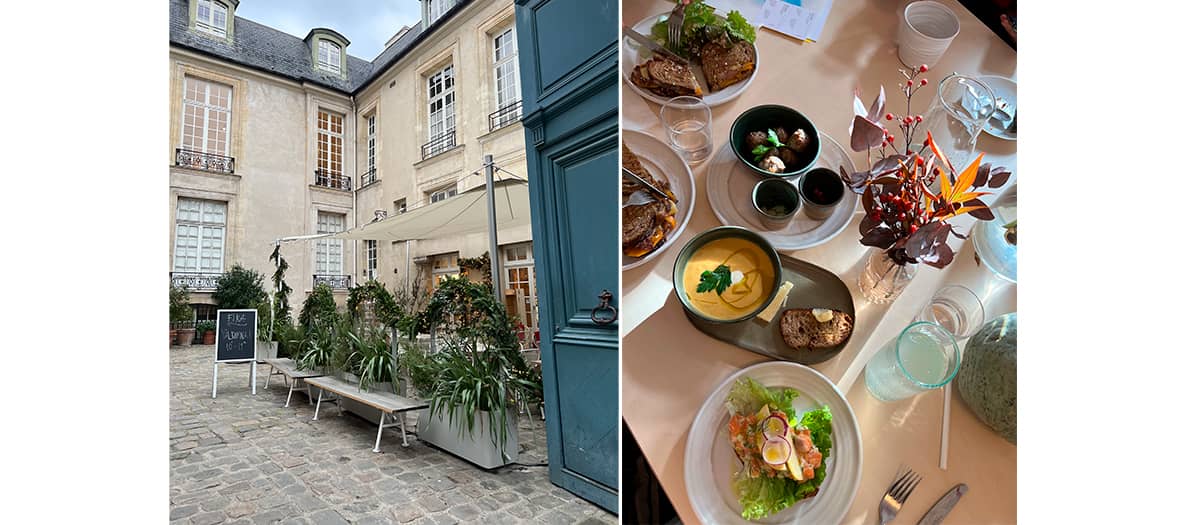 The district: Marais.
Why we love it: it's the editorial HQ! Right in the courtyard of the magnificent private mansion of the Swedish Institute , rue Pavée in the Marais , the coffee shop Fika turns out to be a place 100% lagom ( Swedish hygge ) as only Swedes have the secret, between comfort food and chill atmosphere like in Stockholm .
What we like to order: delicious Swedish coffees like the BAM BAM! Lykke Kaffegårdar in ultra-pop packaging (smooth latte €4.50, double espresso €3.50) or a Swedish Stallarholmens Brygghus beer (€6.50) to accompany local sweets such as a sublime princess cake (€6) or the cinnamon bullar rolls (€3). But our cute sin is to catch their addictive vegetable soup (€7), lovely rye bread slices (€7.50), bombastic meatballs (€7) or even a laxpudding for lunch. , this potato gratin flavored with dill, salmon and accompanied by its salad (€13).
The added plus: the bucolic terrace sheltered from cars, to trust at the slightest ray of sunshine.
Fika , 11 rue Payenne, Paris 3rd. Open Tuesday to Sunday from 10 a.m. to 7 p.m.
THE FARMERS CANTEEN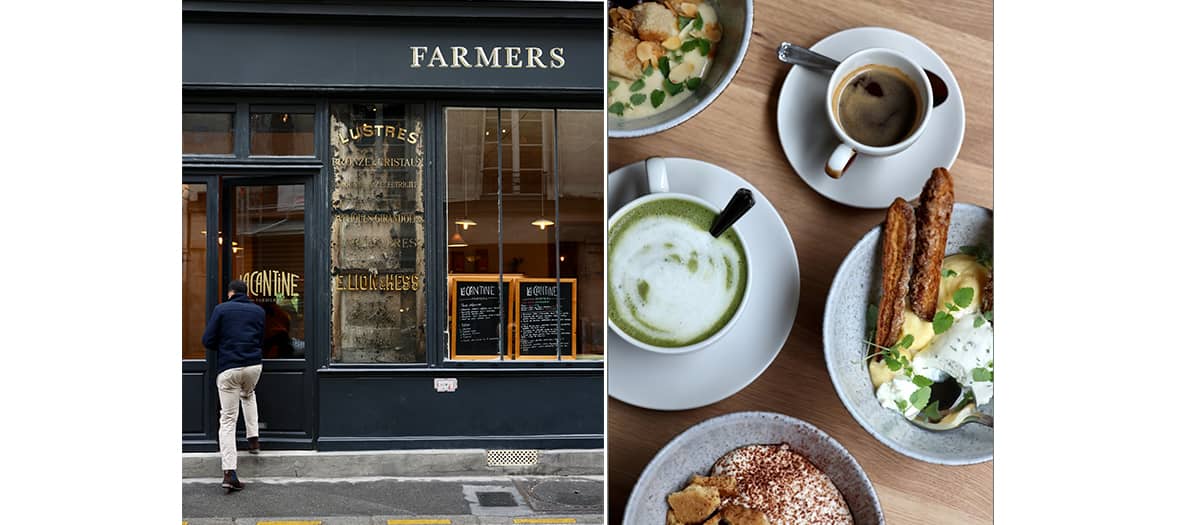 The district: Faubourg Saint-Denis.
Why we love it: because La Cantine Farmers is an all-in-one package that offers total freedom and a beautifully set design , bright and green. A hybrid format between the coffee-shop , the bistronomic restaurant and the co-working adapting to the needs and desires of gourmets, vegetarians as well as predators, groups of friends as well as solitary souls. And in the kitchens, chef Thibault Eurin (Caillebotte, Bien Elevé) who renews his suggestions every day with generosity and simplicity.
What we like to order: in the morning you can find what you're looking for with cookies and brownies to die for (€4) and an excellent coffee selected from the fair trade coffee roaster Esperanza (from €2.50). At lunchtime, the chef uses his inspiration according to the arrivals, makes all the vegetables sexy (unforgettable roasted carrots with honey and allspice, mimolette and nutmeg yogurt) and daring fish and meats. (Dish only €16, formula from €21).
The added plus: new for 2023 is that La Cantine Farmers is now open for dinner from Tuesday to Saturday with a larger menu than at lunchtime (starters between €10 and €14, dishes from €20 to €26).
La Cantine Farmers , 12 rue Martel, Paris 10th. 01 47 70 37 38, open Tuesday to Saturday non-stop from 9 a.m. to midnight, and Sunday and Monday from 9 a.m. to 5 p.m.
FIOR DI CAFFE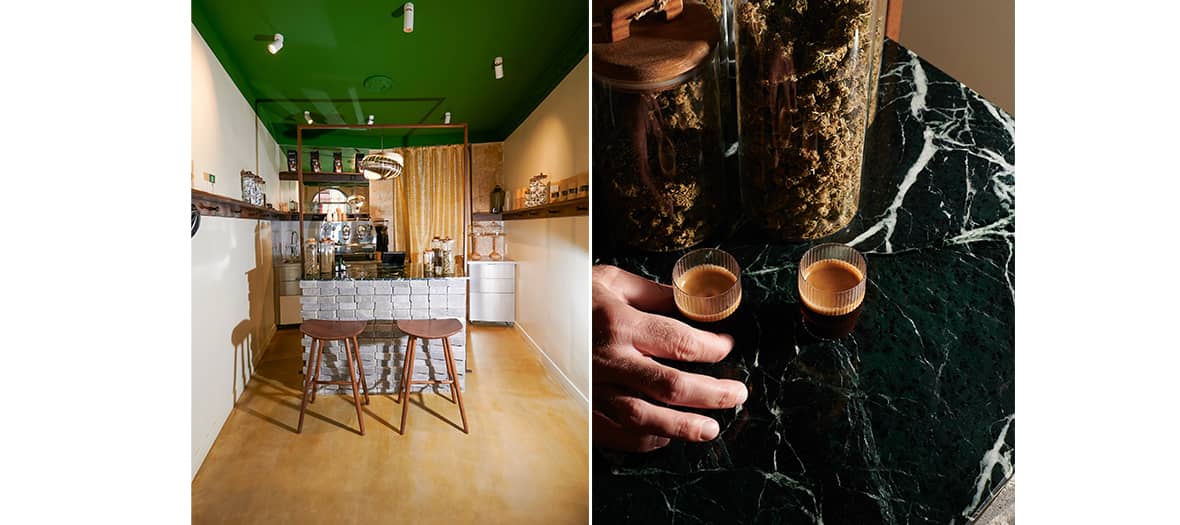 The district: at the crossroads of Montmartre and New Athens
Why we love it: for its ultra intimate side and the originality of its concept, both a coffee-shop and an expert house in CBD . Entirely designed by the master of the place Donato Carretta from a family of farmers, Fior di Caffè is a destination and a place of experience where you come to spice up your day and treat yourself to a real moment of tasting.
Atypical, this pocket-sized setting is impressive with its green marble counter and cement pavers.
What we like to order: a 100% Italian coffee roasted the old-fashioned way that can be enjoyed in an espresso, cappuccino or latte version (from €2.50). For juice fans, the homemade lemonade with or without an extra CBD shot is a must, like the pomegranate juice and the chambucha (€5 and €8). To accompany them, delicious cakes and cookies and comforter madeleines, all with CBD (€4). A small slab? Go for the piccolini snacks: ham with PDO butter (€3), pomodoro mozzarella (€3.50) or spicy tonno (€3.50).
The extra thing: the advice and expertise Donato Carrett has for those who want to carry a small vial of CBD at home. Its gourmet oils , without additives or
chemical product, are sublime and enhance the flavors of your dishes and drinks with delicious aromas (from €40). Our favourite? The super lime.
Fior di Caffè , 33 rue Jean-Baptiste Pigalle, Paris 9th. 01 40 34 04 59, open Monday to Sunday from 9 a.m. to 5 p.m.
THIRTEEN IN THE GARDEN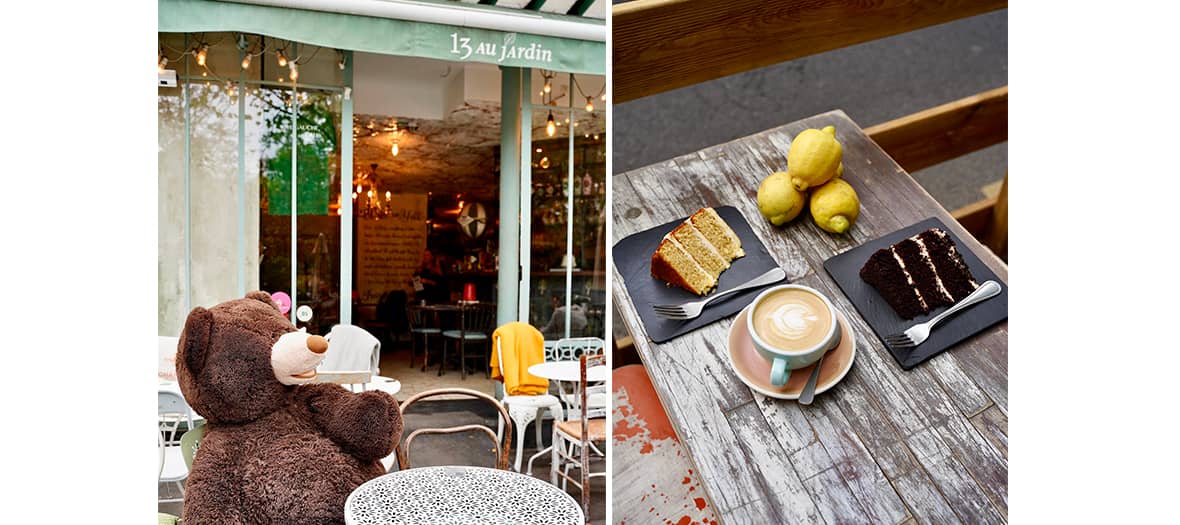 The neighborhood: Jardin du Luxembourg
Why we love it: for its preppy-cool look and its little old-fashioned, rustic- charming side. Furniture and objects from here and elsewhere reveal the personality of the mistresses
from the house, two inseparable friends, the American Laurel Sanderson (who had already opened an XS version of Treize in the 7th arrondissement) and the Swedish Kaysa Von Sadow . Their credo? "To feel just like home".
What we like to order: hot drinks such as Le Charbon latte bio , a mixture of black sesame and activated charcoal seasoned with black pepper and ginger (€7) or Liquid Sushine , a turmeric latte with milk almond, honey with spices and black pepper (€7). For comfort only, go for the creamy hot chocolate (€6) or a mochaccino (€7). With delicious homemade pastries including an indecent iced chocolate cake with buttercream cheese and pieces of Oreo (€8.5) and a top carrot cake, just the right amount of spice (€8.50). And for the savory touch, proposals with Americano-Swedish accents that aim for pleasure: ''the breakfast plate'' with two fried eggs, sausage, sweet potato rosti, tomato jam and rolls satiates morning appetites ( €16). Light option : a granola with oat flakes, walnuts, honey, coconut flakes placed on a Greek yoghurt (€10).
The added plus: the cuteness of the planted terrace facing the Luxembourg Gardens where you can make the moment last.
Thirteen in the Garden , 5 rue de Medicis, Paris 6th. Open Monday to Friday from 11:30 a.m. to 5:30 p.m., Saturday and Sunday from 10:30 a.m. to 8:30 p.m.

Also discover 3 stylish coffee shops for all-day brunch and the best coffee shops for working from home.