This is the swag teacher we would all have dreamt of. During the week, Lydie Clark teaches the language of Shakespeare to high-school students in Seine-Saint-Denis. My tailor is rich? No, rather Happy by Pharrell Williams. When the bell rings, the wonder teacher – also doting mother of a pre teenager – slips on her stilettos and glam dresses to go mix at the turntables of the trendiest clubs in Paris. Stage name: Lydie Jay. Is it possible to combine job, passion and a personal life? Answer with this planning whizz, who races with punch from the playground to the turntables—further more without showing off.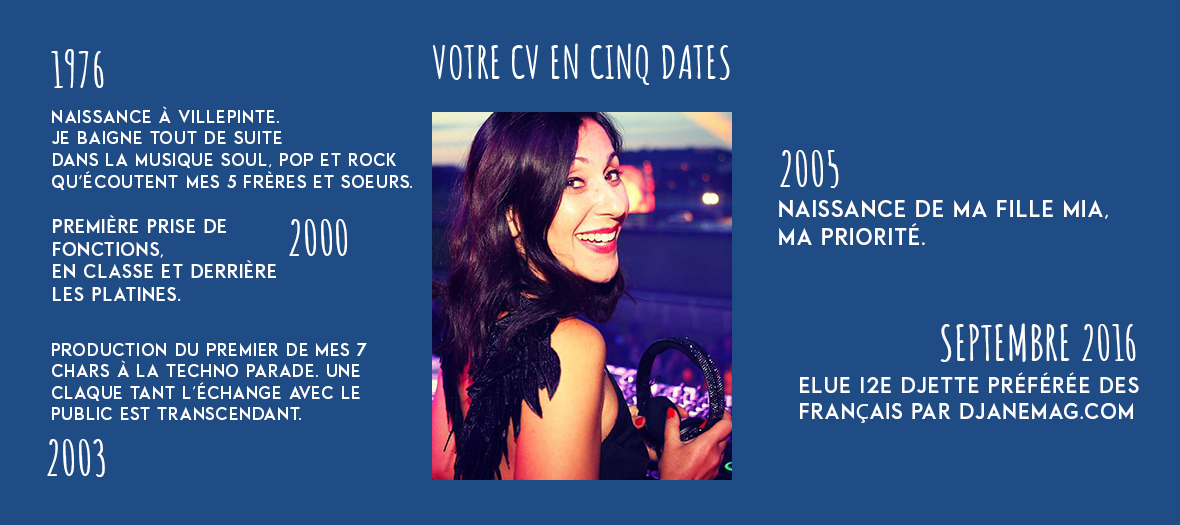 From the National Education system to the turntables, there is a rather wide gap. How did this happen?
I began by mixing and teaching at the same time. In both cases, it happened spontaneously. I slid in through the small door of the National Education system, they never let me leave! The same thing happened for music: I began to animate evenings for friends, without any other pretence than sharing, and having a good time. Then, I began to mix in a bar of the 11th, Le Plein Soleil: an incredible ambiance, condensation on the windows, guys doing headstands on the bar…
What does your schedule look like concretely?
My life is like a Tetris game. I have 20 hours of courses per week, multiplied by 2,5 with tests to correct, parent-teacher meetings … it's more than a full time job. It's all the more complicated since I am also a mommy. Luckily, I don't need to sleep much. Regarding the turntables, I try to keep it down to three dates per month, otherwise it gets out of control. I really cannot afford not to be 100 % on the ready for my students on Monday mornings.
Where do you make the Parisians dance ?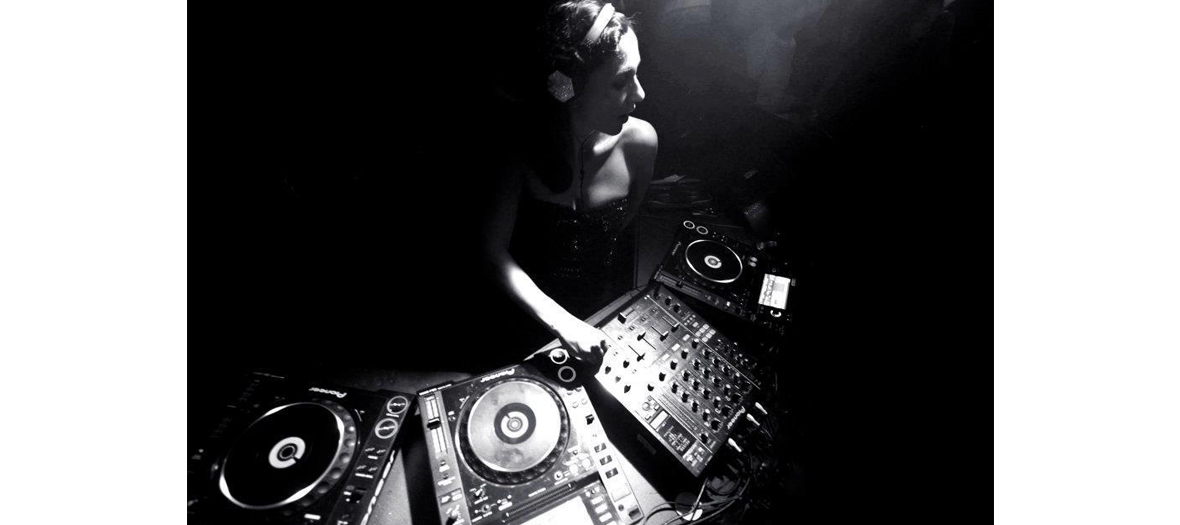 At the Rosa Bonheur barge on Saturday, once every month. Since 2012, I have opened the garden party of France Galop at the Hippodrome de Longchamp racetrack. I am also a resident at the Sky Bar of the PSG (Paris Saint Germain soccer team), on the 7th floor of the Parc des Princes, the panoramic bar reserved for the club guests and VIPs. An ultra select audience. The challenge is managing to surprise them and making sure they have a good time.
Your secret gimmick to get them to relax?
I run the entire gamut: starting softly with jazz, trip-hop, rather lounge sounds, then leadi them to super regressive 80s sounds or percussive house that will oblige them to gyrate. I go by the feeling. A mix is a real voyage—you cannot anticipate how people will react.
The reaction of your students when they learn that their teacher is also a DJette?
The sixth-graders are super cute: they come see me at the beginning of the year: Madame, is it true you are Lydie Jay? as though I were David Guetta! it's quite touching, but I explain that they must differentiate between Madame Clark in the classroom and Lydie Jay who plays music.
And your colleagues ?
It depends, some are kind of taken aback and critical. I am not a yoga or embroidery teacher. The middle of the night, electronic music… can be poorly perceived.
You also participated in the Techno Parade…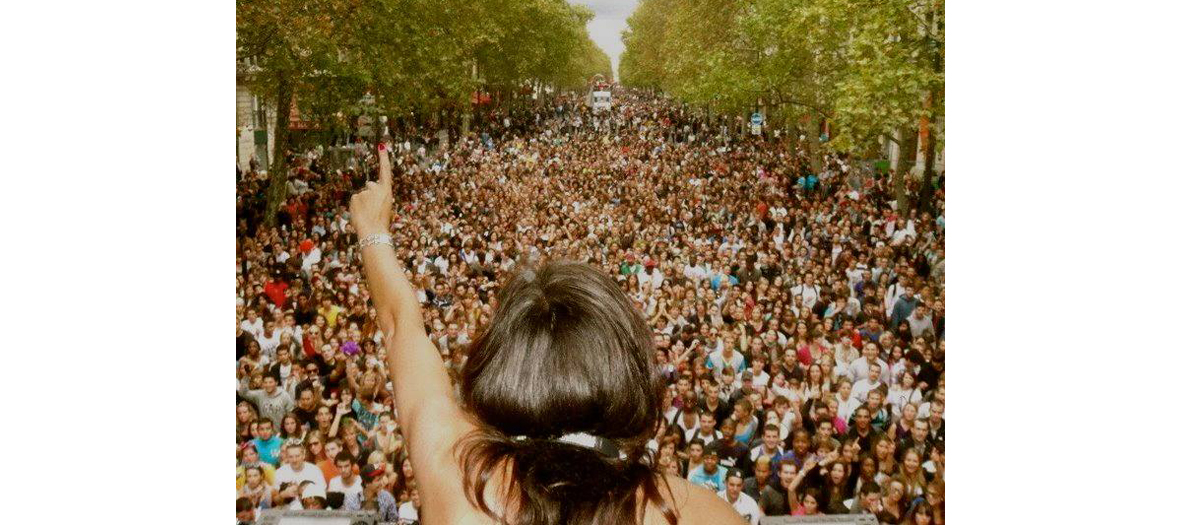 In 2003, I challenged myself to create my own parade float of women DJ with Muriel Moreno, ex singer of Niagara. A wonderful and enriching 7-month adventure. Then in 2008, I suggested to the school principle an amazing idea: creating the high-school parade float to promote our establishment amongst 350,000 youths. Trying to find sponsors, scouting suppliers with the best rates, managing the budget… a huge job. The float was such a success that the Technopol team asked me to be part of their administration board. A super calling card. I was spotted to mix on radio FG and I began playing in leading clubs, including the Queen, where I was a resident for one year.
Your biggest pride as teacher?
Music enabled me to sow other seeds than teaching English, create encounters between the young students and artists, Bob Sinclar, Antoine Clamaran or Antoine Baduel, the owner of FG. But, my biggest success is the organisation of an electronic festival at the high school to finance a linguistic field trip to the United States. In 2013, I was able to take 43 students from the 93 department so they could live their dream between Los Angeles and San Francisco. They were really mesmerized. Cherry on the cake: a congratulations email from Jack Lang himself.
Do you speak about music during your courses ?
Often! To explain a language fact or a grammatical point, I make reference to a song, or then I sing, poorly (laughs). The Happy by Pharrell Williams is perfect to illustrate the pronunciation of the aspirated h—it really appeals to them.
Have you ever gone directly from a DJ set to a day of classes?
Yes! And never again. In 2004, I was asked to take over Amnésia, the ex-club of André Boudou, father of Laeticia Hallyday. I played from 1am to 3am. At 5am, I had to supervise 77 overexcited kids on the ready for a departure to London… quite exhausting.
Your dress code, in class and on the dance floor?
I love fashion, I married a stylist. In class, I go for casual chic: jeans, boots, shirt… Students are very aware of the look, and you are quickly catalogued. Conversely to turntables, I am the lamppost! I like creating a gap between the image and the sound. When people see me in my glam and shiny dresses, they could very well think I was dressed by the committee of Miss France. But when I remove my shoes, that's the signal things are going to heat up.
If you had to choose, teacher of DJ?
Being a teacher is the most beautiful profession in the world, but so hard and exacting that you can only do it with your heart, otherwise it's a punishment. And music is my passion. Impossible to choose. It comes from a brain problem, I am a thwarted left-hander, I have both brain hemispheres that are constantly boiling! It depresses me to only have one activity.
The 93 department is often mentioned as a reference for difficult suburbs. What do you say to that?
There are many contrasted parts in the 93, between Saint-Denis, Le Raincy… This is not necessarily the ghetto and even in the ghetto, there is an amazing cultural wealth, these kids have a very raw sense of humour, life experiences that create fascinating personalities. When you see the number of talents that stem from there. Starting with NTM, les papas du rap, that are still references for 12-year-old kids. Come to the 93 ! The 93 is beautiful.
Your 5 nuggets to set the dance floor on fire
Ornette - Crazy (Nôze Remix) A velvet voice and a soft beat for an easy-going start.
Eddy de Pretto - Fête de Trop His voice moves me, his lyrics really grip me.
Sarah Bialy - U Gonna Feel My Love (Accoustic Version) What groove, what sensuality in the voice!
Aston Merrygold - Get Stupid it's upbeat and puts you in a good mood!
Bomba Estéréo - Soy Yo A little bit of sun and booty-shaking at the heart of winter.